Kerry Meier didn't get many opportunities to show off his speed during spring football practices.
But his scrambling ability is a weapon the Kansas University quarterback has in his arsenal, alongside the arm strength, poise and intangibles that make him the clear-cut starter heading into the fall.
"I enjoy doing it," Meier said. "If that pocket breaks down and I see something, I don't mind taking off."
A good attitude to have, but KU coach Mark Mangino is asking Meier to be careful - especially while the fifth-year coach still may be under the KU quarterback curse.
"There will be times that that ability will be a benefit to us," Mangino said after Meier scooted for 36 rushing yards and a touchdown in the spring game. "But we're not going to have him run all over the place. We have an offense, we have a system we believe in. He's a guy that can execute that offense."
Mangino's first quarterback at Kansas, Bill Whittemore, carried the ball nearly 14 times per game during his career. And in both the 2002 and 2003 seasons, he missed extensive time because of injuries sustained from scrambling.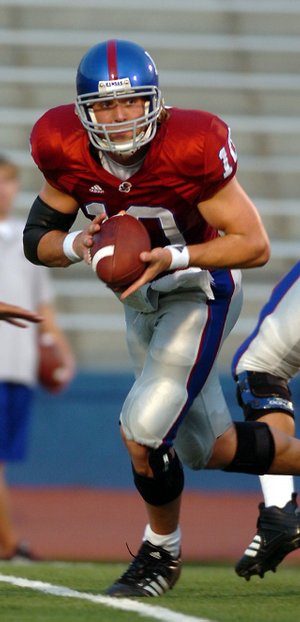 Adam Barmann injured his shoulder running in the open field in 2004, while several other KU quarterbacks limped off the field after hits in the pocket the last four seasons. Mangino, understandably, has become much more protective with each blow.
"We don't teach scrambling, although you want a quarterback to have the ability to do that," Mangino said. "We'd rather (Meier) sit in the pocket, well protected, and deliver the ball."
It's a sign that Mangino's program indeed is evolving.
While Whittemore's running was an added weapon, it often came out of necessity - or "survival," as Mangino put it. Such vulnerability to hits may not be worth the risk with Meier, thought to be the future glue of the Kansas offense.
Still, Mangino said it was good to know Meier could make something happen if flushed out of the pocket.
"You gotta do what you gotta do," Mangino said. "If you're asking me if he can do what Bill did with the ball under his arm, I would say, 'Yes, he can.'"
But only in emergencies. Whittemore just had more emergencies than Meier likely will, thanks to a better overall team in 2006. Meier can count on better protection offered by offensive linemen, better chances at receivers running crisp routes and getting open - and, if Mangino has it his way, a better chance at staying healthy in 2006.
"If he has escapability, that's a bonus," Mangino said. "And he does."