Chat with Olympic Champ Maurice Greene
Welcome to our online chat with Olympic Champ Maurice Greene.
The chat took place on Friday, April 21, at 4:30 PM and is now closed, but you can read the full transcript on this page.
Moderator: Hi and welcome to our chat today. I'm Andy Samuelson the online sports editor for KUsports.com and I will be today's chat moderator. Today we are joined by 2000 Olympic 100-meter champion Maurice Greene. Thanks Maurice for taking time out of your busy day here at the Kansas Relays to join with our KUsports.com readers this afternoon.
Maurice Greene: No problem. It's great to be here.
Moderator: I'm sure a lot of people around the area know you're a Kansas City, Kan. native, but tell us briefly what coming back home and competing in the Kansas Relays means to you.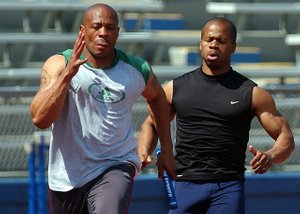 Maurice Greene: It's a lot of fun to come back home and compete in front of some of the same fans who have been watching you compete over the years.
Moderator: OK, lets get to some questions.
John, Kansas City, Mo.: Since there are no Olympics or World Championships this year, how do your goals change in a nonchampionship season?
Maurice Greene: They change a lot. It's a real relaxed year, where I go out there just to have fun and compete.
LJ, Lawrence, Kan.: Reading some of you and Justin's recent comments there seems like there might be more of a rivalry there, then you two are letting on. Is there?
Maurice Greene: It's always going to be a rivalry when you have to great sprinters on the line. No matter whether they're saying it or not, you're always going out there to win and prove you're the best. Me and Gat are cool with each other, we're just going out there to have good competition.
Chris, Kansas City: Hey Maurice, First off, having run in the same 5A meets back in high school with you, it's been a blast to watch your success over the years. That gives away that I'm in my 30s now and I know my body doesn't bounce back from hard workouts as easily as it once did. What kind of things do you have to differently with your training now, compared to when you were starting out? And, along those same lines, where do you see your career taking you when you decide to stop competing?
Maurice Greene: I take more time off now. After track and field I'll probably be an agent working with football players and other track and field athletes.
Cole Overland Park, Kan.: Does anything go through your mind during the race? Or do you just clear your mind and run?
Maurice Greene: All kind of things, I couldn't pick just one thing out. I'm always thinking about all kinds of techniques, what I want to do at a particular time and point in the race. I try to always feel what's going on in the race.
Natlaie. Carlinville, Ill.: Do you ever get intimidated?
Maurice Greene: Never!
Travis Baxter Springs, Kan.: I am a middle school and high school track coach and I was wondering if you could give your best piece of advice for staying focused on goals in track and field at an early age. Thanks for your time.
Maurice Greene: You have just have to make realistic goals and shoot for them. Then don't let anyone or anything get in the way. The only thing that can stop you is yourself.
Benji, Topeka, Kan.: Honestly, How widespread is performance enhancing drugs in the sport of track from your perspective?
Maurice Greene: I don't know, because I don't deal with that part of it. I just concentrate on myself and go out and work hard.
Jared Lincoln, Neb.: What is your inspiration to run?
Maurice Greene: It has changed over the years. Now I want to keep going out and doing great things. When I first started running my goal was to be the best.
Moderator: Looks like Maurice has time for one last question.
Devin Burr, Chanute, Kan.: Do you feel that you are more relaxed at events like the Kansas Relays, or do you focus on your event at every meet with equal intensity?
Maurice Greene: I try to focus with the same intensity each time out. No meet is different. You have to go out and perform the same way every time and run for perfection.
Moderator: Well that's going to do it for our chat today with Olympic champ and Kansas City's own Maurice Greene. Thanks a lot Mo for your time today. Good luck tomorrow in the 400 Invitational Relay in the GoldZone at 5 p.m. Also a big thanks to our KUsports.com readers for all their input into this chat.
Maurice Greene: Thanks for having me, I enjoyed chatting with all the track fans out there. Come out and see all of us tomorrow, we're going to put on a show.