In the end it didn't come down to Maurice Greene and Justin Gatlin.
Although both sprinters put on quite a show for the second largest crowd of 26,211 in the 79-year history of the Kansas Relays. But it was Gatlin's Sprint Capitol team, much like their coach Trevor Graham boldly proclaimed earlier in the week, that received its greatest test from the clock.
By the time that Gatlin got the baton Saturday evening at Kansas University's Memorial Stadium, he was so far out in front that only challenge left was Greene's 2000 H.S.I. team's Relays record mark of 38.45.
And that mark quickly evaporated in seconds as Gatlin crossed the finish line in 38.16 giving Sprint Capitol (Dwight Thomas, Rodney Martin, Shawn Crawford, and Gatlin) the new Relays record.
"We worked a lot on getting the stick around," said Gatlin, whose team wasn't too far behind the 1992 U.S. team's world record of 37.40. "We worked on that a lot after practice, different drills and techniques so that we get the stick around as fast as possible so we can put on a good show for the people."
Give Greene credit, when he took the baton on the final leg his team was in fourth, but a big surge by the Kansas City, Kan. native easily pushed H.S.I. in second place with a time of 39.02.
"We're gonna meet a lot of times this season, and it's going to be a challenge each time we step on the track," Greene said.
Gatlin praised Greene's performance, but said he knew the only obstacle left was the Relay's record.
"Maurice did a great job knocking two people off, but he is only human and I am only human and you can only do so much."
Crystal Cox got the GoldZone portion of the 79th annual Kansas Relays going to a fast start Saturday when she won the women's 200-meter dash in 22.85, holding off Torrie Edwards, who finished in 22.89.
2006 World Indoor Champion Leonard Scott picked up where the ladies left off, winning the men's 200-meter invititational with a time of 20.48, holding off Rodney Martin, who finished in 20.51.
Scott, a former NFL player, promised the 200m was just the beginning of things to come today.
"It's going to be a showdown," promised Scott about the 400 invitational relay, the highlight event of the GoldZone.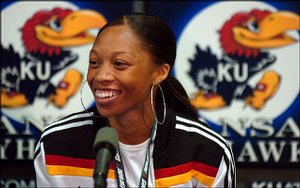 Olympic 200m silver medalist Allyson Felix provided an early highlight when she broke the Relays 100-meter mark with a time of 11.04. Felix broke teammate, Muna Lee's mark of 11.10 from last year. Lee finished right behind Felix in 11.13.
"It felt cool to break the record," Felix said. "I was not really expecting it, but it was fun. We really haven't done that much speedwork (in training) so I'm pleased with where I'm at."
Felix's mark and the Sprint Capitol's time were just a pair of the 11 Relays records to fall on the final day of the three-day track and field extravaganza.
Former Missouri standout Christian Cantwell broke his own Relays mark with a throw of 70-03.75.
"It's my best opener for outdoor ever," said Cantwell, who bettered his 2002 mark of 70-01.50. "So far I'm doing well injury-wise this year. I had knee surgery in September and it took me a while to recover from that, but I think if I can stay healthy I'll be ready to break a record here pretty soon."
Day 2
Track and field fans at Kansas University's Memorial Stadium will have to wait until 5 p.m. Saturday to see if the actual race lives up to the build-up.
But for the second straight day, Friday, Maurice Greene, the 2000 Olympic 100-meter champ, made it publicly known that his H.S.I. team doesn't plan on losing to 2004 Olympic 100-meter champ Justin Gatlin's squad in today's 400-meter Invitational Relay during the GoldZone portion of the 79th annual Kansas Relays.
"As I recall, we have never lost a relay here. So they could be running against the clock, but the clock will be behind us," said Greene, who was referring to Gatlin's coach, Trevor Graham's, comments earlier in the week.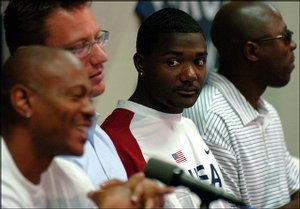 "I will say this: People have had much more success against me when they don't say anything. But the success rate when you do say something before the race, you aren't going to get anywhere," continued Greene, who smiled throughout Saturday's press conference which offered plenty of friendly barbs between members of both H.S.I. and Sprint Capitol.
For his part, Gatlin downplayed the rivalry, saying that he totally respected the veteran Greene.
"H.S.I. has always brought big-game competition to every race it has been in," said the 2005 World Outdoor 100 and 200-meter Champion. "Our Sprint Capitol team has a lot of guys that are coming into their own as well.
"I think it will be a great match-up. It is not just me and Maurice. You have to understand that me and Maurice will be on the fourth leg. If the stick doesn't get around, we will just be looking around.
While most of the talk revolved around H.S.I. and Sprint Capitol, local track coach Al Hobson said his team might just surprise the field.
"H.S.I. is always a great team," Hobson said. "And anytime you have Justin Gatlin on the line you have a problem. But we didn't come here to finish in second or third place. I still plan on winning."
Team member Rae Edwards didn't hesitate to go out on a limb and predict it would be his team, not Greene's or Gatlin's that walks away with Relays gold.
"I respect Maurice and I respect Gatlin because they are legends, but for me to be a man and for me to be a sprinter, I can't say that this man is better than me," Edwards said. "I am sure we are going to win."
Former KU standout Scott Russell had a lot to talk about on Friday as well.
But that was only after he broke a Relays record in the javelin with a throw of 258 feet, two inches, beating Baldin High school graduate Eric Brown, who competes for Arkansas, by almost two feet and breaking previous Relays record holder Ed Kaminski's 1996 mark of 251-04.
"It's awesome. I didn't expect that at all," said Russell, a former Jayhawk All-American who still works in Lawrence as an athletic trainer at Haskell Indian Nations University.
"Coming into this meet I wanted to work on being consistent. It did what I wanted it to do though."
Russell said it's pretty hard not to get fired up when competing at your home meet.
"It's my home runway, I'm out here every day. So that's pretty cool," he said.
Russell's record was one of four Relays marks to fall Friday.
Wichita State's women's four-mile relay team broke its own 2005 mark by about 42 seconds with a time of 20:06.04. The girl's 400-meter shuttle hurdle relay team from Littleton, Colo., also bettered its own Relays mark from last year with a new time of 1:03.45.
Park Hill's boy's 400-meter shuttle relay record broke Kansas City Central's 2004 feat of 1:01.98 with 1:01.26.
KU's women's distance medley relay team of Tiffany Bradley, Tiffany Cherry, Janiece Gatson, and Ashley Brown held off Concordia College to win with a time of 12:04.96.
Former Jayhawks Charlie Gruber, Brandon Hodges, Jeremy Mims, and Benson Chesang won the men's distance medley relay with a time of 10:00.83.
While there was plenty of talk coming from the elite male athletes, the women's were tightlipped, at least when it came down to any trash talk.
"I'm just excited," said Olympic silver medalist Allyson Felix. "It's our first race out and we are anxious to go and see where we are at. It's still really early but we are excited to be here."
Torri Edwards agreed, but said if she had to pick a corner, she'd go with the G.O.A.T.
"We came to support our teammate Maurice Greene. It is his hometown meet so we decided to come out here and have a good time with him," Edwards said with a smile.
Day 1
Track and field fans didn't have to wait until Saturday's GoldZone portion of the 79th annual Kansas Relays to see an elite achievement.
Instead, Nick Welihozkiy provided the theatrics Thursday in the first event of the annual meet held at Kansas University's Memorial Stadium in Lawrence, when he won his third straight hammer title by upsetting event favorite Egor Agafonov of KU.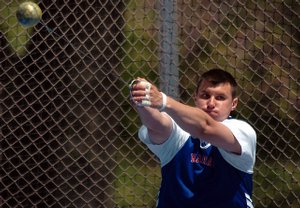 "I wasn't expecting to win, that's the God's honest truth," said Welihozkiy, of his last throw of 222 feet, eight inches, which won the event over Agafonov's 222-02 mark.
"With Egor coming in at 70.45 (meters) I knew this was going to be an all out war," continued the Pac-Bay Track Club member of his upset over Agafonov, who set the Jayhawk career mark in the hammer with a heave of 228-6 last weekend at the Mesa (Ariz.) Classic.
Welihozkiy said it was the most satisfying of his three victories at Kansas and one of the best competitions of his career because he set two personal-records.
"My goals are to get over 70 meters for the first time," said the former Stanford standout, who has already competed in three events this season. "The new technique is really starting to show itself. I'm no longer like a rotating boomerang, I'm now more vertical, and that's that."
While things heated up inside the stadium later in the evening, several of Saturday's big name competitors spent the afternoon stretching out a little on the track. One face might have looked a little familiar to fans from the Kansas City area.
"It's always a lot of fun to come back home and let the fans here, where I grew up and have been running all my young life, see me compete and have fun," said 2000 Olympic 100-meter champ Maurice Greene.
The Kansas City, Kan. native flashed a big smile when asked whether or not this might be his last year of competitive running, but shied away from a definitive answer. The man known as the G.O.A.T. (Greatest of All-Time) might not have put a timetable on his own time left on the track, he did say if events like last year's Kansas Relays keep growing -- then track and field will continue to thrive for a long time.
"You think track and field is dead, but when you get 24,000 people into a stadium, you feel it ain't dead," Greene said of last year's second largest Relays crowd. "The fans just have to have a place to go to watch us. You give us the place, and we'll come and the fans we'll come out."
Much like the men's hammer throw, KU just missed out on the top mark on the women's side as well -- but a rival broke the Relays record.
KU's Zlata Tarasova was the runner-up to Kansas State's Laci Heller. Heller's toss of 197-04 was three feet better than Tarasova's 194-01, and nearly two feet farther than KSU's Rennetta Seiler's 1997 mark of 195-05.
"It felt good to get the record, but I still need to improve," said Heller. "It means a lot to win these big meets. We don't have many meets so we approach every meet as an important one."
Former Wildcat Amy Mortimer came close to another record, but fell short in the women's 5,000m run with a time of 16:17.17.
"This is awesome," said Mortimer, who was 15 seconds off the mark. "I could hear the announcer say that I was close to the record."
Three Jayhawks had quality afternoons as Adrian Ludwig, Matt Baysinger and Mike Putzke had top three finishes.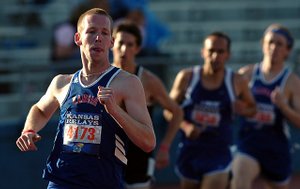 Ludwig took second in the 1,500m with a time of 4:03.48, while Baysinger was second in the 800 in 1:51.93. Putzke took third in the 5,000 with a time of 14:58.30.
Perhaps none of those feats compared to the day KU's Melissa O'Rourke had.
The Jayhawk junior finished eighth in the 800. But O'Rourke's sister, Kelli Benton, who recently had a baby, won the women's open 5,000. The two's mother, Martha O'Rourke, finished second in the open 5K.
"My sister runs the 800 here for Kansas," Benton said. "My mother and I decided to run inthe race because we were already here to watch her."
After watching the first day of the Relays run smoothly, meet director Tim Weaver said he hoped for even bigger things out of the next two days.
"It was a great first leg of the Kansas Relays," Weaver said. "Friday, we'll hand the baton to the high school and college athletes and let the games begin!"