Welcome to our online chat with Kansas Relays Meet Director, Tim Weaver.
The chat took place on Wednesday, April 19, at 3:00 PM and is now closed, but you can read the full transcript on this page.
Moderator: Hi and welcome to our chat today. I'm Billy Steffans, Kansas Relays manager and I will be today's chat moderator. Today we our joined by Kansas Relays Meet Director Tim Weaver. Tim, thanks to for joining us.
Tim Weaver: Been looking forward to it. Always happy to talk track!
Moderator: Ok, let's get to our first question.
Paula: It sounds like you have an awesome job. How can someone do what you do for a living?
Tim Weaver: It is fun. You get to do a lot of different things each day. Negotiate with agents. Plan ads and promotions. Talk on TV. Work with some great people and volunteers. I had no intention of working in sports/entertainment. But while at KU as a grad student got roped in to the admin side of things. It's a unique job, so I'm not sure the best way to get one like it. The ability not to sleep is a good resume point.
Linda, Lawrence, Kansas: Hello, Tim! I have heard a lot of excitement about this year's Relays. Thank you for all the hard work you have done. This is an "invitational". Does that mean you invite schools/teams or individual athletes? Thank you for taking time to do this.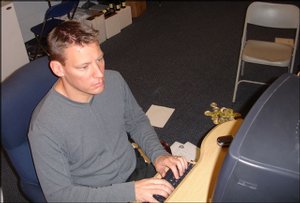 Tim Weaver: Good question. An invitational race means finals only - no prelim rounds. It is a signal to the fans, athletes, and coaches that the competitors are going to be the very best; they have to be invited to that section. The meet has high school, college, and invitational races in the GOLDZONE.
Jacob: I really liked the Goldzone last year. What gave you the idea? Will you do more Goldzones each year?
Tim Weaver: I would say GOLDZONE is the future of this event. To draw the big crowds, I think one has to focus on entertainment as much as the track and field. Three hours is the current time limit for entertainment in this country. A movie - a concert - a football or basketball game - all are approx three hours long. Most of the idea behing GOLDZONE was stolen from the european meets that regularly draw 20,000 - 40,000 people. If it works in Zurich, why not Lawrence?
Steve, Kansas City: Tim, The meet has done extremely well to reel in professional athletes as well as top-calibur high school competition in recent years. However, the college portion of the meet seems to have been flying under the radar somewhat. Has it or will it be a consideration to try and attract powerhouse college teams like Arkansas, Michigan, Colorado or Stanford to make it a highly competitive college meet as well?
Tim Weaver: You are right - the high school and pro sections of the event are strongest. The college scene is complicated. The big NCAA D1 programs often ask for hefty fees to bring their teams. The regional qualifying process draws on team budgets and also has changed the late April schedule for many teams, sending them looking for smaller meets. At the end of the day, those schools would really please the hardcore track fans, but you can look at the attendence at the Big 12 Championships and see what sort of draw they get without the pros and preps. I think those sorts of teams will come back to the Kansas Relays due to our big crowds - a high tide raises all boats.
Chris Campin, San Diego CA: Tim, Is there any spot in your meet for a 32 year old, has-been high jumper whose personal best 13 years ago was 6' 7"? Hope life is treating you well! Chris
Tim Weaver: Big Chris - thought they had you out on a big boat somewhere protecting the USA? Yes, we've all come a LONG way since our days in the high school uniform. Hope all is well and thanks for sending the CA style weather here for the weekend! I'll get you a spot in the youth clinic high jump.
Megan, Topeka: Who is your favorite track athlete? Now mine is Sean Crawford!
Tim Weaver: ha! I'll guess you saw the cover of today's LJW sports section. Shawn is a great athlete as you can see. I'm a big fan of all the sprints, so naturally I like Maurice and Justin. They also happen to be two of the nicest people I know. It's easy to root for someone you respect as an athlete and a person. It will be tough to pick one or the other. My little son thinks Muna Lee is the greatest - we've watched her and Allyson in the Olympic final about 2,387 times. So I'd have to put Muna out there too - a great young lady.
Richard, St. Louis: What do you do during the year when you arere not doing the track meet
Tim Weaver: The Relays actually has an 18-month planning calendar, so there is no off season. I travel a lot to different meets in the US and Europe to work with other athletes, agents, and meet directors. I steal a lot of ideas from them. The fundraising never stops. We have committee meetings a few times a month and have a lot of equipment to take care of. My office also puts on the events at Rim Rock Farm for cross country and the indoor track meets at KU too.
Janie, Lawrence: Coach Stanley Redwine seems like a phenomenal coach. How great is it to work along side someone like him?
Tim Weaver: Stan was my coach for senior year in college. Best coach I ever had in any sport. More than that, the most honest guy I know. Great family man. I looked up to him as an athlete (he won just about everything you can), as a coach, as a father, and just as a person. What he's done here at KU has been tremendous, as his Big 12 award last year demonstrates.
Chris, Kansas City: I heard something about 30,000 people coming this year. Do you really think that is going to happen? What is special about that number?
Tim Weaver: I do think it will happen. This has been my goal since April 23 last year. I have a list of where our crowd comes from normally. With athletes and coaches, sponsors, alumni, KU students, youth tickets, adult tickets, community care projects, folks up in the suites, advance ticket sales, group ticket sales . . . well, you get the ideas. We're ahead of 2005 in every category. With the weather predicted to be amazing and the OLYMPIC CHAMP vs OLYMPIC CHAMP getting so much press and pub, I think everyone in the stadium on Saturday afternoon will remember the day they set KU history.
Courtney, Lawrence: It is my understanding that Gatlin is just running in the relay, Is there any possibility he'll run the open 100?
Tim Weaver: You never know until the gun goes off. Last year Mo was just up for the 4x100 and he told me on Friday morning for sure he's doing the open. I always leave room for an Olympic Champ. When any athlete see the crowd build and all the other Olympians warming up . . . .
Melissa, Topeka: Everything you have done is awesome. How can you possibly top this?
Tim Weaver: We've got ideas. The non-track fan loves the Olympics - high stakes - big dollars on the line - a real international feel. The games tell a story better than any other event, I think. I won't say much more than that now, but rest assured that we have some crazy ideas on tap for 07 & 08. Entertainment has no limit.
Tre: How was your Moscow trip?
Tim Weaver: Cold and snowy. But amazing. Met with some great people from a very different culture. Went to red square. Worked with some fantastic athletes - many of whom will be here for GOLDZONE II. I've got some great memories and pictures from Russia for sure. They are working on freedom and capitalism, but its still sort of sloppy. I also know that Dorak means "idiot" - don't ask how I know.
Kevin, Wichita: Did you ever run track? If so, what event?
Tim Weaver: I was a sprinter and hurdler several years (and several pounds) ago. I can appreciate the field events and distance races, but I still love the relays, dashes, and hurdles. You'll notice we have the 110 hurdle world champ and the 400m hurdle world champ here to take on DEEP fields in both those races. I get to put together my dream races in my head and they see them on the track - like I said - it's a fun job.
Jamie, Overland Park: How many people work for you to make the Relays happen?
Tim Weaver: A lot. I have five interns and two people who help track full-time. Then a greater relays committee of 55 people, a student relays committee of 61 people, then 144 certified officials and staff, then about 200 volunteers. It takes an army of help to pull this thing off. Working with such great and dedicated people - sharing a vision and seeing it through - it one of the best parts of the job.
Jake, Goodland: How do you think the KU team will do during the Goldzone?
Tim Weaver: Stanley and his staff have done a great job with the KU teams. Sheldon in the shot put, Jiles and Thompson in the hurdles, Baysinger in the 400m will all be to watch. Charisse will be in a great LJ event. The invite mile has about half a dozen Jayhawks - I'd love to hear the fight song in victory after that event! The GOLDZONE has lots of college finals too plus the invite events. It's a great KU event too.
Roger, Andover: What do you do during the goldzone?
Tim Weaver: If we've all done our jobs, I get more and more useless as Relays Week goes on. So by the time GOLDZONE II has started, I should just shake hands and thank people. I'll have a headset on talking to the PA guys and videoboard operator. I'll be looking for little problems with the featured athletes. I'll be watching my clock - we have scripted GOLDZONE II down to the mintue and I'm obcessed with keeping that schedule. But when those Main Events are on, I plan on being a fan, yelling at the top of my lungs, and having FUN.
Jo, Lawrence: I know the professional athletes want money to run in meets...so how much did you have to pay to get the quality athletes for this meet?
Tim Weaver: These folks are professionals, you are correct. They can make a living in a number of ways. They get money from their shoe sponsors, they can get appearance fees, meets like this one have prize money in some events, and so on. The big money is in Europe each summer. A good performance at the Kansas Relays can mean a lot for the rest of their season. So yes, they can make some $$$ here but nothing like what a good race can set up for their futures.
Moderator: Ok, we have time for one last question.
Suzy, KC MO: What was your favorite moment from last year's goldzone?
Tim Weaver: For sure watching that men's 100m showdown was great - those huge star on the track and 24,619 in the stands. But the best thing for me was walking back to the car on the way to the banquet. I saw a little kid, maybe 5 years old, challenge their dad to a race to the car. I think at least one little one caught the "track bug" in 2005 and that's a great feeling.
Moderator: Well, Tim's phone is rining off the hook and people have been coming in and out of the office, so we will let him go. Thank you Tim for giving us some time today and good luck with the Relays and GOLDZONE II. We'll see you at Memorial Stadium this weekend for the Relays. Jayhawk fans in the area can keep up on everything going on at the big meet by clicking on KUsports.com. Also a big thanks to our KUsports.com readers for all their input into this chat.
Tim Weaver: Yeah - it's strange to be so popular for a month and then go back to nothingness on Monday. But is will be nice to not have the phone and e-mail bliping all the time and everyone wanting something. It was a lot of fun "chatting" with everyone and seeing the interest that is growing for this event. I cant' wait to show everyone what we have in store on Saturday afternoon. See you then.