Welcome to our online chat with Amy Linnen and Jeremy Mims.
The chat took place on Thursday, April 13, at 4:30 PM and is now closed, but you can read the full transcript on this page.
Moderator: Hi and welcome to our chat today. I'm Billy Steffens, a Meet Manager for the Kansas Relays, and I will be today's chat moderator. Today we are joined by former Jayhawk track and field stars Amy Linnen and Jeremy Mims, who will be competing in GOLDZONE II at next weekend's 79th Kansas Relays at Memorial Stadium. Thanks to both of you for joining us.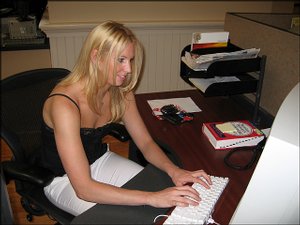 Amy Linnen: I am glad to be here today and chat with all of you track fans!
Jeremy Mims: I'm looking forward to answering some of your questions. This should be a good time.
Ricky, Lenexa: How has the Relays changed since you've been here. Is it more fun now? Is it different now that you are a pro?
Jeremy Mims: The Relays have always been a big deal for me. It's a home meet for the Jayhawks. The main changes I've seen since I've been here have been in the fans and the level of competition at the meet. The Relays committee has done a great job of promoting the event and getting in the best athletes. As far as running professionally, I'll have to wait till I run to see if it's much different. One difference has been that I've been more involved in promoting the meet.
Michelle, Lawrence: I saw little posters with both of you on them. How does that feel to be pushed like that? Pressure?
Amy Linnen: This is our time to be at home in front of the home crowd. So being noticed and seen by fellow Jayhawk fans is great! I don't find it to be added pressure. I think of it at as added support! Plus, I like pressure; I have done my best in high pressure situations!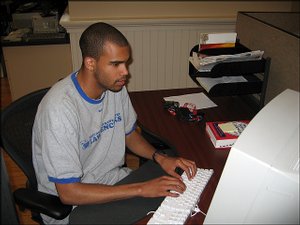 Jeremy Mims: The posters are fun. It's a little different to get the exposure, but I would be lying if I said that I didn't like it. I hope that more track athletes can get the exposure and increases the audience of the sport. As far as pressure, it doesn't really add that much. Just being a Jayhawk makes you want to do your best.
Charlette, Mission: How does track affect your school work?
Amy Linnen: It does have an impact but I would have to say it is a positive one. I do my best in school when I am in season. I am more focused. However there is a lot of traveling and time out of school and as a result it really makes me buckle down and focus in on both school and track.
Josh, Lawrence: What brought both of you to KU?
Jeremy Mims: Coach Redwine is the reason I came to KU. I looked at a few schools to run at after high school, and after meeting the Kansas coaching staff and seeing the campus I knew this is where I would be attending school.
Amy Linnen: Coach Hays is the main reason I came to KU. I developed such a great coach-athlete relationship when I was at the University of Arizona. When he decided to coach at KU, I made the same move. Now that I am here, I am glad to be a Jayhawk. Everyone in the athletic and acedemic departments has given me so much. I am very thankful for all of the opportunities. Once a Jayhawk, always a Jayhawk.
Reece from Atlanta: Mims - what do you now about Hicks? I know he got you twice. Have you ever beaten him?
Jeremy Mims: Actually, he has gotten me each of the three times we've met. He is a very talented athlete, and I look forward to running with him over then course of our careers.
J: What is your goal for this season (in the pole vault)?
Amy Linnen: My goal for this season is to jump as high as I can! I really would like to make the Olympic A-standard, which is 14-7.25. Doing this would open up doors. I would be able to go to the Olympic training center, have travel paid for when going to meets and this is a good height to get sponsors attention. With all of these things to think about my main goal is to have fun and enjoy what I am doing.
Christy, Grandview: You both have broken records and won NCAA Championships, what's next for you?
Jeremy Mims: I can't take credit where I don't deserve it. I never won a championship, so that is something I look forward to accomplishing at this level. Like most if not all track athletes, I have my eyes on earning myself a spot on the USA team for both the 2007 World Championships and the 2008 Olympics.
Amy Linnen: Sky is the limit. With the pole vault, I feel that I have not even tapped into my potential. I know that with hard training and determination I can accomplish something like an American Record or even a world record. I have jumped at a world record before and I know I can do it again. The next goal is to win a USA national meet and travel overseas to represent the USA! This will help prepare me for the Olympics in 2008.
Glenn, Lincoln: What do you like to do in your off time, when you aren't training?
Jeremy Mims: If I am not watching movies or playing with my dog, I am usually with friends playing cards or going out to eat.
Lelia, Topeka: How often do you train to be one of the best in the country?
Amy Linnen: 24/7. Being the best is something that you can't take a break from. I eat, sleep and breathe track and field. Yes there are times when I do other things than track. For the most part if I am not watching pole vault videos online or making sure what I eat is something good then I am either training or getting to bed at a decent hour. I try to find a balance and to do everything in moderation. If you are wondering how many hours a day I train, it can range from 3-5 hours a day.
Moderator: Ok, we have time for one more question for Amy and Jeremy.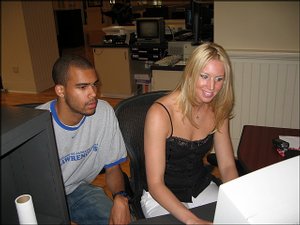 James, Wichita: What do you look most forward to at the Kansas Relays this year?
Jeremy Mims: I'm looking forward to running in a DMR on Friday. I haven't run a on a relay team in a while. I think the most exciting thing will be the fans. It will be a lot of fun seeing the numbers that will turn out.
Amy Linnen: I look forward to seeing a huge crowd, to hearing the crowd cheer, seeing the Jayhawks kick butt and the shopping cart race! Most of all I am looking forward to seeing a mini Olympics right here in Lawrence.
Moderator: Ok, one final question for Jeremy...
Ryan, Alphaville, KS: Hey Jeremy. What all does a runner like yourself do in the off season to stay in shape? I heard you ran some private races out at Lawrence High School and such. Any truth to this?
Jeremy Mims: In the off season I usually do anything besides run. My off season consists of a small break between end racing and the beginning of fall training. I'm usually still in some shape so a few of my friends and I sometimes get together and race for fun. As of now I am #1, but it's just for fun once or twice a year.
Moderator: Well that's going to do it for our chat today with former Kansas University tracksters Amy Linnen and Jeremy Mims. Thanks to both of you for your time today, and good luck in your respective events.
We'll see you at Memorial Stadium next weekend for the Relays. Jayhawk fans in the area can keep up on everything going on at the big meet by clicking on KUsports.com. Also a big thanks to our KUsports.com readers for all their input into this chat.
Amy Linnen: Thank you all for your great questions! I look forward to seeing you all there cheering us on! Don't be afraid to come up to us and ask more questions! GO JAYHAWKS! Take care and Have a warm sunshine day!
Jeremy Mims: Thanks for the questions. I am excited for next week to get here. I hope to see everyone out at Memorial Stadium enjoying the meet. Thanks again.