Kansas could not get a quality shot off in the final 12.5 seconds, and Arkansas escaped with a 65-64 victory over the Jayhawks in the consolation round of the Maui Invitational.
Both Jeff Hawkins and Russell Robinson had shots blocked in the final seconds as the Razorbacks held on Tuesday at the Lahaina Civic Center.
"We did play better," said a disappointed KU coach Bill Self, whose squad lost 61-49 to No. 9 Arizona in a sloppy debut on Monday. "We did a lot of things pretty good. But we had too many unforced errors."
The Jayhawks (1-2) took their final lead when Hawkins lobbed a long pass behind the three-point line to a slashing C.J. Giles who slammed home the ball for the 64-63 advantage with less than 30 seconds to go.
But Arkansas' Dontell Jefferson hit a jumper with 16 seconds left to give the Razorbacks the final margin.
"We let a guy get wide open from 15 feet with the game on the line," Self said.
"Then we didn't attack them. Brandon didn't drive it, we tried to shoot it twice over big guys. We didn't run our out of boundds play right. We pannicked."
A three-pointer by Rush with 2:36 left, put Kansas ontop 60-59. But Brewer responded with six of the Razorback's final eight points over the last 4 1/2 minutes.
Kansas -- which outshot Arkansas 49-percent to 45-percent, and outrebounded the Razorbacks 28-to-26 -- got 12 points from Giles, and 11 from freshman guard Mario Chalmers. Senior guard Jeff Hawkins handed out 10 assists, including two late lobs.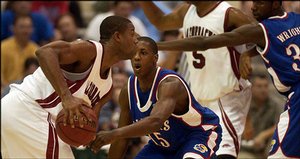 While Self said he was pleased that his team was much better than Monday's performance where Kansas scored under 50 points for the first time in a decade and committed a whopping 27 turnovers, the KU coach said the Jayhawks' trip away from the mainland wasn't what he had in mind.
"Very disappointng, this is certainly not what we hoped for coming over here, being 0-2 at this juncture," said Self, whose squad turned the ball over 16 times against Arkansas. "Our guys have to understand you have to go out and get better each and every day.
"(Chaminade) will be ready to play. We better be excited tomorrow."
Second Half Action
C.J. Giles picked up his third foul just 19 seconds in the second half.
Arkansas' Ronnie Brewer followed with an short bucket to cut the deficit to 31-29.
At the 18:41 mark, Brewer added a three to reclaim the lead for the Razorbacks, 32-31.
Rush responded with a three of his own 30 seconds later to give KU the 34-32 lead. Rush has 13 points in the game.
But Brewer came right back with another three to give Arkansas the 35-34 lead. Brewer has eight quick points in the second half and a game-high 14 points.
A long jumper by Robinson, was ruled to be just a two-pointer, but it was still good enough to give KU the lead back.
Razorback Jonathon Modica gave Arkansas the lead on a putback, but a drive by KU's Robinson gave the Jayhawks the advantage.
Giles added a jumper from the top of the circle to help Kansas to a 40-37 advantage with 15:25 to go.
KU's Jeff Hawkins was stripped of the ball as he tried to cross over and Arkansas' Dontell Jefferson took the ball to the basket, scored and was fouled by Hawkins. Jefferson hit the free throw to tie the game at 40-all with 14:36 to go.
Robinson missed a short shot the otherway for Kansas, and Arkansas came back to take the lead when Brewer hit a free throw for the 41-40 lead. Brewer, who had a career-high 25 points against UConn Monday night, has nine second half points and a game-high 15 points.
A drive by Chalmers gave the lead back to Kansas at 42-41, when the freshman drove the lane and got a roll.
Arkansas' Jefferson picked up his third foul on an offensive call when he lowered his shoulder into Chalmers at the other end.
Chalmers added a three-pointer, his third of the game, at the 12:22 mark to give KU a 45-41 lead.
An Arkansas turnover gave the ball back to Kansas.
But the Jayhawks, playing three freshman and two sophomore, had a turnover the other way and went into a timeout with a four-point lead.
The lead has switched hands 11 different times, and the game has been tied on five occassions.
Eric Ferguson hit a three of his own for Arkansas, to cut the Razorbacks' deficit to one.
Darian Townes missed a wide-open dunk to take the lead for Arkansas when he lost the ball, but Brewer drove to the hoop moments later for the 46-45 advantage.
Giles added a highlight dunk when he took a tip pass from KU's Julian Wright, who received a nice feed from Russell Robinson.
But Townes came back the other way and gave Arkansas the lead once more.
Arkansas' Dontell Jefferson added a break-away dunk and free throw to push the Razorbacks back in front 51-47 with 9:12 to play.
Rush missed the front end of a one-and-one. Kansas has shot only three free throws.
Rush, who has 15 points, followed that with a drive to the basket though to cut Arkansas' lead to two, 51-49.
Giles picked up his fourth foul with 8:12 remaining.
A Chalmers turnover led directly to an uncontested lay-in by Arkansas.
Rush will be at the line again, as Razorback Jefferson picked up his fourth foul.
Rush missed another one-and-one with 7:20 to go.
Robinson missed KU's third one-and-one and Townes added a basket to give Arkansas its largest lead at 55-49 with 6:30 to play.
Brewer took a Kaun knee to the eye on the bottom of a battle for the ball, but Arkansas regained possession and called timeout.
Townes added a turnaround for the 57-49 lead.
Robinson, who knocked down a long jumper, but his feet were on the line, added a lay-up to cut KU's deficit to 57-53.
Brewer added a jumper to give him 19 points on 7-of-20 shooting.
Kaun added a basket off a feed from Robinson to keep KU within 59-55,
Arkansas threw the ball away on its ensuing possessiona and KU has the ball with 3:53 remaining, trailing by four.
Giles responded with a monster dunk off a nice entry feed from Jeff Hawkins for KU's sixth unanswered point.
Arkansas missed a short shot, but so too did Rush.
Rush gave KU the lead back with a three-pointer from the right side with 2:37 left to put KU back in front 60-59.
With 2:19 left, Arkansas' Brewer hit a pair of free throws to put the Razorbacks back up 61-60.
Rush responded with a leaner off the glass with 1:59 left to put KU up 62-61. Rush has 20 points.
Robinson fouled Brewer on a screen, and the junior guard knocked down two more charities to give Arkansas another one-point lead, 64-62, with 1:48 left.
Kansas lost the ball on a deflection, but Arkansas also threw the ball away.
With 1:08 left, Hawkins dribbled the ball off his foot.
Brewer missed a runner in the lane, and Kansas took a time out with 44.6 left and Arkansas ahead 63-62.
With 33 seconds left, Giles threw down another big dunk, taking an ally oop from Hawkins, who was behind the three-point stripe. Kansas leads 64-63.
Arkansas has called timeout with 26.1 seconds remaining. The shot clock is off.
Razorback Jefferson knocked down a short jumper in the lane to put Arkansas back on top 65-64, with under 15 seconds to go.
Kansas, has the ball with 12.4 to go.
A Hawkins three-pointer was blocked out of bounds and KU has the ball with 2.5 to play.
Robinson, took the inbounds, but also had the ball blocked out of bounds and KU loses 65-64.
Halftime
Brandon Rush leads Kansas with 10 points at halftime, as the Jayhawks hold a 31-27 advantage over Arkansas.
Mario Chalmers has added two three-pointers, while Sasha Kaun and C.J. Giles each have four, but have been in foul trouble.
First Half Action
Arkansas won the tip and guard Ronnie Brewer started right where he left off against UConn, knocking down a three-pointer for the early Razorback lead.
KU's Sasha Kaun answered with a lay-in on KU's first possession.
C.J. Giles gave Kansas a 4-3 lead moments later on a short turn-around.
Brewer tied the game with a free throw.
Dontell Jefferson gave back the lead to Arkansas with a mid-range jumper.
Russell Robinson airballed a three-pointer badly, and the Jayhawks trailed 6-4 going into the first time out. KU has outrebounded Arkansas 7-3.
KU, which had 27 turnovers in its first round loss to Arizona, has four give-aways in the first five minutes today.
Brandon Rush tied things with a coast-to-coast lay-up and gave KU an 8-6 lead with 14:00 left in the half on a short jumper in the lane.
Kaun followed with a two-handed dunk over Arkansas' Steven Hill for the 10-6 advantage. Rush and Kaun each have four early points.
Darian Townes cut the deficit to two with two free throws, but KU's Jeff Hawkins hit a three pointer from the left side for the 13-8 lead.
Early on Kansas is shooting 54-percent, while Arkansas is hitting only 17-percent from the field.
Giles added a ferocious two-handed slam off a lob from Mario Chalmers on a break for the 15-8 lead.
Jonathon Modica hit a jumper to cut the deficit to 15-12, and consecutive fouls against Kansas' Christian Moody allowed Dontell Jefferson to tie the game with a three with just over nine minutes left.
Rush gave KU the lead back on a two-hand alley oop thanks to a nice feed from Jeff Hawkins. Moments later Julian Wright followed with a basket for the 19-15 lead.
A dunk by Arkansas was negated by another bucket by Wright.
The lanky freshman also came up with consecutive steals to give possession back to KU with 6:29 to go in the half.
Kansas has outscored Arkansas 16-2 inside the paint.
A jumper from Rush gave KU a 23-17 advantage with five and half to play in the half.
The Razorbacks answered with back-to-back baskets to cut the lead to 23-21 with five minutes left.
Rush, who is 4-for-4 from the field, added a pair of free throws to give KU a 25-21 lead with 4:54 to go. Rush leads all scorers with 10 points.
Another pair of buckets from Arkansas, including a floater from Brewer tied the game at 25-all with 4:05 to go in the half.
Chalmers kept a KU possession alive with a deep three that barely hit rim, then knocked down a triple from the left side to push KU back in front.
Darian Townes hit a jumper to close Arkansas within one, but Chalmers answered with a three-pointer that bounced in.
Freshman Micah Downs blocked a shot by Brewer in the final minute, but the Razorbacks took a timeout with 13.4 to go in the half, trailing 31-27.
Stephen Vinson came up with a big steal with 5.4 seconds to go in the half. Chalmers took a long three that was short, but a flying Wright tipped the ball in -- but officials ruled the buzzer had sounded.
Kansas leads Arkansas 31-27 at halftime
The starting line-up for Kansas, which is wearing its road blue uniforms for the first time this season, was big men C.J. Giles and Sasha Kaun, along with freshman Brandon Rush and guards Jeff Hawkins and Russell Robinson.
Arkansas started Charles Thomas, Steven Hill, Jonathon Modica and guards Dontell Jefferson and SEC Preseason Player of the Year in Ronnie Brewer.
Pregame
Kansas University's basketball team will try to limit its trouble in paradise to one game.
The young Jayhawks (1-1) will try to rebound from a sloppy, 61-49, setback to No. 10 Arizona on Monday with a 3 p.m. Maui Invitational round two game against Arkansas.
"Best thing about this game is that it's over," a disappointed KU coach Bill Self said after the loss. "This certainly is not what we expected coming over here. I can handle losing, getting beat. I don't think we gave it our best shot tonight."
The stats certainly wouldn't suggest so either.
The last time Kansas was kept under 50 points was in a 64-49 loss to Long Beach State on Jan. 25, 1993. KU also committed 27 turnovers to the Wildcats, the most a Jayhawk squad as had since it coughed up the ball that many times to Arizona State in 1997.
Still despite its shaky start in the Maui Invitational, Kansas tied the game midway through the second half and was still within striking distance until the final minutes.
"I knew we'd be nervous. I didn't think it'd be like this," Self said. "That was miserable execution offensively. We lost our poise, never executed, never did what we were supposed to do all night long,"
But the Jayhawks will get another shot today when they take on the (1-1) Razorbacks, who fell, 77-68, to third-ranked Connecticut Monday in their first round game.
Arkansas was led by junior guard Ronnie Brewer's career-high 25 points as Arkansas closed UConn's lead to 59-56 with 5:39 to play.
Despite the disappointing loss, Self said his young team can still make the most of their trip off the mainland.
"We still have the opportunity to make this a really special trip, we just have to play better today," Self said.