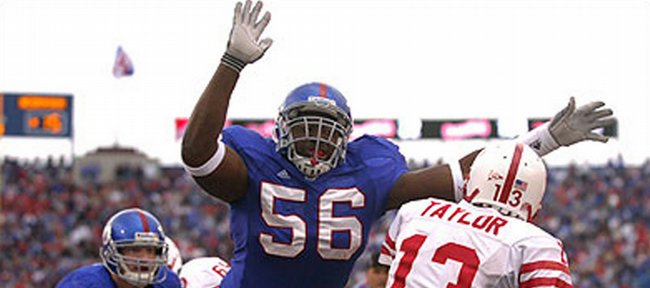 With authority -- and with two goalposts again roaming Lawrence -- a message was sent to members of the last 36 Kansas University football teams, each of which was unable to topple one of college football's mightiest programs.
You're off the hook. Sorry it took so long.
A jolly red giant of a streak is dead. Kansas beat Nebraska, 40-15, Saturday at Memorial Stadium to stop the Jayhawks' 36-game slump against the Huskers.
It was the last great streak Nebraska had over a conference opponent, and its crumble seemed just as spectacular as its generation-long buildup. KU showed a domination statistically and on the scoreboard that was rivaled only by the domination displayed by the student body as it gobbled up helpless goalposts with impressive efficiency.
KU had more than 200 yards rushing AND receiving Saturday. To counter, Nebraska had 138 yards of total offense.
"We came to play today, and we played extremely well," KU coach Mark Mangino said. "We deserved to win the ballgame. I don't think anyone questions that."
Kansas had two 100-yard rushers -- Jon Cornish, at 101, and Clark Green, with 100 -- and had a 100-yard receiver in Mark Simmons.
Coupled with a defensive touchdown, a special-teams touchdown and Nebraska's 21 total rushing yards, a glance at everything showed annihilation -- but this time, by Kansas.
While Nebraska has hung 40 points on KU 31 times in the series' history, the Jayhawks never have dropped 40 on Nebraska in over a century of football -- until Saturday.
The reaction from a Memorial Stadium-record 51,750 fans was fitting, considering all that was conquered.
"It's great for us and great for all the fans, too," Cornish said. "A lot of the fans have gone through 36 years of losing. We changed that."
Cornish may have provided the turning point, when he took a draw play up the gut and outran 11 Nebraska defenders for a 72-yard touchdown, less than a minute after the Huskers made it a two-point game. A stunned Nebraska squad wouldn't score again, and KU tacked on 16 points in the final quarter while the Nebraska section of the stands slowly thinned out.
"They creased us, and there weren't enough guys around the ball," NU linebacker Corey McKeon said of Cornish's run. "Every time we missed a tackle, it seemed like the guy runs for 45 yards."
It did seem like it, but in reality, Nebraska was cold-cocked from every direction imaginable. The Jayhawks scored in six different ways on Saturday -- two touchdown passes, a touchdown run, a field goal, a blocked-punt return, an interception return and a safety.
It added up to a point total that nearly equaled what KU produced in the last five meeting against the Huskers -- combined.
Quarterback Jason Swanson, who passed for 215 yards and two touchdowns, seemed to be the offensive puzzle's missing piece, after a dreaded stretch of futility in the beginning of the conference season while Swanson was nursing an injury.
"Swanny really threw the ball well," linebacker Kevin Kane said. "I'm extremely proud of how they bounced back after a few tough games."
Kansas (5-4 overall, 2-4 Big 12 Conference play) has very real bowl possibilities now, needing just one victory in its final two regular-season games.
But discussion of a postseason was minimal on Saturday, with celebrations and fired cylinders and slump-busting performances dominating the thoughts.
It meant the most to the 2005 players, Mangino claimed. But there are KU fans who remembered all 36 of the losses dating back to 1968.
Surely, they slept with a pinch of satisfaction Saturday night.
"You see the smiles on the fan's faces who have been around through the wins and losses of KU versus Nebraska," senior Charlton Keith said. "It was good to see them smiling."