The first step in any recovery program is admitting you have a problem.
It took some time for Jeff Hawkins to reach that conclusion.
While filling a niche as a backup point guard and defensive stopper on the Kansas University men's basketball team the last three seasons, Hawkins, by his own admission, wasn't always the most pleasant guy to be around.
The low point came last fall at the outset of his junior campaign, when KU coach Bill Self suspended Hawkins from the team.
"In the past, I was always on the other side. I was always the one coming in complaining," Hawkins said.
Now, as a fifth-year senior, the KU brass again expects something extra out of Hawkins. With buzzwords such as "young" and "inexperienced" hovering over the KU program, Hawkins finds himself on the opposite side of the equation -- a seasoned veteran expected to take a leadership role for the Jayhawks during the 2005-06 season.
Unlike his first four years on Mount Oread -- the Kansas City, Kan., native took a red shirt as a true freshman -- Hawkins is eager to shoulder the heavy load this winter.
"A lot of it's maturity," Hawkins said. "The thing with the whole suspension thing, it's helped open my eyes. For one, Kansas basketball is bigger than me. It's bigger than anyone."
Hawkins rebounded from last season's inauspicious beginning to play a pivotal role as the understudy to four-year starter Aaron Miles. While he averaged just 3.0 points and 0.7 assists per game while seeing action in 21 contests, he earned the praise and respect of his teammates for his hard work on the other end of the floor, winning the Ted Owens Defensive Player Award.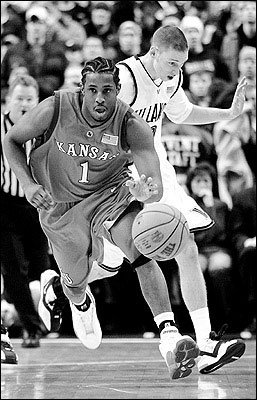 With Miles now with the Golden State Warriors of the NBA, the path is open for Hawkins to showcase a more complete game this season.
"I've always liked Jeff as a kid," Self said. "I think he's worked hard to prove that he can be a guy who can be a leader and a big-time performer at the University of Kansas."
Hawkins should know what it takes to get there. During his time with the Jayhawks, he's had the opportunity to play alongside and learn from some very recognizable names in KU lore. He was part of the same recruiting class that produced Miles, Keith Langford and Wayne Simien, and suited up for KU teams that included the likes of Nick Collison and Kirk Hinrich.
However, now that he's a senior in a program that's always genuinely valued its elder statesmen, Hawkins is a bit of a forgotten man as fans and the media flock to what's being billed as a "Fab Four" freshman class of Mario Chalmers, Micah Downs, Brandon Rush and Julian Wright.
Hawkins insists he doesn't mind. He knows those players, and others, will be counted on to score points for the Jayhawks and make headlines.
Instead, Hawkins is focused on how he can help all the fresh faces perform to not only the best of their abilities, but the expectations of the KU coaching staff.
Pickin' up the pace
KU coach Bill Self on what each player needs to do to enable the Jayhawks to play a more up-tempo style this season: "I think Jeff's biggest key is understanding what we're doing, leadership, when things get a little off-kilter, which they will, making sure we get a shot. And defensively pressuring the ball. He can really pressure the ball."
"One of the main things will be to listen to coach Self and do what he wants me to do. I've got to be that other guy talking for coach Self when he's not around," Hawkins said.
"When people don't really want to do something, I've got to get them motivated."
At least one teammate feels Hawkins will have no problems accomplishing that goal.
"Over the last three years, I've just seen him grow so much in his confidence," senior forward Christian Moody said. "I've seen a change in him because he knows this is his last year and he really has the opportunity to step up and lead.
"He's a great teammate."