At her annual basketball camp, second-year Kansas University women's coach Bonnie Henrickson's optimism is loud and clear.
"I think this is kind of a reflection of the enthusiasm that people around here have for the program," said Henrickson, who cracked jokes and a smile during her speech on shooting fundamentals Monday afternoon to nearly 250 campers at Horejsi Center.
"You have to have that perfect 'L' shape and the form of a waitress," said Henrickson, who evoked giggles when she held her hands overhead as if balancing a food tray.
Last year, the former Virginia Tech coach arrived in Lawrence too late for multiple camps and concentrated on her elite camp.
But this summer, thanks to her KU coaching aides, a handful of current Jayhawks and a little extra time, Henrickson held her elite camp last week and is conducting her individual skills camp for grades 5-12 this week.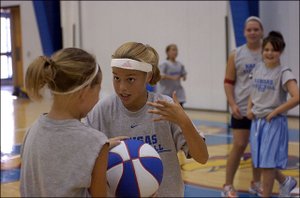 She also will play host to a junior day camp July 5-8.
"Those are the really cute ones," Henrickson said of boys and girls from first through fifth grades. "But they're always asking when they can go swimming."
Basketball is the name of the game this week - even if Henrickson, a former St. Cloud State standout, was doing the "banana dance" Sunday night.
"Last night was carnival night," Henrickson said, smiling. "The kids kept asking about elephants and stuff, and I go, 'Are you kidding me? We're playing basketball games here.'"
Monday was "competition day."
"You really have to like running if you're going to win that one," Lawrence 11-year-old Lynn Robinson said after a 'suicide' drill, in which a player sprints from one baseline to the free-throw line and back, to halfcourt and back, to three-quarters court and back and finally to the far baseline and back.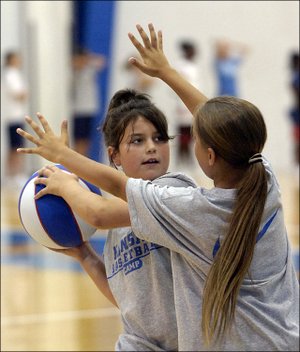 Kansas senior standout Crystal Kemp let the youngsters run those exercises to concentrate on teaching.
"You can really tell that Coach enjoys the instruction aspect of this," Kemp said. "It's pretty cool to help the little ones learn the right way to do things.
"I think that right now we do have a lot of support behind us, and it definitely will be nice to start this season knowing what to expect and all being on the same page."
Henrickson, who was joined by three former V-Tech players and former Jayhawks Nikki White and Jaclyn Johnson, said next summer there hopefully would be more "supporters" who attend the camps.
"Our growth is because of a lot of people, everyone from our administrators to the fans," Henrickson said. "We appreciate the respect and the passion they have for this game. And that comes in all shapes, sizes, and ages."