This week's switchover from Nike to adidas means more than a new official brand of uniforms, apparel and accessories for Kansas University athletics.
It also means Bill Muggy - and the legions of KU fans who trudge up the hill to his Jayhawk Bookstore - won't get stuck with dozens of David Padgett jerseys.
"We still have some of those with the 44 number left," said Muggy, referring to the uniform of the KU freshman who decided to transfer to Louisville a week after a fresh shipment of replica jerseys arrived atop Naismith Hill. "We won't be sandwiched with a whole bunch of leftover jerseys that we're stuck with.
"And there could be a walk-on, like (Christian) Moody, who ... is unknown today, or doesn't even have a scholarship today and he's like the sixth or seventh man off the bench and he starts getting playing time. We could get those. We'll be able to order smaller quantities, and have the ability to order numbers based on how the team does.
"It's better for adidas, for KU, for the consumer and the bookstores."
The KU apparel contract - an eight-year, $26.67 million deal announced in April - begins Friday. That's when KU coaches, administrators and other staffers officially will be asked to put their Nike togs on the shelves, and instead sport adidas polos, T-shirts, hats and other logo apparel.
Muggy said that adidas representatives had assured him that the new contract also would afford retailers the ability to place smaller orders with faster turnaround times.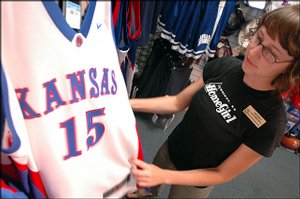 Muggy used to have to place his orders for Nike basketball jerseys in July. Now he can wait until the season approaches, and will have a wider variety of jersey numbers to choose from.
"If we see something that's going to be hot by Christmastime, we won't have to specify by July how many we need," Muggy said.
The Athletic Department also will begin selling official adidas merchandise just as soon as the company can deliver it, said Jim Marchiony, an associate athletics director.
"This is a good deal for both of us," Marchiony said.
Andy Garner isn't so sure.
The sales associate at Sports Dome, 1000 Mass., said he still had plenty of Nike basketball jerseys on the racks, including a "ton" with the No. 15 worn by embattled junior J.R. Giddens.
The store also recently received a shipment of Nike football jerseys, sporting the old navy blue color scheme that's no longer considered "official" by the Athletics Department or the university itself.
"We're keeping it," he said. "That's what everyone wants to buy."
KU Bookstores, which sell KU apparel at the Kansas and Burge Unions on campus, plan to highlight uniforms and other apparel featuring "royal blue," which is the university's new official shade of blue, said Tim Norris, director of the bookstores.
KU Bookstores haven't been told to pull Nike apparel from the shelves or conduct a "fire sale" to clear inventory, Norris said. The stores simply want to provide what customers want: KU merchandise that will sell.
"We obviously want to support the university with their supplier of choice," he said. "We will support that and feature that, but nobody's issuing any edicts."