Aaron Miles might hear his name called Tuesday night by NBA deputy commissioner Russ Granik near the end of the NBA Draft's second round.
Then again, the former Kansas University point guard might not.
"The goal here is to be on a roster, not necessarily to be drafted," said Miles' agent, Chris Emens of Octagon.
Emens believes the 6-foot-1 Miles, who auditioned for 15 NBA teams during the past six weeks, has what it takes to run a team, whether as a draftee or free agent -- much like another Emens client, former Jayhawk Kirk Hinrich of the Chicago Bulls.
"He's known for intangibles ... winning," Emens said of Miles.
Emens says of all point guards eligible for the draft, Miles "ranks first in career assists, wins, career-assist average, career steals and is third in career assist-to-error ratio, fourth in points per shot and is one of only two to never miss a game in his career."
Is that enough for Miles to be one of 60 players tapped on draft night?
"It's an honor to hear your name called, but to not hear your name called is not the end of the world," Miles said. "You can still make a team."
He's heard a lot of things while making the rounds of NBA teams.
"I think it's a fair assessment: a lot of teams see me as a backup point guard," said Miles, who averaged 9.3 points with 216 assists against 92 turnovers last season, "a guy who can keep a team moving and run a team so it doesn't lose a step, and somebody who can defend. I'm a competitor, and I think that's something any team would want. I bring leadership and confidence, and I'll do anything it takes to win."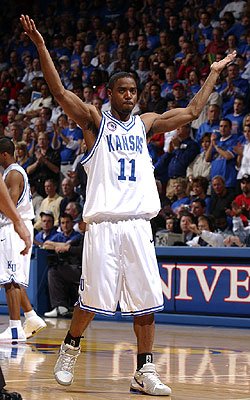 The knock on Miles is that he's not a great athlete or a prolific scorer or shooter, though, as Emens points out, he did knock down 50 percent of his threes (40-of-80) a year ago.
Miles' three-point shooting, in fact, is better than any other point guard in the draft except Salim Stoudamire, though Miles didn't attempt near as many threes as some established points.
"It helps that a lot of GMs have seen me in person, having been to KU the past four years," Miles said. "I just want an opportunity. As long as I have an opportunity, I'll be thankful for it."
It sounds as if, no matter what happens Tuesday, Miles will be given an opportunity. Emens won't name teams, but said his client would have no trouble landing a spot on an NBA summer-league team if he went undrafted.
Memphis director of player personnel Tony Barone can see why Miles would be a popular addition to a team.
"As far as leadership, Aaron Miles has great leadership," Barone said after working out Miles recently in Tennessee. "The Kansas team and the Kansas program really brings out those kinds of kids."
Former KU coach Larry Brown of the Detroit Pistons, who believes Wayne Simien is a certain first-round pick, isn't so sure about the status of Miles and, for that matter, fellow guard Keith Langford, who also is considered a possible second-round selection.
"It might not be as clear cut (for Miles and Langford)," Brown said. "But look at Billy Thomas. He banged around and banged around, and somebody finally realized he can make a shot. They (Miles and Langford) have got to get with the right team."
The agents of both Miles and the 6-3 Langford point to examples of players who have made the NBA despite not being drafted.
Emens mentions former Auburn player Marquis Daniels, who was not selected in the 2003 draft but averaged 3.8 points the past two seasons for Dallas.
Langford's agent, Mark McNeil, said former Southern Mississippi player Quinton Ross of the Los Angeles Clippers averaged 5.1 points a game this past season despite not being drafted.
"I hear different things. Different guys have different opinions. I've heard everything from 30s to 40s to even going undrafted, so it's hard to tell," Langford said of his status.
"This thing is like winning the lottery, even to try to go in the second round somewhere, so I've been just trying to put myself in the best position during these workouts (for 11 NBA teams)."
It's believed New Orleans, Seattle and Houston are high on Langford's abilities -- Seattle and Portland reportedly like Miles a lot -- and Langford might play some point guard in the pros.
"He has a great basketball IQ," McNeil said.
Aside from that ... "First of all, I have the ability to attack and put pressure on a defense," Langford said. "I have the ability to create and get my own shot. Watching film and breaking down stuff, it's more a one-on-one game (in NBA). There's a lot going on in a spread, open atmosphere. There tends to be more structure in college.
"I think it looks pretty bright," Langford said of his future. "Some teams have high interest from a couple years ago. A lot wanted to see I have no lasting injuries. The process has not been easy, but in some ways it's easier than the season in all that you have to worry about is yourself."
Both players will continue pursuing their NBA dream no matter what happens Tuesday night.
"Hopefully, the opportunity will come sooner rather than later," Miles said. "Definitely with any job you have to work your way up."