As a child, Wayne Simien was not sure what he wanted to be when he grew up.
All the Leavenworth youngster knew for certain was he sought to wear a uniform - basketball or military - to work every day.
"Leavenworth has an Army base. We have officers everywhere, fighter tanks and jets. I'd play with my G.I. Joe every day," said Simien, who also managed to find time to dribble, shoot and rebound his trusty basketball in his northeast Kansas driveway.
"I was definitely interested in the military, whether it be Navy, Air Force, Army. The taller I got : I don't think they make planes big enough for somebody like me to sit in."
Though he might be cramped in a fighter jet, the 6-foot-9, 255-pound former Kansas University hoops standout soon will feel comfy lounging in the charter plane of the pro team that selects him in the 2005 NBA Draft.
Simien is considered a sure first-round pick in Tuesday's proceedings - ESPN has him headed to Houston at No. 24 overall - after a senior season in which he averaged 20.3 points and 11.0 boards for 23-7 KU.
His draft outlook comes as good news to Simien, a mature guy who has had his eyes fixed on his future for a long time.
"I grew up in the '90s as a big (Chicago) Bulls fan," Simien said. "My favorite player was Michael Jordan - not the one who tried to come out of retirement four or five times. I saw him in his prime winning dunk contests and championships.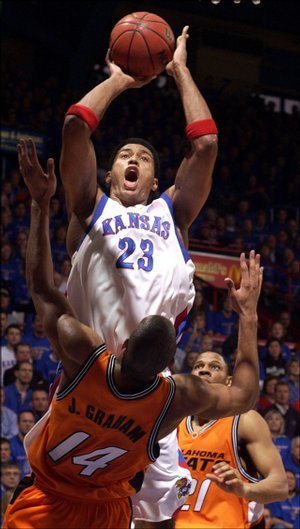 "I was a huge Karl Malone fan and fan of John Stockton," he added of the former Utah Jazz greats. "Malone was one of the great power forwards to play the game."
Utah, coincidentally, is one of the teams said to be interested in Simien, a power forward who insists he is open-minded about where he wants to play next season.
"I just want to be wearing somebody's uniform," Simien said. "I'd love to stay somewhere around here, but it's not realistic. There are no NBA teams around here. I'm just excited I get a chance to play at the next level.
"It has been a dream of mine. I'm glad it has an opportunity, a chance to be fulfilled."
No worries for Wayne
There appears to be little to no chance of Simien's dream of being a first-round selection going unfulfilled Tuesday.
"I really believe he will be a first-round pick," said Detroit Pistons coach Larry Brown, who probably would snag the former Jayhawk if he's available at pick No. 26.
"One problem I have with the NBA," Brown added, "is everybody talks about what guys can't do instead of what they can do. Simien has great hands, can make a shot, is a great kid."
The "great kid" tag is something KU coach Bill Self stresses to NBA general managers who call seeking information about the rock-solid individual who earned a KU degree in sociology in four years.
"Wayne is about as complete a player as there is in the draft, in the senior class especially," said Self, who believes Simien will be selected "somewhere middle-first round, or slightly on either side of that.
"He's improved about as much as anybody. He could always shoot the ball, but he's built from where he was to a first team All-American. He played through injuries and represented himself and the university with class. He's just been a huge asset for everyone he's come in contact with. It's been a joy to coach him."
Simien finds mutual admiration wherever he goes.
"I think he's going to fit in really well in the NBA," said Kirk Hinrich of the Chicago Bulls, a former teammate of 'Big Dub' at KU. "He's a solid guy, and he's a guy you can depend on. I think teams are looking for that. Wayne can score from down there and do some other things. I think whoever picks him is really going to be happy that they do."
Former KU big man, Drew Gooden of the Cleveland Cavaliers, says Simien is just what several teams need on the court.
"Wayne is a load down low," Gooden said. "He's a good outside shooter, good midrange shooter. It's key for a big guy to have an outside shot in the NBA. He'll get you rebounds, too."
Not a perfect player
One knock on Simien is that he is perhaps undersized to play in the paint in the pros.
"Size-wise, I'm a tweener in the NBA, but as long as I do what made me a success in college, I'll be OK," Simien said. "The word tweener means nothing to me whatsoever. The issues about my height : as hard as I play and as big I play on the court has eliminated that. For whatever it's worth, I go out and play my game, and that's that."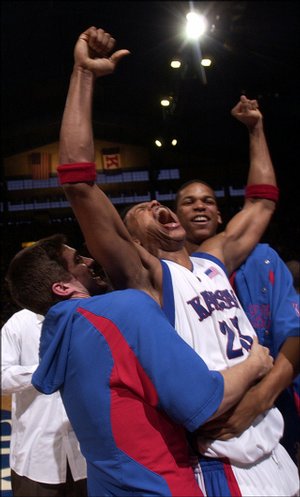 Former KU forward Scot Pollard, who, at 6-foot-11, 265 pounds, takes up a lot of space inside for the Indianapolis Pacers, says he can understand concerns about Simien's frame.
"I think Wayne obviously will need to make sure he can hit that jumper of his because he's a little undersized," Pollard said. "He does make up for things with his ability to get position and score. Sometimes I wonder who he is going to guard in the NBA. But if anybody can do it, it's Wayne.
"I root for him. Get in the right situation, and he'll do well. Look at Corliss Williamson and Marcus Fizer and other in-betweens not tall enough (for post). It can be done."
Simien is just as tall and exactly as heavy as Nick Collison, a 6-9, 255-pounder from the Seattle SuperSonics who averaged 5.6 points and 4.6 boards last season.
"It's harder going against longer players, but a lot of guys have found a way to be successful that are undersized," Collison said. "Wayne's got enough feel for the game that I think he'll be fine. If you really know how to play, you can find a way to be effective, and he knows how to play."
Bumps, bruises a concern
The only other real knock on Simien is the belief that he's injury-prone. He has had some injury problems at KU, but Self says they have been overrated.
"His injuries have had not had a thing to do with his durability," Self said. "He separated a shoulder and broke his hand on a hard foul. That has nothing to do with durability. Still, that may be something people are leery of. If they are, they are making a mistake."
Collison had two shoulder surgeries shortly after getting drafted by the Sonics two years ago.
Simien had one shoulder surgery at KU and one his senior year at Leavenworth High. He also had one arthroscopic knee surgery at KU and one as a prep.
"Shoulder surgeries : I had them, and I'm fine, I think, forever," Collison said. "He's probably the same way. His other injuries are all OK. I don't think it will be that big of a problem."
What a guy
Perhaps the intangible that guarantees Simien first-round status Tuesday is his reputation as an upstanding citizen.
Simien, a devout Christian, actually is looking forward to being a role model and spreader of the Word as a pro.
"There are a lot of things I want to do both on and off the court," Simien said. "You don't have to have a pastoral name or position to be able to minister to people. People do it in every area. Guys can minister to people in the business world, in schools. You don't necessarily have to be 'pastor such and such' to minister to someone.
"I feel my ministry area now will be in the locker room in the NBA, maybe fans, young men and women who look up to me.
"I'd like to have a church one day," Simien continued. "That would be great, but right now there are a lot of things I can do for the kingdom of God without being in the pulpit.
"I'll be able to do one-on-one things. If somebody is going through something, they can come to me for help. I can hold certain events, revivals, outreaches, things of that nature. There are an array of things that you can do, not limited to being a pastor."
Hmmm : a pastor.
That's another possible future occupation, but not one Simien considered as a child when engrossed with his G.I. Joe's and basketball.
"I just want," Simien said, "to be the best person I can be."