The basketball coach was looking quite official Friday at Eagle Bend Golf Course, donning sunglasses and a polo shirt emblazoned with a Jayhawk logo on one side and a patch of new athletic sponsor adidas on the other.
But it wasn't Kansas University's Bill Self.
Nope, the KU skipper was on the other side of the course looking quite relaxed in a blue T-shirt and baseball cap.
Instead, Free State High basketball coach Jack Schreiner wore the Jayhawk garb, and he wasn't afraid to give a little grief to the host of the second annual Bill Self Lawrence Parks & Recreation Youth Scholarship Golf Classic.
"Can you believe that guy was scared to make a side bet with me?" a chuckling Schreiner asked.
"I can't trust him. There are some shady characters out there in this tournament," Self shot back. "A lot of pencil whipping going on."
While the exchange exemplified the afternoon's light-hearted attitude, there was nothing light about the tournament's cause -- raising money the LPRD uses to fund its nearly $15,000 in annual scholarships.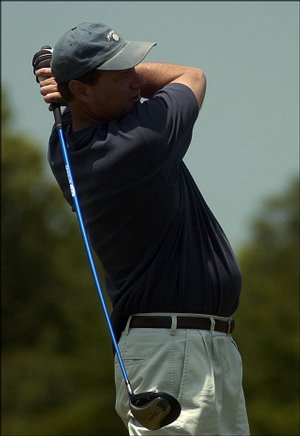 "It's just awesome that Bill has been so graciously involved in all this," said Lawrence baseball legend and longtime LPRD youth sports supervisor Lee Ice. "And I'll tell you what: Bill can absolutely hit the ball on the screws."
Self -- who later spoke at a dinner at the Hereford House -- and Ice, Pat O'Toole, Terry Keefer and Kent Ferguson didn't win the 100-person scramble, but they were in the hunt after firing a score of 15-under par.
"My team played great. Not just good; we were great," said Self, whose squad combined to birdie the back nine.
Three teams -- Miles Schnaer, Pat Bello, Cecil Kingsley and Scott Buxton; Phil Struble, Scott Shmalberg, Doug Stephens and John Selk; and Craig Starks, Doug Hassig, Ed Wise and Dave Seal -- all tied at 56.
KU assistant basketball coach Kurtis Townsend was upset when he saw who won the closest-to-the-pin contest -- KU aide Tim Jankovich.
"You know that's not legit. He had to cheat," said Townsend, who teamed with his father, Raymond, and KU hoopster C.J. Giles' father, Chester.
Schreiner played with FSHS athletic director Steve Grant, who eagled the 540-yard, par-5 16th hole. Schreiner joked that had Self not had five players in his group he could have beaten him.
"We didn't know you could have five," Schreiner said.
While Self certainly looked the part of a relaxed golfer, he said he was looking forward to down time after the end of his second camp next week and the July recruiting period.
"It's not too relaxing when you get up at 5 a.m., but it was a fun day for a great cause," Self said.