It didn't take McDonald's All-American Julian Wright long to hit his first game-winning shot at Kansas University.
Making his unofficial KU debut before more than 500 campers and about 200 fans Wednesday, the 6-foot-9 Wright flicked in an eight-foot baseline jumper, giving his "Skins" team a 61-58 victory over the "Shirts" at Horejsi Center.
The first team to reach 60 points was declared the winner.
"I just like to compete," Wright said after scoring a team-leading 17 points. "Even though the camp game is having fun for the kids, it shows our competitive nature. It's one thing about our group right now. We want to win. We look to do great things this year."
Another incoming frosh and McDonald's All-American, guard Mario Chalmers, contributed 11 points for the winners.
The 6-1 Chalmers hit three three-pointers, while Wright hit a pair.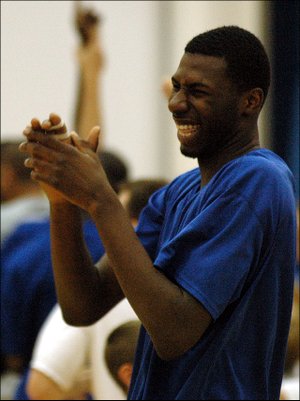 "I wasn't going to try to force it," Wright said of his baseline winner that hit the rim, kicked off the glass and dropped through the goal, spoiling a comeback by the Shirts, that included battling back from a double-digit deficit late.
"They came back and made it a game," Wright added of Stephen Vinson, Christian Moody, Sasha Kaun, Darnell Jackson, Jeff Hawkins, Russell Robinson and ex-Jayhawk Bryant Nash. Vinson led the Shirts with 17 points.
The winning team consisted of Chalmers, Wright, Jeremy Case, Matt Kleinmann, Rodrick Stewart, C.J. Giles and St. John's player Lamont Hamilton.
"We knew they'd come back. It's Kansas Jayhawks. They're going to fight. I knew they would put up a fight," Wright added.
Wright showed great versatility, putting the ball on the floor on a spinning, driving layup and also hitting several jumpers.
Chalmers showed the ability to hit threes off the dribble, effortlessly flipping the ball through the goal three times.
"It was fun, all for the kids," Chalmers said.
"We'll talk about who won in the locker room," he added with a smile.
Wednesday's camp game figures to involve some former KU players now toiling in the NBA - perhaps guys like Scot Pollard, Kirk Hinrich and Billy Thomas. None of the NBA players were available to play this week.
"Actually I'm kind of glad. This will let me get in shape," Wright said. "Those guys are in top shape, elite players. They are in condition all year. I hope they take it easy on us," he joked.
Wright is hoping the Jayhawks make life difficult for opposing teams this season.
"We are going to be a team that scores in bunches," Wright said. "If we act like a sponge and take information from the coaches, we'll be a great defensive team. We're going to get stronger, run the floor and do some good things."
Senior-to-be Jeff Hawkins likes what he's seen of his new teammates.
"I think they handled it really well," Hawkins said of the freshmen's first public display. "If Julian plays the way he's been play the last couple of weeks in pick-up he's going to be outstanding. Mario is also playing really well. I'm really eager to get Micah in here and see how all three play together."
Micah Downs, a 6-8 frosh-to-be from Bothell, Wash., is set to arrive this weekend and should play in next week's campers game.