Now for something completely different: a six-hole golf tournament.
That's what the rain-plagued Kansas Golf Assn. Four-Ball championship became Sunday when capricious weather forced suspension of the scheduled 36-hole final round six holes from completion.
KGA executive director Kim Richey made the call about 6 p.m. after the third rain delay at Alvamar Golf Course.
"We had 21/2 hours of daylight left," Richey said, "but the radar said it was going to continue, and every time I was about ready to send them back out, I heard thunder and saw lightning."
Richey could have called the whole thing off instead of suspending play, but stressed that was his last resort.
"I think this is probably the best thing," Tyler Docking said. "We don't want co-champions."
Docking and partner Gary Woodland, a pair of Kansas University golfers, were knotted with Chris Mabry and John Kelly, two members of Missouri's golf team, after the 30 holes.
The first stoppage occurred at about 8 a.m. with the four golfers on the second hole. Play didn't resume for another two hours.
When they teed up again, competition continued uninterrupted for about six hours. Then, at around 4 p.m. and with the golfers on the 27th hole, marshals ordered everyone off the course just before a heavy thunderstorm hit.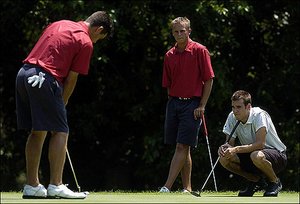 At the time, Woodland and Docking were two holes ahead.
A half an hour or so later, the four golfers went back at it, and Kelly chipped in from about 15 yards out to cut the Woodland-Docking edge to one.
Holes 28 and 29 were halved during light rain. Then Kelly ran in a 22-foot uphill putt on the 30th hole as thunder rolled and lightning flashed in the sky to even the match.
"It was time for something to go right for me," Kelly said. "It was my turn."
It was also time to return to the clubhouse for the third and last time. Now they'll have to wait to determine whose names go on the trophy.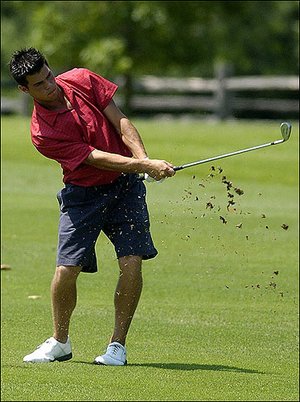 Richey said he would announce a date for the six-hole showdown as soon as possible.
"I have asked each player to submit a list of their open dates to me and we will use the first date available for all four players," he said.
Ideally, the four players would have returned this morning to finish the last half-dozen holes, but Woodland had to catch a plane to Albuquerque where he will compete in this week's Southwest Amateur. Also, the forecast called for more wet weather this morning.
"I've never seen weather like this," said Mabry, an MU senior-to-be who lives in Leawood. "It's been a long three days."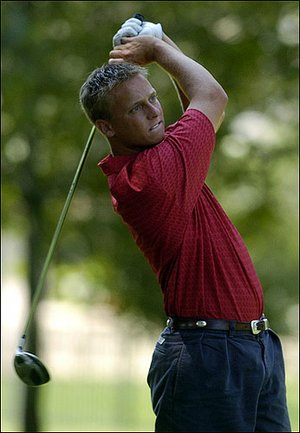 Both teams logged a pair of rounds in Friday's quarterfinals and semifinals, then returned to Alvamar GC early Saturday morning only to have the final round rained out and postponed until Sunday.
Curiously, the last time the KGA Four-Ball Championship final round had to be postponed was in 1997 right next door at Alvamar Country Club.
"That's the beauty of match play," Richey said. "You can always get the golfers together again. In fact, I think in '97 it may have been two months before we played it."
Woodland, who teamed with current pro Kevin Ward to win last year's KGA Four-Ball, and Docking were up by as many as four holes twice Sunday -- after Nos. 16 and 22 -- but Kelly's late heroics forged the deadlock.