OKLAHOMA CITY — Mike Maples has kept an eye on the flap over Kansas University basketball player J.R. Giddens getting stabbed outside the Moon Bar.
He can accept that Giddens may have been in the wrong place at the wrong time or that he said something that rubbed somebody the wrong way.
But a fighter, he said, Giddens is not.
"Oh, no, J.R. has never represented himself as a fighter," said Maples, who was vice principal and athletic director at Oklahoma City's John Marshall High School during Giddens' junior and senior years.
"I can't picture him being the aggressor," he said. "That's just not who he is. Now, he could be aggressive on the basketball court, but off the court he was just the opposite. He wasn't involved in any of that stuff."
Giddens' hometown fans are puzzled by reports that he suffered a fall from grace last month that could lead to his being dropped from the team.
This, they say, is not the Giddens they know.
"He's a good kid," said John Martin, Giddens' senior-year basketball coach. "If I had to be out of town and needed somebody to watch my house and feed the dog, I wouldn't think twice about giving J.R. my keys. I mean that. I trust him that much."
But, clearly, Giddens is in KU coach Bill Self's doghouse: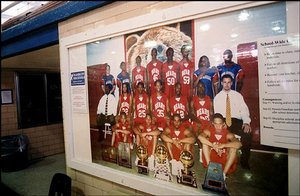 Giddens has reportedly admitted to the police that he was drinking that night, even though he is 20 and the legal drinking age is 21.
He was out partying at 2 a.m. on a Thursday with two final exams left to take.
Some witnesses say Giddens started the fight that left his right calf slashed, which required 23 stitches to close. Others insist he did not.
Instead of taking summer classes, lifting weights, and getting ready for next season, he's on crutches, parked at his parents' home in Oklahoma City.
In a program that's come to value humility, he is well-known for his chest-thumping, jersey-popping cockiness.
"J.R. is a good person who's made some bad decisions," said KU coach Bill Self, "but those decisions have affected far more people than himself."
Contacted by Journal-World sports reporter Gary Bedore, ESPN college basketball analyst and color commentator Dick Vitale offered the following comments on the controversy surrounding J.R. Giddens:¢ Helping hand"Obviously the J.R. situation -- I've been following it in your paper -- he is young enough and will have the support staff available at Kansas to give him a helping hand. But obviously whenever you get involved in a scenario like that, it certainly creates problems in many ways."He certainly can utilize the situation at Kansas, the counseling that's available, and the people who are available to help him -- Bill Self, the coaching staff, the people behind the scenes to get himself in order."¢ On the road"He's going to take big hits (from opposing fans) on the road. He's also, right now, in a situation where obviously controlling emotions in situations involved in is certainly part of maturity."¢ Hoop dreams"As far as the NBA is concerned I don't think that (situation) creates much of a dilemma. He's got to prove first of all he can play. He's got to do it consistently at the level at Kansas where, obviously, at this moment, he's been an inconsistent player. He's demonstrated the ability to shoot a three, but he's got to add other parts to his game."Most of all he's got to come out with a lot of enthusiasm, lot of spirit and he has got to get himself back a positive attitude to rebuild that image. One thing about Rock Chalk, Jayhawk land everything they basically do there has been done with class."He's now got to realize he's representing -- and has to be accountable for -- all the great tradition, the history at the University of Kansas. He's got to understand you've got to be accountable for your actions, that wearing the Kansas uniform is about pride and solely about the rich tradition it represents."
The consequences on Giddens' chances for making the NBA remain to be seen.
"I wouldn't think (it would affect him)," said Andy Katz, ESPN college basketball analyst. "People have done far worse things and have still made it to the NBA."
Keeping quiet
Since the stabbing, KU officials have warned members of the basketball, football and track teams -- many of whom were at Moon Bar the night of the fight -- not to talk to reporters.
Last week, Giddens' parents took the family's telephone out of service.
"J.R.'s parents are wonderful people," Maples said. "They've made a lot of sacrifices for their kids -- J.R. has a younger sister."
Martin said Giddens' mother, Dianna, accompanied her hot-prospect son on his visits to university campuses.
"She really wanted to make sure her son went to a quality school," he said.
Giddens' father, Charles, often attends his son's games at Allen Fieldhouse. However, Dianna Giddens is in ill health and no longer travels.
"J.R. has come back many, many times to see his mother," said Jane Taylor, Giddens' guidance counselor at John Marshall.
Back to school
He's been back to John Marshall, too.
"He was here in March," said school secretary Janet Harris. "He gave me a hug."
During his junior and senior years with the John Marshall Bears, Giddens averaged more than 22 points and almost nine rebounds. He and teammate Adam Liberty, who recently transferred from Wichita State to Oral Roberts University in Tulsa, Okla., led the Bears to the state 5A title in 2003.
School officials plan to retire Liberty and Giddens' jerseys later this year. A 3-by-6-foot photograph of the champion Bears is on permanent display in the school's aging gym.
Basketball at John Marshall is huge.
"We won three (state) titles in eight years," Maples said. "My four years there, we didn't lose a single regular-season game."
Maples, who is now principal at Oklahoma City's Southeast High School, explained that, in Oklahoma, the 32 largest schools are 6A, the next 32 are 5A.
"Oklahoma is a football state. If you play football and you're college bound, you're going to come from a 6A school," Maples said. "The 5A schools are where you go to play basketball."
After his sophomore year, Giddens left Yukon High School, a pleasant, suburban 6A school, for the considerably rougher, 800-student John Marshall.
"It's a unique institution," Maples said. "You drive a mile south and you're in Nichols Hills, which is Oklahoma City old money. We're talking millionaires and multimillionaires -- five Kerrs of the Kerr-McGee Oil Co. live in Nichols Hills.
"And yet, right across the street from John Marshall, you're dealing with gangs."
Giddens' transfer to John Marshall caused some to allege illegal recruiting.
"There was nothing to that," Maples said. "I remember the day J.R. and his father came to enroll -- they walked in and I remember saying to myself, 'Man, that kid is tall and he looks athletic. I wonder who he is?' They didn't say anything about coming to John Marshall to play basketball; they said they were there to enroll in school just like anybody else."
His senior year, Giddens was named one of the top five players in Oklahoma. He earned McDonald's All-American honors.
ESPN.com tagged him the 17th best high school player in the nation.
"J.R.'s main thing was shooting threes," said Michael Prandy, a coach and business technology teacher at John Marshall. "He made that his game. His talent pretty much speaks for itself."
KU tops
Recruited by Oklahoma, Oklahoma State, Purdue, Illinois and KU, Giddens quickly picked the Jayhawks.
"By his senior year, he'd already orally committed to KU," Martin said. "He really liked Coach (Roy) Williams."
But Williams left for North Carolina before Giddens arrived.
"I sat J.R. down and we talked about that," Maples said. "I told him he'd made a commitment to the university, but we all know that, really, coaches sell themselves. So he had some decisions to make: whether his commitment was to KU or to Coach Williams."
The next day, Giddens went to Maples' office.
"He said he was going to KU," Maples said. "He said what had impressed him the most were the fans, the way they supported the (basketball) team and the atmosphere of the arena there. It was just incredible to him.
"It's kind of sad, seeing that same group questioning him now."
Uneasy fans
After the Moon Bar fracas, several Jayhawk fans -- it's unclear just how many -- have used Internet chat rooms and call-in radio shows to call for Giddens' being dropped from the team.
Coach Self said the matter would be dealt with privately.
Lawrence police expect to complete their investigation within three weeks.
Giddens' closet is not skeleton-free. His senior year at John Marshall, he and three adults -- one of whom was his uncle -- were taken into custody about 3 a.m. on Dec. 19 after Wal-Mart officials learned that an employee had disabled security tabs on several high-priced items.
The group paid $40 for $3,854 worth of merchandise.
Charges against Giddens, then 17, were dismissed.
"I don't know what to make of that," Maples said. "I was told J.R. had receipts for what was in his cart and that's basically why they dropped it."
Because the matter was handled in juvenile court, records were not made public.
Another skeleton: A year ago, Giddens and then-KU signee Darnell Jackson were in a serious automobile accident in Oklahoma City. Though the accident was not their fault, it occurred at 3 a.m.
Giddens' friends say he has, in fact, been slow to figure out that bad things tend to happen after midnight. But, they say, he's not a bad person.
"He's an engaging person, he's a guy you'd have over for dinner," said Giddens' high school coach Martin. "He's well-mannered. You can have a mature conversation with him."
A communications major, Giddens makes good use of the department's academic support facilities.
"He's a good student," Self said.
He's driven, too.
"I don't know what's happened at KU," Prandy said, "but the whole time he was at John Marshall he was completely focused on playing college basketball. He's got a goal: He wants to make it to the NBA."