It's not called a war any more, and perhaps the most heated aspect of today's Kansas Golf Assn. Four-Ball championship round could be the afternoon swelter at Alvamar Golf Course.
But with golfers from Kansas University going against a pair of rival Missouri Tigers, there can't help but be a little competitive fire.
"It's the Border War, er, I mean Showdown. Of course this means something," said Jayhawk Gary Woodland, who won the Four-Ball crown last year with former KU player Kevin Ward (who recently turned pro) and will try to repeat today with KU teammate Tyler Docking.
The pair's opponents for today's 36-hole match-play title are Mizzou's Chris Mabry and John Kelly.
"I don't think it's going to be very heated because we're all good friends, but there might be some good-natured fun," said Mabry, a Roeland Park Miege graduate who grew up playing with Sunflower State natives Woodland and Docking.
The four already have seen each other once this week when they met up during Tuesday's first round of stroke-play qualifying.
The KU crew got the better of the MU guys that afternoon, shooting a five-under 65 compared to Mabry and Kelly's 68.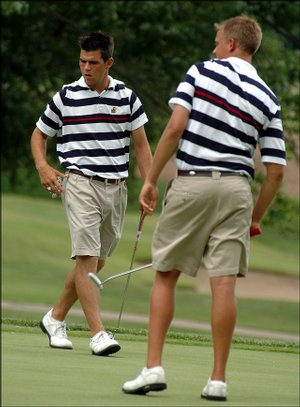 "There's not a whole lot separating either squad. It's all about who can come out today and make the birdies," said Docking, a junior.
The Tigers trounced the course Friday, taking out two of the hottest teams in what started out as an 85-team tournament.
Ninth-seeded Mabry and Kelly trailed top-seeded Conrad Roberts and Andy Stewart, both former Jayhawk golfers, on the eighth hole of their quarterfinal -- but their luck quickly changed.
Kelly jump-started the rally with a birdie to win No. 8. From there, they combined to hit 10 straight 3's to advance to the semis, where an even stiffer challenge awaited.
Wichita State golfers Ty Cline and Judd Easterling set a KGA Four-Ball record with a 9-and-8 victory over fifth-seeded Cameron Bishop and Ty Sanders of Tulsa, Okla., in their quarterfinal.
But the kids from Columbia, Mo., again pulled out the victory, 2-and-1.
Woodland and Docking disposed of sixth-seeded Joey Mundy and Zach Pederson in their morning quarterfinal and finally found a way to cool off hot high schoolers Chase Chamberlin of Eudora and Olathe's Jordan Smith with a 3-and-2 semifinal victory.
Since Alvamar is the home course for the Jayhawks, the KU players have quite the advantage, right?
"I think the new grass has definitely equalized things a little bit for us," St. Louis native Kelly said of Alvamar's recently refurbished greens that include a contemporary form of Crenshaw bentgrass. "Because they are so new, it's tough to get a real good idea of how the ball is going to break."
What breaks could come today is anyone's guess, including KU coach Ross Randall.
"You know even though it's kind of a relaxed summer tournament, I guarantee both teams are going to be going out there gunning for each other," he said. "At the beginning of the week, this match-up definitely looked on paper like a real possibility. It should be a fun one."