Several high school basketball players are in Chicago this week showcasing their skills for scouts at the NBA predraft camp.
But not Mario Chalmers and Julian Wright, who have arrived at Kansas University for summer school.
"I'm thrilled to be here," said Chalmers, a 6-foot-1 point guard from Anchorage, Alaska. "I don't know what everybody else thought (but) me and Julian ... our intention the whole time was to be on campus."
A third incoming freshman who also was the subject of NBA rumors, Micah Downs, will arrive next week after his graduation ceremonies at Juanita High in Kirkland, Wash.
"For me, physically I don't think I'm ready for the NBA. I need to get stronger. That's my biggest mindset," said Chalmers, who said he didn't waver even after a team-high 20 points with five steals and five assists in the McDonald's All-Star game in March in South Bend, Ind.
Same goes for the 6-9 Wright, who had some impressive workouts in front of the scouts the week of the McDonald's game and displayed his athleticism while scoring 14 points.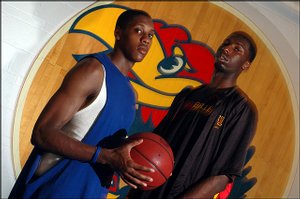 "That's not enough," said Wright, who hails from Homewood-Flossmoor High in the Chicago area. "Even if I impressed them, even if I was considered first round, I was not impressed with myself. I didn't think I'd be able to contribute to the team and do well (in the NBA). I know I have work to do. I'd rather do it on campus. If I can impress the scouts now, it means I can impress them later."
Wright simply felt he had no reason to go to the NBA.
"Not knocking anybody else, I wouldn't be doing myself any good," he said. "I'm concerned about expanding my game, gaining more knowledge, putting in the time and effort to be a great player rather than being just an average player."
That's why the two are in Lawrence in early June, ready to hit the weights four times a week and play lots of pick-up basketball. They also are taking advantage of an NCAA rule that allows them to take six hours of summer school.
Wright and Chalmers are enrolled in a child development behavior class, which meets twice a week. Both also will take a survey communication class during the second session.
"It's an easier transition than if I'd been with my friends all summer and then come to school," Wright said. "Right now, I'm still used to doing school work. This will make it a little easier during the school year."
Chalmers said he has discovered college is "about the same as high school, except it's bigger and classes are longer."
The two players figure to bond while rooming at Jayhawker Towers.
"It's going to be fun," Chalmers said. "We both are the same. We think alike, and we are about basketball."
The best thing about living with Wright?
"Julian is quiet," Chalmers replied.
Wright sees the same qualities in his roomie.
"Mario is laid back, a great person. We're trying to feel each other out," Wright said. "I've known him from before. We're going to be in the same routine now."
The routine includes running the court with the returning Jayhawks in an attempt to mesh early for next season.
"I'm impressed with the whole team," Chalmers said. "We're going to be athletic, get it and go and pressure people."
Echoed Wright: "We'll run, get up the floor, pressure the ball as well. I think we'll be deep -- not experienced, but deep. You can throw new bodies at teams and wear them out. We'll be an athletic team and cause a lot of fits for others."
The season still is months away, but the two rookies are taking it slow and easy as they adjust to campus life.
"It was overwhelming," Wright said of last week's graduation. "I had to leave a lot of people I've spent so much time with over the last four years. It's great to be here. At the same time, I realize it's still the summer. It's not exactly the way it'll go in the fall when we'll be a lot busier."
Meanwhile, Chalmers says he is having fun and has no problem adjusting to the Kansas heat after living in Alaska for several years. He lived in North Carolina before the family moved to Anchorage.
"I love to work hard," Chalmers said, "and this is a great opportunity to work with my new teammates, get a feel for their game, how they play, what everybody is comfortable doing on the court."