A youth movement was taking its course Thursday at Alvamar Golf Course, but 15-year-old Eudora native Chase Chamberlin apparently wanted to drop the age limit even lower.
"Yeah, it's certainly a big-time win, especially considering that we're younger than most everyone out here," said Chamberlin, a sophomore-to-be at Olathe South.
Chamberlin teamed up with Falcon junior Jordan Smith to defeat second-seeded Pete and Joe Krsnich in the second round of match play at the Kansas Golf Assn. Four-Ball championship.
"Those two high schoolers were awfully, awfully good today," said Pete Krsnich, a Kansas University golfer. "Obviously, we're disappointed with how we finished, but that's what is going to happen when you make too many mistakes in a tournament where there is just a ton of good, young competitors."
While the O-South prepsters might have pulled off the day's biggest upset, Thursday was a day where collegians made their presence known.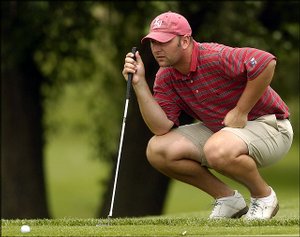 Of the 16 two-man teams heading into today's quarterfinal round, only five individuals will not report to college campuses this fall.
"I think it's great that there are so many college players out here this week. Obviously the KGA wants the best golfers it can get, and there are definitely a lot of quality collegiate golfers competing," Lawrence resident Conrad Roberts said.
But Roberts, who along with teammate Andy Stewart form the top-seeded team, are no strangers to the college game, even if the rest of the field gives them grief about being the "old guys."
"We really aren't that old," Roberts said with a smile. "We can still bring it."
Indeed the two recently graduated Jayhawks had little trouble Thursday, winning their opening match, 2 and 1, and later prevailing, 3 and 2.
"We're still very competitive, and I think with all these young guys being out here, we want to play that much harder," said Roberts, whose team will tee off against current KU golfer Barrett Martens and current Missouri golfer Trent Twaddle at 7:30 this morning.
Perhaps the main reason there seems to be more of a college presence this year in the 17th annual event is that the start date was pushed back a week.
In the past, golfers like Twaddle, or Wichita State's Ty Cline and Judd Easterling -- all three qualified for nationals this season -- wouldn't have been able to participate in the KGA event because they still would be playing collegiate golf.
"Having the event fall a week later on the calendar certainly has seemed to help bring in more collegiate players, but we didn't play the schedule like that on purpose," KGA golf programs manger Casey Old said.
"In general there are just a lot more teams competing this year. I think a lot of it has to do with Alvamar being in the best shape I've ever seen it," Old said of the recently refurbished public course which replaced its greens with a contemporary form of Crenshaw bentgrass.
No matter the reason for the increase in collegians this year, Krsnich said he and his brother saw first hand the increased level of competitors.
"I don't know why there weren't more Missouri or Kansas State guys in the past, but I definitely know this is the strongest field I've ever played in here," the KU senior-to-be said.
"Unfortunately, we not only saw how good the college guys were today, but we also ran into a pair of high schoolers who played great."