It's pretty safe to say that most of the players atop the Kansas Golf Assn. Four-Ball championship leaderboard Tuesday were not to Trent Twaddle's liking.
Heck, even Twaddle's teammate for the week-long tourney at the newly refurbished Alvamar Golf Course is an archenemy.
"There's not enough Tigers out here," said a smiling Twaddle, a current Missouri University golfer.
"Uh, that's why it's called the Kansas Four-Ball," shot back Twaddle's teammate, Kansas University junior-to-be Barrett Martens, one of six current or former Jayhawks who finished among the top seven teams.
Still, the Twaddle-Martens tandem was able to put their school spirit behind them long enough to finish at the top of Tuesday's stroke-play qualifying with an 8-under-par 62, three strokes better than a trio of twosomes tied at 65.
"Barrett was absolutely on fire today. I really didn't have to do that much," said Twaddle, who combined with his partner for eight birdies and 10 pars during the first of two days of stroke-play qualifying for the 85 teams.
In reality, the two golfers from Missouri are good friends. They became pals during their prep playing days, but once Martens saw KU teammate Gary Woodland (who won last year's Four-Ball title with former Jayhawk Kevin Ward) was teaming up with Kansas' Tyler Docking -- Martens knew he needed some firepower.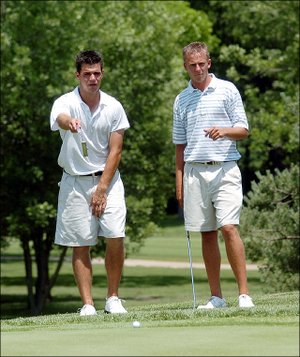 "I'm not surprised at all with how well we did today," Martens said. "I knew that we had the kind of game to play with those two, and we know each other's tendencies really well, which always helps."
Woodland and Docking aren't far behind at 65, even after struggling through a "rough round."
"We had a grind-it-out kind of day," Woodland said. "But at the 13th tee box, I just challenged Tyler to play me one-on-one instead of the other teams, and it really helped us rally."
Indeed the KU players birdied four of their last six holes and barely missed birdie putts on the other two greens to leave the course with some confidence.
"We can't hang our heads too much, we're still in a pretty good position," said Docking, who finished second to Woodland last week at the Kansas City Amateur at the Country Club of Blue Springs, Mo.
"To know that we didn't play that great of a round but still got out of there with a score of 65 is pretty satisfying."
So too must have been KU coach Ross Randall's afternoon while he watched the former Jayhawks.
"It's always fun to watch all the guys come out here and get a little competitive with one another," Randall said. "I call this old-timers week, because there always seem to be a few former guys who really challenge the current guys."
That would be former Jayhawks Andy Stewart and Conrad Roberts, both former Four-Ball champions.
"As soon as I saw that twosome, I warned the current guys that those old guys can be quite crafty," Randall said of the pair, which posted a 65. "They might not play as much as they use to, but I can promise they haven't lost their competitive spirit."
Kansas senior-to-be Pete Krsnich was the other Jayhawk among the leaders, as he and his brother, Joe, fired a 66.
The tourney will continue today with the final round of qualifying at the public layout that recently reopened after being shut down for seven months in order to replace greens with a contemporary form of Crenshaw bentgrass.
The 32 teams with the lowest score after today's round will advance to match-play Thursday. Quarterfinals and semifinals will be Friday with a 36-hole championship round scheduled for Saturday.