A key witness to the Moon Bar fight denied reports Tuesday that Kansas University basketball player J.R. Giddens instigated the May 19 brawl that led to Giddens being stabbed in the calf.
"That's not the way it happened," said Marcus Knight, a Lawrence resident who, along with his cousin, Preston Patterson, entered the bar's parking lot shortly before the fight began.
"When we got there, there was this white dude by the door, and he and these four black dudes was yelling back and forth," Knight said. "My cousin and me, we knocked on the door because we thought they'd locked it because of what was going on outside. We wanted in to play some pool."
Realizing that it was after 2 a.m. and the bar had closed, Knight, who is black, said he turned to Jeremiah D. Creswell, who is white, and said half-provokingly, "Man, you going to let (them) talk to you like that?"
According to Knight, Creswell replied: "I'm still standing here, ain't I?"
Seconds later, Knight said, one of the four black men stepped forward and hit Creswell.
"After that (Creswell) put his head down and started swinging," he said. "At that point, nobody knew he had a knife. I looked at my cousin and said, 'Man, you're bleeding,' and then I realized I was bleeding, too."
Knight said he and Patterson exited the fight upon realizing they'd been slashed.
"I can't say who it was that threw the first punch. I don't know the dude," Knight said. "But it wasn't Giddens. He was back behind the car there in the parking lot. He was yelling and stuff, but he wasn't up there throwing punches."
Knight admitted that he and Patterson had been drinking that night and that both have criminal records.
"That's all behind me now," Knight said, referring to the eight years he spent in prison for criminal possession of a firearm and attempted second-degree murder in Douglas County.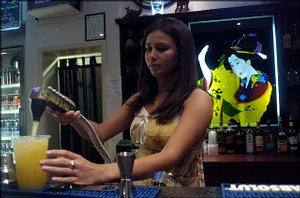 "I got a job. I'm working," Knight said. "I'm just trying to take care of my family."
In an earlier interview with the Journal-World, Patterson said he saw Giddens and Creswell squaring off in the parking lot about 15 feet from each other. The two, he said, fought one-on-one.
Patterson was convicted of aggravated burglary in Douglas County in May 1999 and spent roughly eight years in state prisons in Winfield, Hutchinson and Norton. He currently is on parole.
In earlier interviews with the Kansas City Star, other witnesses claimed Giddens had, in fact, struck Creswell.
But sources familiar with Giddens' account of the stabbing told the Journal-World that Giddens had joined the group of four, but did not strike Creswell.
Giddens was stabbed, they said, after he turned his back on the melee.
Giddens, 20, reportedly has told police he was drinking that night. In Kansas, the legal drinking age is 21. Patrons over 18 may be in bars, but are not allowed to drink.
The sources, who insisted on anonymity, said that earlier in the evening Creswell had "sucker punched" Giddens while Giddens and teammate Jeff Hawkins "rough-housed" on a bench inside the Moon Bar.
Creswell, who is 5-foot-9 and 150 pounds, was thrown out of the bar after threatening Giddens, who is 6-5 and 200 pounds.
The altercation was witnessed by several football players, some of whom restrained Giddens inside the bar, the sources said.
Creswell told The Star he had gone to the bar with a girlfriend who knew Moon Bar owner Ron Ruiz.
During the parking-lot confrontation, Creswell said he'd called his girlfriend on his cell phone and told her to hurry out because trouble was brewing and they needed to leave.
Creswell said his girlfriend then brought him the four-inch folding knife he used to slash Giddens, Knight and Patterson.
Ruiz said he doubts that's what happened.
"Think about it, man," Ruiz said. "Who do you know that gets kicked out of a bar and hangs around outside, waiting for his girlfriend? Nobody -- the only thing that's on your mind is getting out of there. You don't want to stay, you want to leave."
Ruiz, who did not witness the parking lot altercation that involved Giddens and Creswell, said several patrons have told him that Creswell waited outside, intent on attacking Giddens after the bar closed.
"I don't believe the bit about his girlfriend bringing him the knife," Ruiz said.
Creswell, who is from Topeka, is known to have several tattoos similar to those sometimes sported by street gang members.
Others at the Moon Bar that night said that after being thrown out of the bar, Creswell was in the parking lot, lifting up his shirt, exhibiting his tattoos, and telling passersby that Giddens "doesn't know who he's messing with. He doesn't know who I am."
Attempts to reach Creswell for comment Tuesday were unsuccessful.
Shawnee County court records show that in 2002, Creswell spent five months at the Labette County Correctional Conservation Camp in Oswego on charges of selling cocaine and attempted burglary.
Since completing his parole conditions earlier this year, Creswell no longer was prohibited from being in bars.
After the fight at the Moon Bar, Creswell was arrested on an outstanding warrant from Topeka municipal court. He was released May 21 from the Shawnee County Jail.
Since taking over management at the Moon Bar three months ago, Ruiz said the bar had become a popular hangout for KU athletes.
"The night this happened was my birthday -- there were probably 200 people in here," Ruiz said. About half the crowd, he said, was family and friends. The other half was student athletes.
"There were no fewer than 40 football players in here that night. A lot of the track team was here, too," he said.
One basketball player at the scene was C.J. Giles, a sophomore-to-be from Seattle. Giles is not talking about the incident, along with all KU student-athletes who have been ordered by KU officials to not talk to reporters about what happened that night.
KU coach Bill Self said he was not worried about Giles' role in the melee.
"Based on the information I have, no, I'm not (concerned)," Self said. "But that doesn't mean he won't be disciplined for being there, though."
Ruiz said the bar was popular among athletes because he goes to great lengths to see that everyone is treated equally.
"Some don't come in here because they know other places will give them free drinks," he said. "We don't do that. Everybody's equal."
The bar, decorated in an Asian motif that includes stained-glass portraits of geisha girls behind the bar, also caters to minorities, Ruiz said.
"I bet you won't find another bar in town where the waitresses include a Mexican-American, an Oriental and a Native American," he said. "The diversity in here was incredible."
Ruiz said Giddens was not a regular customer.
"We're friends, I know him," he said, "but he's not in here as much as some of the others."
Ruiz said he didn't have Giddens thrown out for confronting Creswell because Giddens is not a troublemaker.
"He can be outspoken ... more forward," Ruiz said. "But he's not the kind who's going to start something. He's always been a gentleman in here."
Ruiz said neither he nor anyone on his staff served Giddens drinks.
Business has suffered since the fight.
"It's hurt. Absolutely," Ruiz said. "It's going to take us all summer to recover."