Kansas University baseball coach Ritch Price battles mixed emotions this time of year.
As his program continues to rise, he sees the baseball draft, which begins Tuesday, as a potential setback every year.
But at the same time, it's necessary.
"It's another sign of the development of our program," Price said. "As we get better, we're going to need to lose three or four guys a year. It means we're recruiting the right players and developing the right players."
Price said two Jayhawks who just wrapped up their college careers -- catcher Sean Richardson and pitcher Mike Zagurski -- likely would be drafted and signed.
Those don't hurt.
Juniors who get picked impact the program. In baseball, players at four-year colleges can be drafted as juniors or seniors. Often, drafted juniors are offered much better signing bonuses, which makes the appeal for them to leave that much stronger.
Price expects to lose outfielder A.J. Van Slyke, who recently completed a pre-draft workout with the St. Louis Cardinals. Outfielder Gus Milner could go, too.
Kodiak Quick could be the third -- and most damaging -- early defection. Quick, a hard-throwing right-hander with great movement on his pitches, was KU's ace on the mound this year, and the pitching at KU still wasn't deep.
He was 10-6 with a 3.41 earned-run average for KU, which finished 36-28 and qualified for the Big 12 Conference tournament.
"Obviously, that's the guy we're really hoping to get back," Price said. "It could be devastating."
The draft is 50 rounds long over two days, but all the money is on the first day. A junior selected in, say, the 40th round wouldn't have much incentive to sign and likely would go back to school looking to move up after a solid senior season.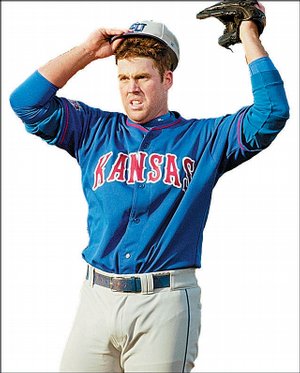 Kansas lost third baseman Travis Metcalf last year after the junior was picked in the 11th round by the Texas Rangers. He was on the fringe of where Price feels is the cut-off line between a no-brainer and a tough decision.
"For me personally, if you're picked in the first 10 rounds, you should sign," Price said.
¢ Nice to know ya: Oklahoma City two-sport prep standout C.J. Henry announced his intention to walk-on for the KU men's basketball team this fall -- if he's not drafted high enough in Tuesday's draft.
His KU commitment could be a negotiating tool.
Henry, a shortstop, is expected to go pretty high in the draft, perhaps in the first round, which comes with seven-figure contracts that are awfully hard to turn down.
Baseball America projects Henry as the 18th-best prospect in the draft. Price, who made an in-home visit and offered Henry a scholarship, said he expected Henry to go somewhere in the first four rounds.
¢ High picks: Players KU faced this season are expected to be top-10 picks.
Nebraska third baseman Alex Gordon likely will be a top-five pick and could go second to the Kansas City Royals. Heading into Saturday's regional clash with Creighton, Gordon was hitting .379 with 18 home runs, 61 RBIs and 23 stolen bases in just 65 games.
Another is Wichita State pitcher Mike Pelfrey, a hard-throwing right-hander expected to go early in the first round. Pelfrey's advisor is the notorious Scott Boras, though, and the intimidation of Boras' bulldog negotiations may cause Pelfrey to slip a few spots.
Pelfrey allowed one earned run in five innings April 13 against Kansas.