Moulaye Niang says it was not his decision to give up basketball.
It also was not Kansas University basketball coach Bill Self's call for the Senegalese senior-to-be to bail on the sport that landed him a free college education.
"It's my health that decided it," a somber Niang said.
Specifically, a degenerative disc in the 6-foot-10, 220-pounder's back -- one that has caused him great pain for more than a year -- forced the West African to call it a career.
"If I mess up my back any more, I won't be able to walk," Niang said Saturday in a phone interview. "I want to have a regular life to be able to provide for me and my family. I have to give up the game I love. It's not worth the risks."
Niang, who scored nine points and grabbed 17 rebounds in 16 games his junior season, will remain at KU and continue to receive free tuition, room and board as part of the NCAA's medical hardship program. His athletic scholarship now will be available.
He relinquished the athletic scholarship only after all medical avenues were explored.
"Coach and I went to see specialists and get second opinions. Every time I get an MRI, it's worse," Niang said of his back condition, which Niang said was "genetic.
"Everybody came to the same conclusion," Niang said. "The doctors said there's definitely a risk every time I play."
Niang, a business and finance major, plans to work in the KU basketball office as a student assistant the next 21/2 years as he completes an undergraduate degree and earns his master's. He said even if his back started to feel better, there was no chance he would return to hoops.
He won't explore the option of surgery as a final chance to salvage his career.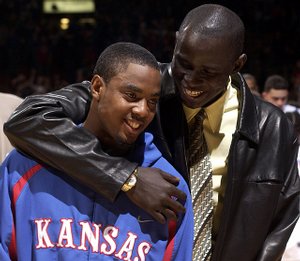 "I'm young, too young to have back surgery," said Niang, unable to pinpoint the first time he first hurt his back. "I've been playing through it for more than a full season now."
Self said he respected Niang for doing all he could last season to get on the court.
"'Mou' played hurt and practiced hurt," Self said. "His back has been bothering him for quite some time. It's unfortunate it's come to this, but doctors told him it will not get better."
"In a year it may feel better, but will not be better," said Niang. "I'm definitely sad about it. Who wouldn't be? I can't play any more. But there's nothing I can do about it. It's life. It's my destiny. There's nothing to cry about, take it and move on."
Niang played two years of high school basketball for Curtis Hofmeister at Christian High in El Cajon, Calif. Like Niang, Hofmeister is distraught at the end of his prize pupil's career.
"I talked to him not too long after the season was completed," Hofmeister said. "He said his back was killing him. At that time I had an idea it might end up like this. You never want to see it end like this for a person as great at Moulaye. At the same time, he'll land on his feet. I feel bad he won't finish all four years in basketball, but he will be a success in life.
"And he had the opportunity to play at a great school like Kansas, which he'll never forget."
Niang said he was blessed to play at hoops power KU.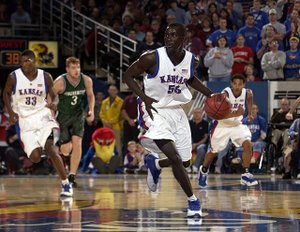 "The fieldhouse ... playing in there is something I'll never forget," said Niang, who could conceivably attend hundreds of games in Allen Fieldhouse in the future as a rabid KU fan.
There's a chance he could become a U.S. citizen.
"I don't know. I might," he said. "Only God knows that."
He is not second-guessing himself for pursuing hoops instead of his first love, soccer, back in Senegal.
"No. No. I do not think I'd have gotten as far as I have (in soccer)," Niang said. "I have no regrets. I love KU. This would have happened to me wherever I decided to go."