Kansas University senior Moulaye Niang's basketball career is finished.
Niang, a 6-foot-10 senior forward from Senegal, has a recurring back problem. He will remain on scholarship as part of the NCAA's medical red-shirt system, but he will not play again.
Niang would continue to help out in the basketball office, KU coach Bill Self said Friday.
"We've been talking about this for a couple of months," Self said. "After a battery of tests, the doctors said his condition could worsen with the constant pounding involved in basketball. It could affect quality of life on down the road. He is in pain now, and it could be made more severe if he kept playing."
Niang will serve as a student assistant on the coaching staff.
Niang averaged 0.6 points and 1.1 rebounds in 16 games as a junior last season.
"The doctors said I would be taking a big risk if I played next year," Niang said. "I don't want to take any chances, and I need to think of the long term."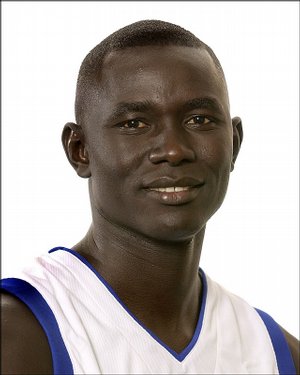 Niang flirted with transferring after the 2003-2004 season. He toured the Texas Christian University and San Diego State campuses last spring. However, shortly after 6-foot-11 David Padgett left for Louisville, Niang opted to remain.
Self said he appreciated Niang's contributions.
"Absolutely. We love Mou," Self said. "He's been a great addition to the program. He's played hurt and practiced hurt. His back has been bothering him for quite some time. It's unfortunate it has come to this. The doctors told him it will not get better if he plays. Health, academics are more important than basketball."
The loss of Niang frees up a scholarship for next year. Self still is recruiting C.J. Henry, a senior guard from Oklahoma City who Tuesday will learn where he'll be tapped in the major league baseball draft.
Henry has said if he was not taken in the first three or four rounds, he would come to KU to play basketball.