Shelley Hickman Clark was never sure whether to believe that the "Rock Chalk, Jayhawk" chant was created in her 150-year-old home in south Lawrence.
"You hear stories about houses, and you never know if they're true," she said.
Now she knows.
The house at 1743 Kent Terrace is the chant's birthplace, according to the written reminisces of a former Kansas University professor -- and confirmed by the granddaughter of the chant's creator.
Hickman Clark's house was built in 1855 by Jim Savage, who came from Vermont with the second New England Emigrant Aid Society party. KU's science club would hold summer parties at his house, located on 160 acres of land known as Spring Hill Farm.
The "Rock Chalk, Jayhawk" chant was conceived by a former KU chemistry professor, E.H.S. Bailey, who wanted a cheer for the science club. The Kansas University Student-Athlete handbook credits Bailey with creating the chant, which then was "Rah, Rah, Jayhawk, KU."
Bailey was friends with Savage and liked taking students to the farm, said Carolyn Bailey Berneking, Bailey's granddaughter. The house at that time -- the city had not yet grown to surround it -- was still in the country, and chant-screaming students were no bother to neighbors.
"My grandfather liked to take science club members picnicking on the farm, and they would practice the yell out there," Bailey Berneking said.
Bailey Berneking recently attended a party thrown by Hickman Clark to celebrate the house's 150th birthday.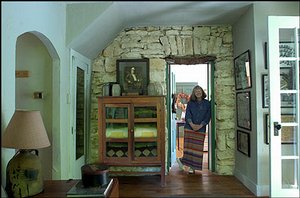 Hickman Clark said her family moved into the house about 25 years ago. But it wasn't until about 14 years later that she and her husband began researching the home's history as the couple's daughter, Kelley, was working on a research paper for a high school class.
There have been additions over the years to the house, Hickman Clark said. But the original building, a 17-by-25 foot frame structure with five windows and one door, remains in the back part of the current home.
"I think learning what part of the house was the original area caused me to feel different about it," she said. "That area of the house became more homey."
Today the stone house is surrounded by homes and apartments and is close to a major street through town.
"It's just a great place," Hickman Clark said. "And learning more about it and its history has really expanded my interests, in terms of historical preservation and education."