Manhattan — Pittsburg High quarterback Kerry Meier wouldn't mind if his late-game performance Saturday night in the Kansas Shrine Bowl offered a bit of foreshadowing for his near football future -- maybe even this fall.
"Yeah, that would be pretty cool if I could come back here and get another victory this year," said the incoming Kansas University freshman, who led his East squad to a 17-10 victory at KSU Stadium when he scored the game-winning touchdown on a two-yard plunge with six seconds left.
But the game-changing play came the snap before, when Meier lofted a 33-yard pass toward the end zone that Olathe East's Andre Jones snagged with a spectacular one-handed, diving catch to set up the clinching score.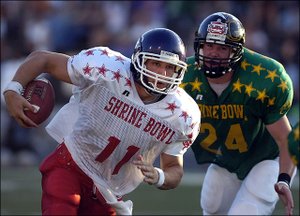 Of course, another victory for Meier in Manhattan this fall would mean that the Jayhawks defeated rival Kansas State for the second straight year and that Meier one-upped his older brother, Dylan, the quarterback for the Wildcats who was in attendance Saturday.
"It was just a spectacular ending to my prep career," said Meier, who was 3-for-5 for 71 yards and rushed for 39 yards on 13 carries. "Hopefully, I'll be able to transfer this momentum over to college."
Before the last couple of minutes, the 32nd annual game was rather dull.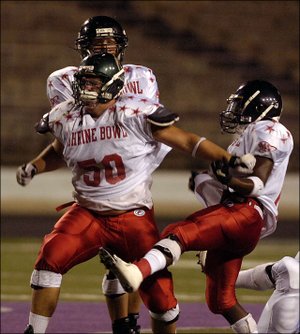 But a flurry of events in the final minutes allowed West kicker Mitch Mason to tie the game at 10 with less than 60 seconds left. Since the Shrine Bowl doesn't utilize overtime, this year's event looked like it might end up in another tie. In 2001, the last time the game was in Manhattan, the two squads ended up deadlocked at 12-all.
However, West wanted to try its luck and tried for an onside kick.
"I think that was a big mistake," said Lawrence High's Ian Handshy, one of three city players (Lawrence's Jeff Colter and Free State's Philip Weinmaster) selected for the outing.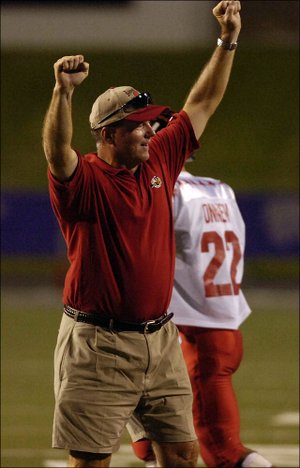 "That gave us a lot of momentum and we made a couple of big plays."
Indeed, the East squad quickly capitalized on its late gift.
Meier couldn't find anyone open on the first play from scrimmage from the 40-yard line and, after wasting precious seconds, finally was tackled after a three-yard gain.
But the very next play, he lobbed the ball to Jones, who beat Rose Hill's James Hensley to the corner, before coming down with a circus catch.
"That was a dang good grab, it looked like he hung on just long enough," said Free State High football coach Bob Lisher, an assistant coach for the East team. "It was just a great football game, and I'm especially proud of the kids from Lawrence.
"They all played their hearts out, and I think they demonstrated the kind of leadership and respect that this game is all about."