Shawnee — He was late, and everybody in the gymnasium knew it.
That's why most of the college coaches, Internet recruiting gurus/reporters and other assorted basketball junkies turned their attention to other games Thursday evening during the first day of this weekend's Price Chopper/Kansas City Prep Invitational at the Johnson County Parks and Recreation facility.
But as soon as Derrick Rose took the court with his Mean Streets Express teammates, a wave of people made its move.
And the 6-foot-2, 180-pounder from Chicago Simeon High felt all those gazes fall upon him.
"Yeah, I guess you always feel the pressure to perform when you're out there," said Rose, who is rated by one recruiting service as the top player in the 2007 class and is a consensus top-three prospect by the other major recruiting sites.
"If you don't go out there and play hard every game, the next player can take your spot," continued Rose, whose recruitment list reads like a who's who of college basketball, with the likes of North Carolina, Illinois, Arizona and Kansas University.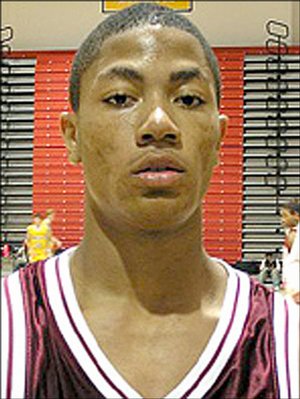 While the talented point guard didn't disappoint -- tallying 21 points amidst a dazzling array of dribbling maneuvers and creative-yet-controlled drives to the basket -- his foreshadowing of others thirsting for the spotlight rang true when the hometown team, K.C. Rocktowne, hung on for a 74-71 victory.
"We're all out here trying to make a name for ourselves," said Rocktowne's Isaac Miles, a guard from Roeland Park Miege who also is getting interest from KU. "I definitely was fired up to play against a team like that, with one of the top players in the country. I think this win shows that we can play elite-level basketball here in Kansas City, too."
The big time
While this week's 16-team Price Chopper tourney, which concludes with championship games Sunday, might pale in comparison to the smorgasbord of AAU action last weekend in Las Vegas -- where Nike, adidas and Reebok played host to nearly 900 teams in three big and separately sponsored shoe events -- the smaller tourney in Shawnee had its own A-list of characters.
In the stands, coaches like Illinois' Bruce Weber and Michigan State's Tom Izzo made face time, while aides from everywhere from Wake Forest to Lipscomb University tried to gain any advantage they could in the recruiting game.
Last year, three of the top 10 players in the country -- KU's Julian Wright, North Carolina's Tyler Hansborough and C.J. Miles, who had signed a letter of intent to play at Texas before being selected 34th in last month's NBA draft -- came through Kansas City on their summer circuit.
"Each year, it gets bigger and bigger. The teams involved increases, more and more top-notched players come here. It's becoming one of the big events of the year," said Shay Wildeboor of rivals.com. "College coaches have to start recruiting earlier and earlier, and this allows them another opportunity to do it. It's a huge event for them and obviously the city."
l
Backyard battle
The Price Chopper tournament's proximity to the KU campus doesn't necessarily give KU the edge in landing any of the tourney's participants -- or in unearthing a diamond in the rough.
"Nope, in this day and age most everybody who is playing in the summer has been seen a number of times, regardless of whether it's in Kansas City or Las Vegas," said Kansas assistant coach Tim Jankovich. "It's very difficult to find a real sleeper. The only way to find a sleeper is to find a guy who is not playing in the summer, because most guys want to play."
Jankovich said the explosion of summer ball over the last decade, coupled with the increased number of watchers via the Internet, have made recruiting a more difficult and time-consuming science.
"There's a lot of eyes on a lot of kids, and there's a lot of sources of information out there," he said. "Because of that, it's not as easy as it was 10 to 15 years ago to go around and dig up information on a guy that was not on the radar."
The ever-growing radar is what brought former Jayhawk Jerod Haase -- a UNC assistant -- back near his alma mater.
"It's kind of eye-opening to see how big AAU has become," said Haase, who never did play AAU ball over the summer in the mid 1990s. "Especially being on the road now and seeing it first-hand, you realize how many people are involved. But it's a great opportunity for the kids to be seen."
But Wichita State coach Mark Turgeon said it was a little overwhelming to grade all the kids fairly unless you've watched them for more than one tournament.
"It's kind of hard to hype these kids, because some of them blow up over certain stretches, and others might just be having a bad day," said the former KU assistant coach. "Still, it's great for that many kids to be exposed and evaluated. It creates a greater number of opportunities for kids to get scholarships."
l
Pressure cooker
With big-name coaches judging their every move and rabid fans hanging on to hope with every highlight hoop that the next great collegiate superstar will choose their university, these kids can't help but feel pressure, right?
"I don't feel any pressure at all. All I have to do is play as hard as I can, and whatever is supposed to happen will work out," said recent Free State graduate Brady Morningstar.
Morningstar, the son of KU standout Roger, is in a unique situation, though. He's a year older than the players that will be high school seniors next year. But because he chose to attend prep school at New Hampton School in New Hampton, N.H., he wanted to make the AAU rounds with KC Pump 'n' Run this summer and see if he could garner additional attention for a major college after next year.
"I don't feel awkward at all, even though the circumstances are a little strange," Morningstar said. "I really like it. I'm cool with the younger kids because I hung out with them last year, too."
Rose has a different experience because his brother, Reginald Rose, is the coach.
The former Idaho University player decided two years ago to look out for his baby bro and keep him away from the dangers that pervade the AAU underworld.
"There's no loyalty in this thing, so you have to watch out for the kids you care about," Reginald said.
With his brother's assistance, Derrick can avoid other distractions or unfathomable expectations that ultimately fall on blue-chippers.
"We don't put pressure on him, we just try to help do the things that will let him have fun," Reginald said. "No one is perfect, but as long as you're having fun and enjoying yourself, you will have that drive to get better and achieve great things in this sport."
Still, Derrick Rose said some of the pressure of being a prep phenom was self-imposed.
"You can feel people watching you all the time, you know the coaches and fans are all out there waiting for you to do something big," he said with a smile. "But you get use to it. You have to."