Perhaps the finger-pointing is misdirected sometimes.
With all the question marks surrounding Kansas University's football offense this year -- from the quarterbacks' big-play capabilities to the running backs' efficiency carrying the ball to the receivers' relative inexperience outside of senior Mark Simmons -- KU offensive guard David Ochoa can't help but wonder if the line can do plenty to answer them all.
"You know, it's not a glory position," Ochoa said, "but, you know, a lot of the time, the game's going to go as the offensive line protects the quarterback and allows the running backs to move the football."
Seems so easy, doesn't it?
Considering the line really was the only offensive position to undergo a massive restructuring by coach Mark Mangino and his staff this offseason, perhaps they're banking on those five more than anyone else to get the offense going after an inconsistent 2004.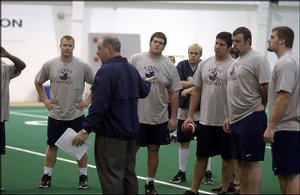 The line is led by new assistant coach John Reagan, who took over for the departed Ed Warinner, now at Illinois. With Reagan's arrival, the loss of center Joe Vaughn and a desire to solidify the line's effectiveness, this year's front five, while including many of last year's same personnel, has undergone a noticeable makeover.
Tackles Matt Thompson and Cesar Rodriguez switched sides, with Rodriguez blocking the blind side now. In addition, to replace the steady and reliable Vaughn, Todd Haselhorst is moving from defensive tackle to center, a new position to him which requires immense leadership and technical skills, like shotgun-snapping.
Guards Ochoa and Bob Whitaker are the only ones staying put -- and both are getting used not only to the new coach's desires, but new neighbors on each side.
"I'm not going to sit here and say it won't take some getting used to," Ochoa said. "Anytime you play next to a guy, you understand their strengths and weaknesses and what they're going to do or not going to do. But as individuals, we've all started games, we've all played in games, and we're all looking forward to the challenge."
The swapping of tackles may make it less of a challenge, of course, if it works like the coaching staff envisions it.
They think Rodriguez -- who Ochoa said gained close to 20 pounds this offseason -- is better at protecting the blind side due to footwork and such, and it's a move that has to get the approval of the quarterback's confidence.
After all, it often is his health the left tackle is preserving.
"You always hear about it in the NFL, how a quarterback has pocket presence, how he waits until the last minute to deliver the ball," Ochoa said. "That's on the quarterback, but that's also on his protection."
In addition to the front five flip-flopping, KU noticeably has more depth.
Last year, only Tony Coker and either Rodriguez or Travis Dambach served as reliable backups on the line. For 2005, KU added two junior-college talents, Jake Cox and Marcus Anderson, both of whom participated in spring drills. Dambach, a junior, will be in the mix, as well.
The was little depth at offensive line last year, and some late-game sputters may have come from that.
Mangino hopes that has been solved.
"We have enough young kids in our program now that are ready to step up and play, so we can have those fresh legs in the fourth quarter," Mangino said.
"The next thing we addressed is that you have to enter the fourth quarter with an air of expectancy. You expect to win. What we did in spring ball, we will do all during two-a-days. We have and will continue to put our offense and defense in very difficult positions on the field."
That means backing up the offense inside the 10-yard line and making it escape against KU's solid first-team defense. Or having KU's stout linebackers blitzing the pocket aggressively and forcing Ochoa and the rest of the gang to pick it up.
It wasn't always pretty in the spring. But throwing them to the wolves, Mangino feels, is the way to make them battle-tested and bound for success.
"Last year, we were a young offensive line," Ochoa said. "Sometimes, we took our lumps, and that just happens. It's not an excuse. But you learn from those things. You learn what to do in certain situations, and you learn how to finish off games.
"Our offensive line," Ochoa added, "will dictate what we do as a team."