No matter where the basketball world has taken Danny Manning, his youth basketball camp always has seemed to follow.
And, no matter where it is, lifelong friend Mike Born always seemed to be by Manning's side.
Born, who competed against Manning at Iowa State in the late 1980s, has helped with Manning's camps in Lawrence, Phoenix and Milwaukee.
It's a task he said he enjoyed.
"Of the NBA camps that I've worked over the years and the players I've worked with, Danny is such a good representative of what I believe in," Born said. "It makes it pretty easy for me to come in and do camps for him because he's here all the time."
Born said he could remember Manning missing only one hour in all the camps they had worked together, and that was because he had a required autograph signing to attend with the Phoenix Suns.
"People through the years have figured out that it's not just a basketball camp where you're going to come, meet Danny and get an autograph," Born said. "It's also about trying to improve your skills, and Danny is really concerned that these kids are learning how to play the proper way."
Born returned to Lawrence this week to direct the youth camp, which has taken place in Lawrence all but one year since Manning's graduation from Kansas University in 1988.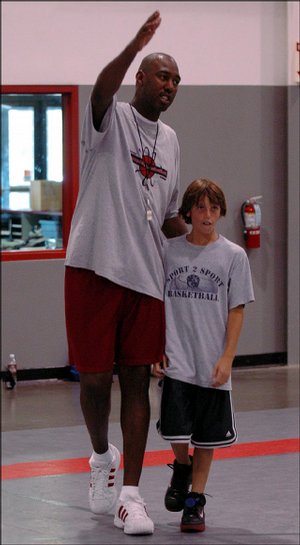 "He definitely makes it a lot easier," Manning said of Born. "He stays organized and runs a very good camp."
The former Cyclone, who has nearly 20 years of experience working with youths, received some of his earliest camp experience with former Kansas coach Larry Brown. Born made the drive as a player to work at Brown's Kansas basketball camp for four weeks in 1988. That's when he first developed a friendship with Manning and other former players, such as Kevin Pritchard and Milt Newton.
The connections also helped land him his current job. After two years as an assistant in the NBDL, Born now works as a scout under Pritchard with the NBA's Portland Trail Blazers.
Born said he always returned to Lawrence because of the dedication Manning showed to the approximately 200 campers who attend each year.
"Most of the people around here, if they just see Danny, it's something pretty special," Born said. "But when he's here, he's involved in the drills and watching the games."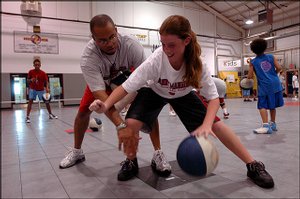 Manning said he was pleased with the work he and his staff did to run a successful camp.
"We don't do a whole lot of advertising - a lot of it is just word of mouth. Truthfully, that's most of it," Manning said. "That's probably the best advertising you can get, when someone leaves the camp and tells a friend."
Born said he still joked with Manning about their playing days.
Though Kansas did win the national championship in 1988, Born said the Cyclones more than held their own against the Manning-led Jayhawks.
"We never won in Lawrence, but he never won in Ames," Born said with a laugh. "I give him a hard time about that."
In his third year as a member of the Kansas coaching staff, Manning said he had no problem returning to his former position of director of student-athlete development for the men's basketball team.
Manning served as the director of basketball operations last season.
"We have boys that come to us, and hopefully after four years at the University they'll leave as a young man," Manning said. "It's exciting and fun to watch them mature and develop over the years."
Ronnie Chalmers, the father of incoming freshman Mario Chalmers, was named the new director of basketball operations late last month.
For now, Manning said he was happy with his job at Kansas while hoping someday to pursue a head-coaching career.
"I'm working with a great bunch of guys that are willing to share their knowledge with me," Manning said. "We'll cross those other bridges when we get there."