Why in the world is Nick Reid remembered for this one play?
Of all the stops he has made -- 242 the last two seasons, to be exact -- why get caught up in the one he didn't?
Reid and Kansas University football coach Mark Mangino heard more than one question about it last week at Big 12 Conference Football Media Days in Houston.
Texas quarterback Vince Young and coach Mack Brown heard them, too.
Can you take us through that missed tackle by Reid, coach?
What play was called, Mack?
What did you see, Vince?
Isn't Vince magnificent, Nick?
Now, hold up a minute. Just how fair is this to one of the nation's top linebackers?
This is a case of ESPN causing a serious injustice to a talented player.
Way back on Nov. 13, 2004 -- 250 days ago -- the Longhorns faced fourth-and-18, with 1:00 left and Texas trailing, 23-20. Young dropped back to pass. The KU defense, including the linebackers, dropped back for maximum pass coverage. Young, seeing linebackers' backs, tucked the football and ran.
He had one close call on his way to a 22-yard, game-saving gain -- Nick Reid. Young juked left and bolted right. Reid didn't wrap him up.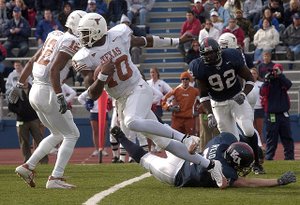 Young said last week he knew Reid didn't have a chance.
Bold words; it's not often anyone gets away with such a showdown against such a stopper.
"I took it upon myself," Young said. "Me and him, we were going at it the whole game. Talking, pushing and shoving, all that."
Texas eventually won, 27-23. ESPN showed highlights of the game that night and made it a point to freeze the frame and point an arrow at Reid, directing the viewers' eyes to the upcoming miss.
The Big 12 media must have been watching. Grilled to recount the play this week in Houston, Mangino countered by revealing that Reid had an injured knee that required surgery a few weeks later and probably shouldn't have been playing.
Reid didn't want to hear it.
"I appreciate him saying that," Reid said, "but it's no excuse. I should've made that tackle."
Reid is too good to deserve such a reputation. Not that the media think he's a dog: He was voted preseason All-Big 12 last week by them, obviously the work of statistical research (Reid was second in the conference last season with 109 tackles).
But in the search for story lines regarding Kansas football, that game came to mind to the outsiders -- both Reid's shortcoming and Mangino's famous postgame outburst implying the officials wanted Texas to win.
It's easy to see why Reid quietly admitted to the local scribes that he was eager to face Texas again. He has a monkey on his back he needs to knock off. The one play that wasn't has set up an interesting one-on-one rivalry between Reid and Young, one that will get its last taste collegiately Nov. 5 in Austin.
The back-and-forth trash-talking and extra shoves after the whistle fueled it. The publicized play, exposed by ESPN and rehashed by sports writers, stoked it.
The play indirectly contributed to Young's shooting stardom. The Longhorns' victory helped them lock up a berth in the Rose Bowl, where Young was extraordinary, rushing for 192 yards and four touchdowns in a 38-37 Texas victory over Michigan that was watched by millions.
Reid, though, is doing fine.
Like Young, Reid is a consensus preseason All-Big 12 selection. He is looking, realistically, to average 10 tackles per game this year and will be the heart of the KU defense, one of the top D's in the conference.
Circle your calendars for Nov. 5, folks.
This time around, it could be the Big 12's best linebacker and the Big 12's best quarterback squaring off, possibly with a lot on the line for both of the teams they're leading.
Now that has the makings of a good story -- not something that happened eight months ago.