Houston — Several coaches made it a point to address one somber issue right away before diving into anything else Tuesday at Big 12 Conference football media days: the death of Missouri linebacker Aaron O'Neal.
Kansas University coach Mark Mangino, before introducing his players at the beginning of the session at the JW Marriott Hotel, sent out his sympathies, and Iowa State coach Dan McCarney did later in the day, as well.
"It's a tragedy that touches all of us involved with college football," Mangino said.
O'Neal died after collapsing at a voluntary summer workout in Columbia, Mo. The exact cause of death hasn't been determined, but the impact of the tragedy has sent shockwaves across the conference.
"It's just hard to even fathom what it must be like going through what all those family members are going through right now," McCarney said, "because all these young guys are working out this time of year, and to deal with a tragedy like that is really, really tough."
Missouri's media-day session starts at 9 a.m. today, followed by Nebraska, Oklahoma and Texas Tech.
Keeping it loose: Always good for a chuckle, Colorado coach Gary Barnett was back at it Tuesday.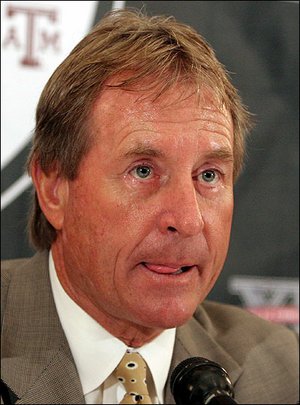 When assessing his team's returning talent for 2005, the CU coach pointed to the Big 12 North title the Buffalos won last season -- and the subsequent 42-3 pounding Oklahoma laid on them in the Big 12 title game -- for support.
"We were fortunate enough to play in the Big 12 championship game ... actually, I should say we were fortunate to be AT the Big 12 championship game," Barnett quipped. "Oklahoma played it. We watched it."







New position: A late-season surge in 2004 with a relatively young team has McCarney's Iowa State squad seeing a completely different role this year: Big 12 North favorite, perhaps?
"Last year helped get our respect back," ISU defensive lineman Nick Leaders said. "People are starting to hear about Iowa State and recognize us around the country."
Led by quarterback Bret Meyer and receiver Todd Blythe, ISU was co-champion of the North last year, though Colorado took the tiebreaker and went to the Big 12 championship. McCarney anticipates Meyer being even better as a sophomore, now that the reins are passed after a quarterback controversy last year.
"I am sleeping a little bit better at nighttime because of the guy sitting next to me," McCarney said of Meyer. "He started 12 games. He led us to a bowl victory. He led us to a co-championship in the Big 12 North.
"We couldn't have done it without the maturity and improvement and hunger of Bret Meyer."