With Kansas University's home football game against Oklahoma scheduled to be played in Kansas City's Arrowhead Stadium this year, the Boomer Sooners won't be making much noise in the Lawrence economy.
City commissioners don't appreciate the change.
"I don't know exactly how much money a football game like that brings to town, but I have to believe it is some real money," City Commissioner Mike Amyx said. "I think we need to have some visits with KU about those type of events leaving Lawrence before we lose another one."
Mayor Boog Highberger will draft a letter to KU athletic department officials, he said, and present it to city commissioners for review.
Highberger said he knew it was too late to get KU officials to move the Oklahoma game, scheduled for Oct. 15, back to Lawrence. But, he said, he hoped to get KU to agree to consult with the city before pulling another game from town.
"I think they do need to hear what we think about it," Highberger said.
KU athletic department leaders have said it was important to move the game to provide Kansas City area fans a unique opportunity to see the Jayhawks.
Amyx said he'd like to have the chance to discuss that logic with KU.
"We have a nice four-lane highway that comes into Lawrence from Kansas City," Amyx said. "I'm proud to have KU here, and I understand what they mean to this community, but this is about money and about business. We do a lot of work on tourism in this town, and I just look at this as trying to protect some of those efforts.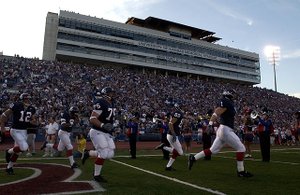 "And when we're looking at needing to expand basic services like fire stations and roads, we have to stay on top of everything. We can't afford to lose any revenue."
The Lawrence Convention and Visitors Bureau has long called home football games "Million Dollar Weekends."
Judy Billings, director of the visitors bureau said the Oklahoma game definitely fit that description.
"That game brings lots and lots of folks from out of town," Billings said. "And Oklahoma fans make their presence known by spending money. It is a very important game for the Lawrence economy."
But Billings said she also believes the community needed to be sensitive to KU's needs as well.
"I realize that they're running a business and have to do what is best for their program," Billings said. "And ultimately, what is good for KU athletics is good for Lawrence."
Several Lawrence merchants said they were pleased that city commissioners were becoming involved in the issue, but also said they were willing to listen to KU's reasons as well.
"From just our perspective, the more home games the better, but there might be good reasons why they're doing it too," said Ryan Owens, a manager of Jock's Nitch Sporting Goods, 837 Mass. "It is probably something good to talk about though."
Lawrence will still play host to six KU football games this year, since the school is now allowed to play 12 games in a season. But three of the home games will be against smaller nonconference opponents - Florida Atlantic, Appalachian State and Louisiana Tech.