Bill Self built the 2005-06 Kansas University basketball team on the assumption J.R. Giddens would not be a member of the squad.
Entering last recruiting season, KU's coach figured Giddens, a 6-foot-5 three-point specialist, would be off to the NBA after his sophomore campaign.
"It was widely reported that J.R. may only be here one (more) year, so we prepared for that. We went out and signed a heck of a recruiting class -- three difference-makers," Self said Thursday at a news conference announcing his and Giddens' decision for the Oklahoma City native to transfer from KU.
"Where is this team? It's where we thought it'd be back in November," Self added.
The only difference is Self -- he expects freshmen Micah Downs, Julian Wright and Mario Chalmers plus red-shirt sophomore Jeremy Case and transfer Rodrick Stewart to earn major minutes -- is losing Giddens because of a fight outside a Lawrence bar, not to the pros.
"This does not come as, 'Gosh what do we do now?'" Self said. "We prepared for this moment. We are not ill-equipped to go to battle on the court."
The Jayhawks, who return 21.2 percent of their scoring, 29.3 percent of the rebounding and 13.7 percent of the assists from a year ago, will field a mighty young squad.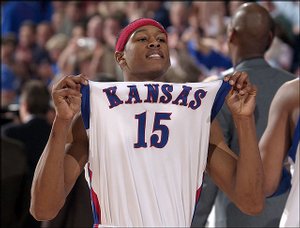 "We will obviously be one of the youngest teams in America, maybe as young as anybody," Self said of his team of three seniors, six sophomores and four freshmen.
"We're always looking, but at this point the available (recruiting) pool is pretty small now," Self said of possibly adding to the roster at this last date.
He said the fact KU has such a young, inexperienced, team made his and Giddens' decision to move on make even more sense.
"This will be good to get behind us and look to the future," said Self. He informed the team of Giddens' impending departure at a 9:30 p.m. meeting Wednesday.
That meeting followed a two-hour session between Giddens and Self in which the two settled on Giddens' fate with the program. It's unknown whether their meeting had anything to do with Giddens' visiting Douglas County Judicial & Law Enforcement Center on Tuesday.
"We talked numerous times at length. Last night we came to the conclusion together it was in his best interests and our best interests to part ways," Self said. "I didn't want to make an emotional decision. It's not in the best interests of anybody.
Reader poll
It will make the team better not to have the distraction that Giddens had become.

54%

3162 votes

Little change - we lose the distraction, but also the points.

18%

1085 votes

It'll hurt. We lose scoring and an experienced player.

15%

891 votes

Who cares?

11%

642 votes
5780 total votes.
"This team deserves to go through this next season with our focus on basketball as opposed to there being outside factors we can't control," Self added.
Had Giddens returned to KU, the Moon Bar incident -- in which Giddens was stabbed in the right calf and allegedly involved in a scuffle that injured Jeremiah Criswell, the man accused of the stabbing -- might have been a subplot to the entire season.
Giddens might not be ready to practice until shortly before the start of the season.
"This is going to be something that follows him around no matter what. There are always going to be questions wherever he goes, probably not to the magnitude there would be here," Self said, adding, "he felt the same way. I think the attention this event has drawn in J.R.'s mind has probably made him feel more that a fresh start would be good for him."
Giddens in a statement said he agreed he needed a fresh start. The statement came on the heels of persistent rumors that Giddens did not want to leave KU.
"With everything that has transpired with this situation, coach and I are in total agreement that a fresh start would be best for Kansas and me," Giddens said. "I'm sorry for what has transpired. Regardless of guilt or innocence, I put our program and myself in a bad situation. That does not take away from the fact that I loved my time here. I appreciate the support my teammates, the coaching staff and fans have shown me."
A look at Kansas University basketball players who have left the program since coach Bill Self's arrival in April 2003. April 8, 2004 - Freshman guard Omar Wilkes announced his intentions to transfer, citing a desire to play closer to his native Los Angeles. Wilkes eventually chose California. April 15, 2004 - Freshman forward David Padgett informs Self of his decision to transfer, an unexpected move that surprised teammates. Padgett expressed his desire to be a "face-up player and play the (No.) 4 position" as his reason for leaving. He eventually chose Louisville. April 4, 2005 - Freshman guard/forward Alex Galindo chooses to leave KU after just one season, in order to play closer to his native Puerto Rico. Galindo later opts for Florida International, located in Miami. April 25, 2005 - Sophomore walk-on Nick Bahe informs Self of his decision to transfer to Creighton, citing a desire for more playing time. "Bringing in three McDonald's All-Americans, the deck is stacked high (at KU)," Bahe said. June 30, 2005 - KU announces that junior J.R. Giddens will transfer to another school. - Ryan Wood
Self said he would help Giddens find a new school if Giddens wanted his help.
"We are not throwing in the towel. J.R. is not throwing in the towel. We felt and J.R. felt he could use a fresh start," Self said.
KU's coach said he would make any decisions to discipline any players on the roster after the district attorney decides whether to press charges and the results of an internal KU investigation are completed.
"This is about J.R. and me. If it plays out others are involved, we'll handle that at the appropriate time," Self said.
As far as the future of the program ...
"I think there's a cloud that will probably hover above us for a while," Self said. "I also think we have responsibilities as players here to wear the uniform with pride and understand the responsibility wearing the uniform. In a weird way, this will certainly reinforce that."
Self said he didn't plan to institute any new rules.
"This was an incident obviously poor judgment was used," he said. "To make it sound like we need to do things differently is not accurate. We don't need to do things differently. We need to keep reinforcing what we do. Even if we do tweak some things as far as internally, that will never be public information. It'll be something that goes on in our locker room."
In the locker room Wednesday night "they were caught off guard a little bit," Self said of informing the Jayhawks that Giddens was gone. "I think they'd have been caught off guard no matter what we told them. We're keeping things in house."
KU's players will be off limits to the media until after the July 4 holiday. Giddens told the Journal-World he had no comment besides his statement until after he chooses a new school.
Though the Moon Bar incident is far from out of the news, Self definitely is ready to move on.
"We've had a really crappy spring, to be honest with you," Self said, noting another "hiccup" was the loss to Bucknell in the NCAA Tournament. "The last three months has not been the most pleasant of my life. I don't want to deal with this any more.
"I do not think the reputation of Kansas basketball has had over time will be totally ruined over a bar fight, although it is serious," he added defiantly.