LEXINGTON, KY. — Kentucky and Kansas University are considered equals, the elite of the elite, in men's college basketball.
That's why it's somewhat surprising that in head-to-head matchups, Kentucky, which ranks first in all-time victories (1,886), thoroughly has dominated Kansas (1,835) throughout history.
The Wildcats hold a 19-3 lead entering today's 3:30 p.m. game at Rupp Arena.
The Wildcats are 7-0 versus KU in Lexington and 7-3 in Lawrence. The 'Cats are 3-0 versus KU in Louisville, 1-0 in Chicago at the Great Eight and 1-0 in NCAA Tournament play in New Orleans.
The disparity is great, but KU can stake claim to the wildest, most unbelievable victory in the series -- a 150-95 win on Dec. 9, 1989, at Allen Fieldhouse.
It's the second-worst loss in Wildcat history and the worst in modern history. UK fell to Central College of Pella, Iowa, 87-17, on Jan. 28, 1910. It's also the most points ever scored by a Jayhawk team in a half and in a game and the most given up by a Wildcat team. The 245 points are the most combined in a game for both schools.
It's a game that, as they say, will live in infamy.
"I will never forget that game because the score was so substantial and because it was deafening in the fieldhouse," said former KU forward Mark Randall, who had 19 points and 12 boards while playing 28 minutes.
"People told me the Georgia Tech game the other day was the loudest. I tell them, 'You weren't at the Kentucky game.'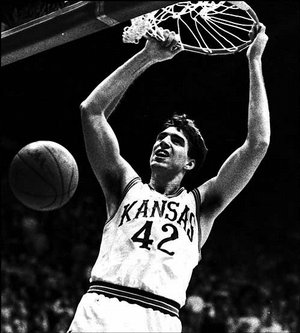 "It was so loud I got goose bumps. It was so loud ... I won't say it scared me, but it gave me a different sensation."
The crowd was on fire from beginning to end as the Jayhawks broke first-year UK coach Rick Pitino's full-court press at will in rolling to an unheard-of 80-61 halftime lead.
"At one point, I was standing at halfcourt next to Jeff Gueldner (who also had a double-double with 19 points and 10 boards). I yelled in Jeff's ear and he couldn't hear me," Randall said.
Several factors led to the unexpected rout.
The Jayhawks had a fabulous team, finishing 30-5 after a loss to UCLA in a second-round NCAA Tournament game.
Probation-riddled Kentucky was shorthanded and staggered to a 14-14 overall mark.
Stubborn coach Pitino pressed throughout. His squad forced just 15 turnovers while committing 27. The Jayhawks, who hit 61 percent of their shots to UK's 41 percent, shredded the press.
"I was standing next to coach Pitino when coach (Roy) Williams yelled down to him, 'Rick, what do you want me to do? We've got the third team in,''' Randall said.
"Coach Pitino shouted an expletive at coach Williams. I think Pitino was trying to prove a point with his team. They were trying to establish themselves."
It was KU coach Williams' second Jayhawk team -- the one that firmly established him as a force at KU after a 19-12 probation-riddled 1988-89 campaign.
"We had three days to prepare," said Williams, whose squad had won Dec. 6 at SMU, 86-53. "I said, 'We will attack their press, move and lay the sucker up on the other end.'
"It's what happened. The fieldhouse was as loud as any place I've heard."
The Jayhawks had seven players score in double figures, including Terry Brown, who hit seven of 10 three-pointers for 31 points.
A sidebar of the game, as Randall noted, was Pitino yelling at Williams.
"I felt sorry for his kids. They had run out of timeouts. He only had eight (scholarship) players," said Williams, who asked Pitino if he wanted him to call a timeout for the 'Cats to catch their breath. "There had been some things said. Somebody compared their season to ours the year before, and Rick didn't like that. There were some words involved late in the game."
UK's Derrick Miller had a game-high 32 points, while John Pelphrey and Richie Farmer had 20 and 19 for the visitors.
"There wasn't a lot of defense played that day," said Randall, who works in community relations for the Denver Nuggets and is a basketball color commentator. "We got the ball to the middle and did whatever we wanted no matter who was in the game."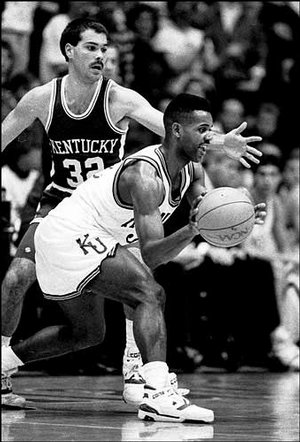 The 150 points scored might remain in the record books forever. KU's No. 2 high-water mark is 140 versus Oral Roberts in 1993. Most in a conference game is 127 points scored versus Iowa State in 1989.
Former KU coach Williams said the pinball-like total was unavoidable.
"We got 80 at halftime and we score 100 with over 13 minutes left," Williams said. "I turned to our staff and said, 'How do we get this thing slowed down?' Jerry Green (assistant) said, 'You can't slow it down unless he stops pressing.' It was the story of the game."
Kentucky avenged the loss, 88-71, the following season in Rupp Arena. In fact, since the massacre, UK is 3-0 versus the Jayhawks, including a 63-45 win on Dec. 1, 1998 at the Great Eight in Chicago and a 92-88 overtime win in a second-round 1999 NCAA Tournament contest in New Orleans. Kentucky went on to lose to Michigan State in the regional final that year.
So Kentucky has the last laugh, with a 19-3 all-time advantage entering today's tilt.
"That's crazy," said Randall. "If we are going to be down 19-3 to somebody I'd rather have it be to Kentucky or North Carolina, a team with tradition. They are one of the top programs of all time. I give 'em their respect."