Wednesday, August 31, 2005
So unsurprising was the decision to start Adam Barmann at quarterback that Kansas University football coach Mark Mangino didn't inform the candidates before informing the media Monday about his final decision.
"I actually found out in today's paper," senior Brian Luke said Tuesday. "But I'm not discouraged whatsoever by it. It's not going to affect the way I work."
Barmann, too, said he learned through the media of the final decision, but said it wasn't a shock based on practice.
"Coach never really came out and told us," Barmann said. "I've just been working with the (first team) most of camp. I felt it was always my job, I guess."
It is clear -- and perhaps has been for a while -- that Barmann will be the starter Saturday when KU plays Florida Atlantic at Memorial Stadium. But Mangino has said Barmann may not be the only quarterback to receive snaps. He won't discuss it further, though.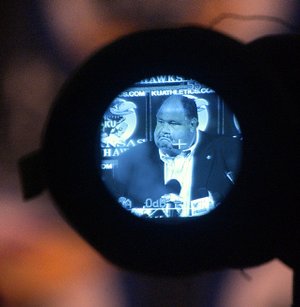 The unknown certainly raises eyebrows. Could the fill-in be Luke, the experienced fifth-year senior? Or will it be freshman Kerry Meier, who is eligible for a red-shirt season if the KU coaches want to save his talent?
"I don't want to divulge that at this point in time because we're still tinkering with the situation a little bit," Mangino said.
"In the back of my mind, I know what I want to do and what our offensive coaches want to do, but we still need a little bit more time before we make that final decision."
Some would assume that the "final decision" revolves around Meier's red-shirt option -- a big choice that will have to be made before long, and also one that Mangino says ultimately he leaves up to the player. But nobody said as much at Tuesday's news conference at Hadl Auditorium, leaving an intriguing side story heading into Saturday's game.
It could stay dangling, though, if Barmann plays the whole game. Mangino didn't count that out, either, especially considering Barmann's level of play in the preseason.
"His performance on the practice field has been very good," Mangino said. "He's a better football player today than he was last season. He's healthy, throwing the ball very well, and has a much better command of the offense."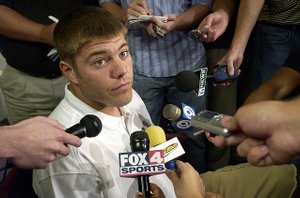 ¢ True freshmen to play: While Meier's status remains a mystery, Mangino said a couple of true freshmen definitely would play Saturday.
As expected, Russell Brorsen will see the field as the number two tight end behind sophomore Derek Fine. Another sure bet will be James Holt.
"It's not so much that he's ready to play safety for us," Mangino said of Holt. "He's come in and proved that he's such a quick, tough athlete, that he's going to play on special teams for us. It's hard to ignore his ability on special teams."
Mangino also mentioned Darrell Stuckey as a possibility, and said a couple other freshmen were on the bubble.
¢ No Heaggans: Mangino has made no definitive decision on who will return kickoffs Saturday, but it won't be Greg Heaggans.
Mangino said Heaggans wouldn't play against FAU so he could tend to a personal matter. Mangino declined to say it was disciplinary.
With Heaggans unavailable, the duties could go to either Gary Green, Jon Cornish or Kenneth Thompson.
¢ Secondary sorted out: The four secondary starting spots seemed to be locked down, at least for this week.
Charles Gordon and Ronnie Amadi will start at the cornerback spots, while Rodney Fowler (free) and Jerome Kemp (strong) will play safety.
Mangino expects to rotate players without much of a dropoff, including Aqib Talib at either safety position. He also said cornerback Theo Baines, slowed by an undisclosed injury, would be able to play some Saturday.