Someone forgot to tell Kansas University soccer standout Caroline Smith that Saturday's game against Drake was an exhibition.
"I don't care if it's practice or we're playing in the national-championship game. When you step between those lines, you have to be ready to go all-out," said the Jayhawk senior, whose early goal helped No. 23 Kansas hold off Drake, 2-1, at Jayhawk Soccer Complex.
But KU's all-time leading scorer nearly was slapped with a second yellow card -- and an automatic ejection -- after she slid into Drake goalie Erin Jarvis in the first half, then argued with a nearby referee.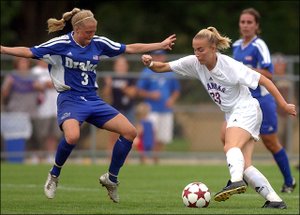 "I think that we were getting frustrated, because we were getting a lot of chances but not capitalizing. I think that definitely made us pick up or intensity," said Smith, who received her first card 25 minutes into the game.
Kansas' all-out effort certainly showed when Holly Gault, a NSCAA/adidas All-American defender last season, also received a yellow card for a rough tackle, drawing the ire of Drake coach Corbin Stone.
But KU coach Mark Francis said he saw positives during the defending Big 12 Conference champs' first outing without seven graduated seniors -- players who led the program to 60 victories and three NCAA Tournament appearances.
"There were some good things for the first time out," said Francis, whose squad will open its regular season Friday at home against Michigan. "The freshman class did very well, and sometimes those are the girls that are scared to death. But everyone came in and contributed."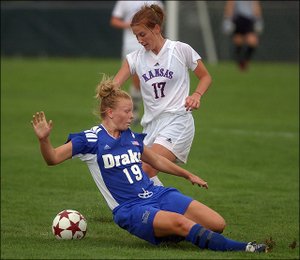 Freshman forward Sara Rogers, from Overland Park Aquinas, tallied the game-winner in the first half when she emerged from a huddle of Drake players and booted a goal from five yards out.
Midfielder Missy Geha, the younger sister of recently graduated KU player Amy Geha, received the team's Heart and Soul award for her hustle Saturday. Freshman Jenny Murtaugh was one of only two Jayhawks to log all 90 minutes.
"I think the freshman class played the best out of anyone," Smith said. "I was impressed."
Francis said he was no closer, however, to deciding who would be the starting goalkeeper. Sophomore Colleen Quinn and freshman Julie Hanley each played a half, and each recorded one save.
"It's very close, but that's a good thing," Francis said.
Francis, who is starting his seventh season on Mount Oread, said his team should have put Drake away early, considering the Jayhawks outshot the Bulldogs, 18-8.
"It's not quite what we expected it to be, but it lets us know what we need to work on in the six days we have left before our first game," Francis said.