They might be old-school, but Kansas University's alumni volleyball team wouldn't let the current Jayhawks school them Saturday night at Horejsi Center.
"It's kind of funny how competitive we got," said former KU setter Molly LaMere, the new head volleyball coach at Lawrence High. "Because even though some of us have been gone for a while, it was like everything came back together once we got going out there.
"All the old nicknames came right back out, and we were right back at it again."
Unfortunately for the "elder" Jayhawks, the current squad had too much firepower and won, 3-0, before playing a fourth game for fun, which KU also claimed. The closest contest was game three, which the current Jayhawks won, 30-26.
But KU coach Ray Bechard said there was plenty to practice before his team begins its regular season at 7 p.m. Friday against Alabama in the Jayhawk Classic.
"Overall, it wasn't bad for an opener, but we had far too many service errors," said Bechard, whose squad had 18 aces and 21 service miscues.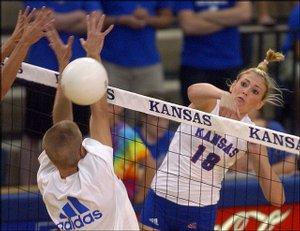 Junior Jana Correa led the Jayhawks with 13 kills, while senior Paula Caten added 11. Freshman middle blocker Savannah Noyes, who is battling for a starting spot, looked impressive with 11 kills, three blocks and a .562 attack percentage.
Freshman setter Katie Martincich, who likely will take a red-shirt season, led the Jayhawks with 31 assists, and senior Andi Rozum added 24 in two games.
"I think our freshman class is phenomenal," sophomore Emily Brown said.
In addition to LaMere, four other former Jayhawks currently are coaching.
Kendra Kahler Oberzan is head coach at Ottawa University, where her husband, Phil Oberzan, a former KU manager, is an assistant.
Nancy Bell Dorsey, who last year married the recently graduated Jill Dorsey's brother, Bryan, is the head coach at the newly opened Saint James Academy in Lenexa.
Laura Rohde Curry is an assistant coach at Shawnee Heights Middle School, while Jennifer Kraft instructs at the club level.
"I think it's pretty cool that they all kind of stayed in the sport," Bechard said. "Most of the time you hear about athletes who have been in a sport for such a long time that they want to get as far away as possible, but these girls have decided their time isn't quite up, and I think that's pretty cool."