In its last two football games, Kansas University has missed four field goals, been penalized 20 times for 165 yards, rushed for a total of 133 yards and blown two fourth-quarter leads.
"We're a few plays away from being 4-0," KU coach Mark Mangino said Sunday, a day after his team squandered a 25-point lead in a 31-30 loss to Texas Tech. "But we didn't make the plays we needed to, and we're 2-2."
While plenty of things went wrong in Saturday's Big 12 Conference opener and in the previous week's 20-17 loss at Northwestern, it was obvious the Jayhawks' lack of a running game bothered Mangino most.
The former offensive-line coach got in a few digs at his linemen after Saturday's game, in which the Jayhawks averaged 2.5 yards per carry.
First, Mangino said that the line "doesn't reflect my temperament." Then he commended running backs John Randle and Clark Green for "whatever yards they got today. It was basically their own effort."
Kansas (2-2 overall, 0-1 Big 12) rushed for 174 yards on 41 carries three weeks ago in a 63-14 blowout of overmatched Toledo. Aside from that game, the Jayhawks' ground attack has been a disappointment.
After averaging 165.5 yards a game and 4.4 yards per carry last year, KU has averaged 102.2 yards per game and 2.9 yards per carry.
Kansas went into preseason camp with three returning starters on the line -- center Joe Vaughn and guards Bob Whitaker and Tony Coker. Coker, however, injured his ankle during a scrimmage and has played in only one game.
Mangino said Coker's status for Saturday's game at Nebraska (2-1, 0-0) was uncertain. The coach was unwilling to use the senior's absence as an excuse, and he didn't single out Coker's replacement, sophomore David Ochoa.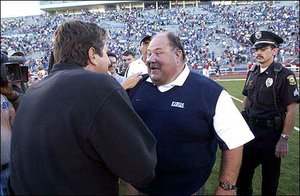 "There's not any one guy," Mangino said. "There's a few people on offense that need to step up."
Mangino tweaked his starting lineup Saturday by replacing sophomore right tackle Travis Dambach with red-shirt freshman Cesar Rodriguez. More switches appear likely.
"There could be some changes in personnel," Mangino said. "But not only on the offensive line."
The coach didn't offer any specifics on what moves might made before KU takes on Nebraska at 6:10 p.m. Saturday at Lincoln, Neb.
"I don't want to be hasty in any decisions I make," he said.
Kansas passed for 250 yards against Tech, but the Jayhawks finished with a modest total of 336 yards. Kansas converted just six of 18 third-down plays and was shutout in the second half after leading 30-11 at halftime.
The Jayhawks' inability to sustain drives gave Tech plenty of opportunities to rally.
"Our pass protection was pretty good with our offensive line and running backs, but our run game has to get better," Mangino said. "We have to learn to play with leverage, finish our blocks, get a hat on a hat and make sure we're blocking the right guy."
Mangino said the linemen were too tentative, were overanalyzing their plays and had not been able to develop the "chemistry" that is vital to good line play.
"They're the only guys on the field that play right next to each other, foot to foot," Mangino said. "A lot of times your success or failure depends on the guy next to you. You have to work together. The bottom line is, you have to play with passion and aggression. You can't sit back and think."