The kicker was different, but the outcome was the same.
One week after Kansas University senior Johnny Beck missed two field goals in a three-point loss at Northwestern, his replacement -- red-shirt freshman Scott Webb -- missed two fourth-quarter field goals Saturday in a 31-30 loss to Texas Tech in the Big 12 Conference opener at Memorial Stadium.
Webb made a 22-yard field goal in the second quarter while the Jayhawks were building a 30-5 lead, but he missed from 45 and 43 yards late in the game as Tech rallied for the biggest comeback victory ever against KU.
Kansas coach Mark Mangino said he didn't plan any changes in the kicking game before Saturday night's game at Nebraska.
"He's the guy," Mangino said of Webb. "He's going to kick. There's no question about that. We have faith in him."
Mangino said he didn't consider using Beck -- who has a stronger leg than Webb, but who has made only two of six kicks this season.
"That wasn't in the gameplan," said Mangino, whose team fell to 2-2 overall and 0-1 in the league. "We planned on going with Webb."
Like last week's 20-17 loss to Northwestern -- in which KU rushed for 47 yards and had 11 penalties -- there was plenty of blame to go around after Texas Tech (3-1, 1-0) pulled off the biggest comeback in its history.
l KU lined up to punt on its first possession, but Kevin Kane's low snap bounced out of the end zone for a safety. The two points, which seemed insignificant at the time, proved costly.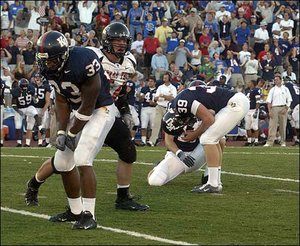 l Leading 30-5 with 48 seconds left in the first half, KU's two-point conversion failed.
l KU quarterback Adam Barmann passed for 224 yards and two touchdowns, but he threw three interceptions. The second pick came with 1:57 remaining in Tech territory and his team down by a point.
"It's tough," Barmann said. "We had to come out and play the second half. We let one slip away."
l For the second week in a row, KU's defense played well for three-plus quarters before giving up a go-ahead touchdown on a quick scoring drive. This time, Tech's Taurean Henderson ran 70 yards up the middle with 2:37 remaining.
"The defense was fantastic today," Mangino said. "They gave us every opportunity to win the game."
l KU was flagged nine times for 81 yards. Four of the penalties led to Tech first downs.
l The thing that angered Mangino the most was the fact that KU was limited to 86 rushing yards on 35 carries.
"I'm not pleased at all with the play of the offensive line," Mangino said. "I'm ready to make some changes there."
The Jayhawks' offense looked fine in the first half when the defense -- which intercepted Tech quarter back Sonny Cumbie four times -- and special teams continually gave Barmann a short field to work with.
Sophomore John Randle got the Jayhawks' onslaught started with a 36-yard TD reception and a one-yard touchdown run. Sophomore cornerback/receiver Charles Gordon threw a 26-yard TD pass to Brandon Rideau on a gadget play, and Gordon later caught a 20-yard scoring pass from Barmann.
Gordon's touchdown catch made it 30-5 with :48 seconds left in the first half.
That was still plenty of time for Cumbie to start the Red Raiders' rally. Tech drove 80 yards in 33 seconds and cut the deficit to 30-11 on Cumbie's 32-yard pass to Trey Haverty.
Cumbie, the nation's leading passer, finished 28-of-52 for 356 yards and two TDs. Haverty (eight receptions, 143 yards) and Henderson (17 rushes for 169 yards) both had career days.
"With the explosiveness of our offense, we always feel like we're in the game," said Cumbie, who rallied Tech from a 21-0 deficit last week in a 70-35 victory over TCU. "It's the confidence we have in our team."
0/20Points scored by Kansas/Texas Tech after halftime7.3Average yards per play for Texas Tech538Texas Tech's total yards$5,000Bonus not earned by KU coach Mark Mangino, who picks up 5 grand for every KU win on FOX
After scoring on five of eight first-half drives, KU's second-half possessions resulted in three interceptions, four punts and two missed field goals.
"We couldn't finish drives," said Randle, who led Kansas with 50 yards on 16 carries. "That was our downfall. We have to play a complete game."
Chad Johnson intercepted Barmann on KU's first drive of the second half and returned it 56 yards to the Kansas six-yard line. Henderson scored two plays later on a one-yard run.
Cumbie's 37-yard pass to Jarrett Hicks cut the deficit to 30-24 with 44 seconds left in the third quarter, but Tech's two-point conversion run failed.
Webb then missed badly on a 45-yard attempt and later hit the left upright with a 43-yarder with 3:46 to play.
"We weren't able to finish the game for the second week in a row," Mangino said. "We need to find out why this keeps happening."
The Jayhawks next face Nebraska, a team they haven't defeated since 1968.
"We'll find out if this team has the fortitude to overcome this," Mangino said.