Nobody knew how Kansas University's men's basketball team would react to playing a nonconference game in the midst of the conference season.
Everybody knows now: not well, not well at all.
The No. 12-ranked Jayhawks were shocked, stunned -- and, yes, humbled -- Thursday night, falling to unranked Richmond, 69-68, at Allen Fieldhouse.
The setback followed three straight KU wins in the Big 12 Conference.
"It's real disappointing," KU junior forward Wayne Simien said after the Jayhawks' first loss to an unranked foe in Allen Fieldhouse in 53 games, the last setback a 64-59 decision to Nebraska in 1999.
"To lose to a team we should beat at the fieldhouse, with all the students back for the start of second semester, it's just really disappointing," Simien added after scoring 14 points with 14 rebounds.
Many factors contributed to KU's first home loss to an unranked nonconference foe since Iowa in 1998. Those factors were as important as the deciding blow: Tony Dobbins' 12-foot jumper in the lane with 1.3 seconds left.
The Jayhawks (11-3), who led by nine in the second half, hit just two of 11 threes to Richmond's 10 of 26. KU canned 18 of 28 free throws; Richmond (10-8) hit 17 of 20.
"Any time you lose, it stinks," KU coach Bill Self said. "So it is not good, but certainly we were tested, and they got us. If we just make free throws, we win the game. That's what happens when you let teams hang around. We didn't deliver the punch when we had the chance."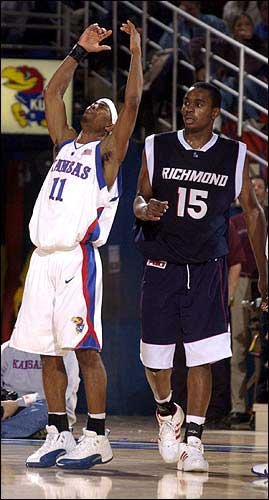 It looked as if KU would survive a major jab when Aaron Miles cashed a three with 1:29 left, giving the Jayhawks a 68-64 lead.
A likely hero with 10 points, nine assists and eight boards, Miles missed two free throws at :57.0.
Off the hook, Richmond recovered, and Patrick O'Malley iced a three at :47 to cut the gap to one point.
"Free throws cost us the game. My free throws cost us the game," Miles said. "If I make one, it's a tie game, both we win."
KU still had a chance to bail out Miles.
Up by one, the Jayhawks called time on their next possession with 25 seconds to play and 14 seconds left on the shot clock.
After the stoppage, KU had a major breakdown on a set play, and Miles had to heave a long three with 11 seconds left. That three that was blocked by Dobbins.
"We were trying to run a play. I'm not saying names, some people didn't know the play we were running," Langford said. "Aaron had to throw a wild shot. It happens."
Miles said it was disappointing to have a breakdown on such a key possession.
"Of course. We go over plays every day in practice. For our minds to go blank, that hurts," said Miles, who was burned defensively when Dobbins drove past him on the final possession.
"We had a brain lapse, a breakdown on offense. One of the guys ran to the wrong side of the court on a called play out of the timeout. We had to settle for a blocked shot," Simien lamented.
Nobody singled out the player who screwed up on the possession that resulted in Miles' blocked three.
"We didn't have anything open, so we called a timeout. We were supposed to run a play and had a guy not do what he's supposed to do," Self explained, "and it was dead. It was very poor execution when it counted the most."
Still, Richmond had to come down and hit a game-winner.
"We lost the game," Self said, "because we couldn't get stops when the game was on the line. You look at free throws ... the bottom line is you can't let the other team score, and we did."
KU did have a final possession. J.R. Giddens inbounded a full-court baseball pass to Simien, who was called for a pushing foul with one second to play. Richmond inbounded and celebrated.
"We tried to get a long pass, maybe a Christian Laettner-type shot. It didn't go that way," Simien said of former Duke player Laettner's last-second shot to beat Kentucky in the 1992 NCAA Tournament.
KU, which led 58-49 with 8:26 left, was burned by Richmond's Mike Skrocki, who scored 23 points off 4-of-9 three-point shooting. He helped the Spiders of the Atlantic 10 nab their biggest win since a victory over South Carolina in 1998 in the NCAA Tournament.
"The three-point shot is the great neutralizer in the game," Self said. "We actually did a decent job guarding them at times, but we let No. 22 (Skrocki) get free in the second half. We put four guys on him, and none of them guarded him very well. With that being said, we were up four, shooting two free throws, you've got to finish the game.
"We don't sort in transition and come back leaving No. 25 (O'Malley) open for an uncontested three to cut it to one. Then we didn't play well the rest of the way. It's disappointing, but give them credit."
Self said the Jayhawks, who hit 45.3 percent of their shots, "played really hard. We had a chance to blow the game open a couple of times and had some silly turnovers that kept us from doing that. We didn't attack the zone at all the last 10 minutes and when we did, didn't make our free throws. That's been the strength of our team, getting to the line. We shot poorly."