Walt Wesley hasn't spent any time stressing out about the speech he'll give to 16,300 fans at halftime of tonight's Kansas University-South Carolina basketball game at Allen Fieldhouse.
"I'm not worried about that. That's like playing the game. When they throw the ball up, you play," Wesley said.
The 6-foot-11, 225-pound KU basketball All-American, who came to play each and every night during his three-year Jayhawk career in 1964-66, today will have his jersey No. 13 hung in the rafters of the fieldhouse.
The 22nd-leading scorer in KU history -- who averaged 19.3 points a game -- will have plenty of supporters on hand, including coach Ted Owens and the five starters from KU's 1965-66 Big Eight Conference title team that went 23-4 overall and 13-1 in league play.
"We were a very close-knit ballclub. Those are very special people," Wesley, a Fort Myers, Fla., native, said of fellow starters Riney Lochmann, Del Lewis, Al Lopes and Ron Franz.
Jo Jo White arrived at semester break and played a key role in the Jayhawks' advancing to the NCAA regional finals in Lubbock, Texas.
That's where an official's call on a potential game-winning jumper by White wiped out a basket and cost KU dearly in its 81-80 double-overtime loss to eventual national champion Texas Western.
"It's kind of a Catch-22," Wesley said. "You want to remember the season, but you don't want to remember that game. It was just a devastating loss at the end. Everything just dropped.
"The bottom fell out of everything when they made that call. To be so close ... it's one of those things we knew we were good, it just slipped away. I guess it just wasn't meant to be."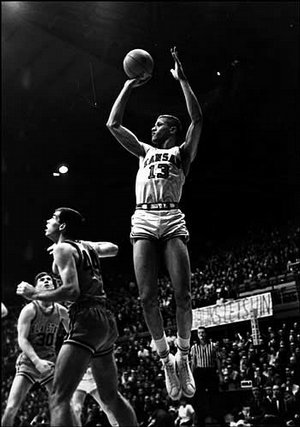 Wesley, who scored 42 points against Loyola on Dec. 12, 1964, tying for the eighth-most points in a game in KU history, exploded for 50 for the NBA's Cleveland Cavaliers against Cincinnati in 1971.
The 59-year-old Wesley, who is director of the Police Athletic League in Fort Myers, shrugged over his role in both contests.
"It was a great game, a great night. I really thank my teammates," Wesley said of the Loyola outing. "They saw I was having a good night and pushed to get me the ball. We stayed within the context of what we were trying to do. It was a great honor. Not many players score 40 in a game."
And even fewer score 50, like he did against Cincinnati, the team that tapped him No. 6 overall in the 1966 NBA Draft.
"I enjoyed it. It was another milestone," Wesley said. "I thank God I had the opportunity to do it."
And he is extremely grateful KU is bringing him in this weekend for such a great tribute.
"It is quite an honor, especially at the University of Kansas, to have your basketball jersey hung in the rafters," Wesley said. "It's dejvu. I get a little feel of excitement just thinking about it. I have such great and fond memories of being there and playing in Allen Fieldhouse.
"KU is something that will be with me forever. (Today) is fantastic. For my teammates to be there and coach ... you know, coming to KU I was not the greatest player in the world, but I worked at it and now this."
Owens said Wesley, who played a decade in the NBA, always would be remembered as a man who made the most of his talent by putting in long hours of work on the court.
"Thinking about Walt makes me feel good," Owens said, "because I think our staff helped him develop. I probably take more pride over Walt than anybody. He put in a tremendous amount of work before and after practice and became a very good turnaround jump shooter.
"Our head maintenance (person) would put up the iron defender, an adjustable panel that could slide up and down on the goal. No way Walt could shoot the ball without hitting the defender without getting the height of extension on his shot. He'd hit 150 shots before he could go in. He went on to become even better in the pros, scoring 50 one night for the Cavs. He's a special player, a special person and most deserving of this honor."