Earlier this week, Bill Bridges had "mixed feelings" about Kansas University retiring his jersey No. 32 a whopping 43 years after his last game as a Jayhawk.
"It's almost like they tried to push away from that era. I'm glad to see them get back to the progression. After arriving here today, and getting back in the fieldhouse, I don't feel so disenfranchised any more," said Bridges, the 43rd-leading scorer and fourth-leading rebounder in KU history.
His jersey was hung high in the south-end-zone rafters in a halftime ceremony in which Bridges walked onto the court in a replica letterjacket sent to him by KU officials in recent weeks.
"I was very disconnected to KU when I left," said Bridges, who last played at KU in 1961. "I'm thankful the so-called 'Forgotten Five' are now being honored this way. I thank Bernie Morgan for making this happen."
Morgan, a KU booster, presented a list of accomplishments of Bridges, Bud Stallworth, Walt Wesley, Darnell Valentine and Dave Robisch to athletic director Lew Perkins, who agreed all those players deserved to have their jerseys retired.
Bridges expressed displeasure with perceived snubs of the forgotten Five during the Roy Williams era.
"There was a time here that wasn't remembered. If Roy had stayed, it wouldn't be Allen Fieldhouse. It'd be 'Roy Williams Fieldhouse,'" Bridges said.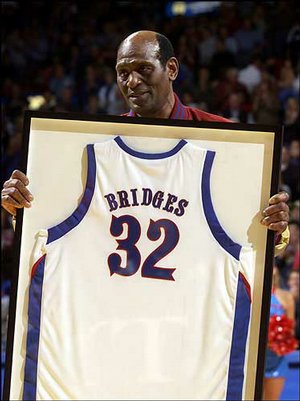 "When he left, he said he had to leave because he was Carolina-bred. I said, 'There's got to be at least one (expletive) guy from Kansas who can coach the team.'''
Now an environmental consultant in Santa Monica, Calif., Bridges also thanked KU booster Dana Anderson for his support. And he thanked KU fans during his speech at halftime.
"I feel I belong here," said Bridges, who played 13 years in the NBA. "It's always been a privilege to be a Jayhawk. People come up to me ... Jayhawks have great name value. To have my jersey retired in this place, it's an honor."
Originally from Hobbs, N.M., Bridges said basketball was not what first attracted him to Kansas University.
It's the Campanile.
"To me, Kansas is the Campanile, sitting up there on the Hill. I was in a fraternity house by the football stadium and I'd look at it across the street every day and marvel at it," Bridges said.