Reno, Nev. — Like a bad blackjack player, Kansas University's men's basketball squad busted Sunday night at Lawlor Events Center.
In suffering the first blowout loss of the Bill Self era, the No. 6-ranked Jayhawks totally went bankrupt in this gambling mecca. Nevada's unranked Wolf Pack looked more like an old Jerry Tarkanian UNLV team than an unheralded WAC squad in a 75-61 win over the Jayhawks.
Nevada fans stormed the court after the Wolf Pack's biggest win in school history and the program's second against a ranked team. The first came against UNLV in the early 1990s.
"We got what we deserved tonight," said Self, whose Jayhawks fell to 6-2 entering winter break; Nevada improved to 5-3.
"They were bigger, stronger, more athletic and more skilled. They played like a hungry team. We played like a team content and not competitive. They kicked our butts in every phase of the game."
Nevada jumped all over KU, racing to leads of 7-0, 12-2, 18-6 and 40-20 at halftime. The Pack's lead blossomed to 25 points early in the second half before the Jayhawks put on a gutty rally and sliced the gap to seven, but solid Nevada free-throw shooting saved the day for the home team.
Nevada outrebounded KU 23-13 the first half. The Wolf Pack also hit 14 free throws in a row and 17 of 18 down the stretch.
Kirk Snyder, who exploded for 29 points, had 12 the first half, while KU went six of 23 from the field the first 20 minutes for horrific 26.1 percent shooting.
"It's a sign of not being competitive in not getting to loose balls," Self said of KU's rebounding and intensity woes the first half. "We do not have an identity yet we can hang out hat on. I was hoping it'd be defensively. Rebounding has been a weakness."
KU -- the night started poorly when Nevada was awarded the ball (and scored a bucket) instead of netting a shot-clock violation on its opening possession -- couldn't pull off the comeback because of the anemic first half.
The 20-point deficit was KU's worst since a 21-point deficit the Jayhawks incurred last year in a loss at Oklahoma.
KU's 20 points in the first half marked the Jayhawks' fewest since 19 versus Oklahoma March 10, 2002. KU's six field goals in the first half in 23 attempts (.261) marked KU's worst shooting half since a six-field-goal outing Feb. 28, 2000 against Texas.
In the first half, no Jayhawk had more than four points or three rebounds, and Nevada outscored the Jayhawks, 29-8, on points in the paint.
Nevada, meanwhile, looked like the No. 6-ranked team in the country, not an unranked foe, hitting 16 of 33 shots for 48.5 percent. KU finished the night at 40.4 percent to Nevada's 41.8.
"When you are supposedly a top-ten team," said forward Wayne Simien, who scored 10 points with eight boards, "you will get a team's best shot every night. We didn't come ready to play. We didn't shoot, pass or defend. We didn't get momentum to give us confidence on the road. We took it on the chin."
The Jayhawks' only bright spot was cutting the 25-point gap to seven at 68-61 with 1:47 left.
"We never stopped believing until the end," Simien said.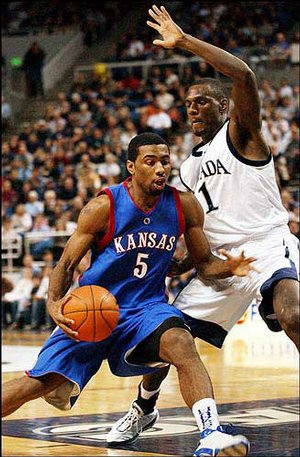 Asked the main problem, Simien said: "It's shooting, passing, dribbling, defending, little things. Coach said every other team in the country can pass it on the wing and get it inside. At this point, we have been unable to do that."
Keith Langford and Aaron Miles led the Jayhawks with 11 points each on combined 8-of-27 shooting.
Notes: KU guard Jeff Hawkins received a technical foul in the second half for flicking his hand at Todd Okeson, who pushed Hawkins after Hawkins tried to help Snyder off the ground after he was hacked by Jeff Graves. Hawkins said he was trying to assist Snyder when Okeson stepped in and Hawkins reacted. ... Former Kansas guard Jerod Haase, now an assistant coach at North Carolina, attended and sat behind the Jayhawk bench. A native of South Lake Tahoe, Calif., Haase is in the area for Christmas. ... UC Santa Barbara bounced back from Saturday's 20-point loss to Kansas by beating Alabama State, 63-53, Sunday.