Kansas had just whipped Saint Louis University 74-55 in Kansas City to win the 1952 NCAA regional basketball title. Dick Snider of the Topeka Capital and I approached Phog Allen at midcourt for some remarks.
"Just think of 'Casey at the Bat,'" the KU coaching legend blurted.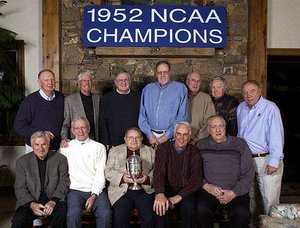 Dick and I looked at each other in dismay. Finally, Snider mustered a reasonable response: "But, Doc, Casey struck out."
"Yes," countered Phog, with feeling. "But we didn't!"
Deciding it would be better to try later to figure what the hell Phog was talking about, Dick and I proceeded with the usual questions about the game. As was virtually always the case with Phog, there was "the rest of the story," to steal from Paul Harvey.
In his own mind, Doc had struck out earlier but, like the mythical Casey, he focused on and got revenge. Indeed, both did, although Phog's critical "hit" was a lot more impressive, and the best was yet to come.
During the 1946-47 season, hands-on tutor Allen had been knocked backward during a practice session skirmish. Hit his head, hard, and admitted to being woozy and flaky from time to time.
Sons Bob and Mitt and wife Bess insisted Phog needed time off. Navy veteran, freshman coach, law student, honor student and All-American Howard Engleman moved up to the head job after the Jan. 7 loss at Missouri. KU finished with an 8-6 record while Phog regained his groove.
You can imagine the talk, particularly from the hostile Missouri and Kansas State camps. The old man had lost it, was in la-la land for good, would never come back. But this Kansas "Casey" wanted some more trips to the plate.
Allen brought in former standout Dick Harp as his assistant for 1947-48 and involved Dick in a mission that even the admiring, able Harp considered impossible. Allen said for Dick to start furiously recruiting Bob Kenney at Winfield, Bill Hougland at Beloit and Bill Lienhard at Newton. OK, but then there was the hook.
"Tell them," Phog said to his aide, "that we're not only going to win a national championship but that we'll be going to the Olympic Games in 1952."
Then there was a kid in Terre Haute, Ind., name of Clyde Lovellette, that Phog decided to turn heaven and earth to bring west.
No way KU could go four-for-four with widely sought kids like that. And then there was that unbelievable promise about the national and Olympic titles.
"I never saw Doc work that hard on somebody, as he did on Clyde," Harp often recounted. "He influenced a lot of stars to come here, including Wilt Chamberlain, but he never focused on one player the way he did on Clyde. He left nothing to chance in getting Lovellette, Lienhard, Kenney and Hougland."
Dick said he often felt foolish making such brash promises to the Kansas kids and Clyde, whom Dick also helped lure. But came the 1948-49 school year and the Jayhawks had the most celebrated freshman class in their history.
That Fabulous Four drew the same interest as Roy Williams's Triplets Terrific Kirk Hinrich, Nick Collison and Drew Gooden did for 1999-2000. It took the Fab Four three years to hit their stride (no freshman eligibility then) just as it has taken the Three Musketeers two-plus seasons of combat to get where they are. (Another title, maybe?)
The Lovellette-led quartet was 14-11 as 1950 sophomores, tied for the Big Seven title, won a drawing, then fell to Bradley in an NCAA district playoff. Came 1951 and KU was 16-8 while Kansas State won the league and roared all the way to the NCAA title game before falling to Kentucky.
Had the old guy really lost it? Could he compete with the likes of Black Jack Gardner who had done so very well after World War II at Kansas State?
For the '52 season, Phog worked an unheralded junior named Dean Kelley from tiny McCune into the lineup. He added a steady, dedicated 6-3 Garden City Community College postman backup in John Keller. Also entering the scene was junior Charlie Hoag, a superquick 6-3 football star.
The Olympic Seven was set. Took a little proving, but this group delivered just as Phog and Harp had promised. Add excellent bench help from sophomore Allen Kelley, McCune, junior Dean Smith, Topeka-Emporia, and freshmen Bill Heitholt and Larry Davenport (freshman could play in '52). And, mercy sakes, Phog had himself a convoy!
Those Jayhawks started 13-0, lost at Kansas State and Oklahoma State, put in a new pressing defense, then swung a 15-0 wallop before falling to the AAU power Peoria in the Olympic playoff finals. As Allen had promised, national title, seven Olympic berths.
After the regional title win over Saint Louis, Phog had the scent of victory in his nostrils, thus the "Casey struck out, but we didn't." It's something he'd been aiming for since that terrible 1947 period.
After the Saint Louis win, KU defeated Santa Clara and St. John's for the college title in Seattle. Nobody around here had seen the kind of crowd that greeted those Jayhawks upon their return here at 1:40 a.m. on March 28, even for World War II. Players rode fire trucks, well over 10,000 turned out after the team had been waylaid by one airplane flaw after another; "On to Helsinki" signs were everywhere, heralding the Olympic trip. Phog was the coaching assistant to Peoria's Warren Womble; he'd clearly made the most of those later at-bats after he seemingly "struck out."
Sadly, death, ill health and travel problems will deny us the chance to see some of that wondrous 1952 team at its 50th reunion here this weekend. Not only were there many great basketball players, but you'll never find a more wondrous collection of good citizens and KU faithful.