Ames, Iowa — When you're hot you're hot, but when you're in Iowa in the latter part of November you're not.
With temperatures in the 20s and the wind chill hovering around zero, Kansas struggled from the start in its season-ending 38-17 loss to Iowa State on Saturday afternoon.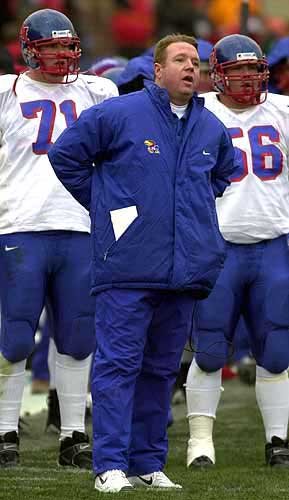 Those numbers are a far cry from the opener at SMU when the temperature was 107 degrees at kickoff.
"We're not used to playing in these types of conditions," Kansas coach Terry Allen said after Saturday's defeat. "We've got a lot of guys from Texas and California not used to this kind of cold."
It couldn't have been a frostier as the Jayhawks went three-and-out on their first possession. Then Iowa State, playing its final regular-season game before heading to a bowl game, scored the first time it had the ball.
Just like that, Kansas was in trouble. Then the Cyclones scored again in the second quarter.
"They just got out to a good start on us, a 14-point lead," said Tim Bowers, a senior co-captain who played in his last collegiate game. "It's hard to get out of that kind of hole."
Senior quarterback Dylen Smith, from Santa Monica, Calif., completed only 15 of 35 passes for 158 yards.
Running back and classmate David Winbush, from Texas, had 22 carries for 76 yards, and had a critical fumble.
Trailing by seven, Kansas was driving when Winbush gained 11 yards on a run around the left end, but as he was falling to the ground Winbush lost control and the Cyclones recovered the ball.
Iowa State did nothing with the opportunity in fact, Bowers recovered an ISU fumble five plays later but Winbush knew how critical the mistake was at the time.
"I went through the whole season not fumbling the ball," Winbush said. "And now I have fumbled in two straight games. I put a lot of today's performance on my shoulders (because of the fumble)."
Saturday's fumble was actually his third of the season. He also fumbled once against Kansas State.
After the fumble against ISU, Winbush sprawled on the field until Allen ran out and swiftly lifted the senior off the ground.
"You learn how to get up after you make a mistake," Allen said.
Senior safety Carl Nesmith played in pain with a turf toe, and made an interception that led to a touchdown. Nesmith picked off a Sage Rosenfels pass at the 45-yard line and returned it to the one, where Winbush ran it in one play later.
"I knew I had to play," Nesmith said. "It was my last college game, and I knew it would be one I'll remember forever."
A native Iowan, KU coach Allen maintained his sense of humor despite finishing with a 4-7 record and his fourth straight losing season since coming from Northern Iowa.
"All I can say is the weather reminds me of why I left in the first place," Allen said.