Kansas basketball players Frank Mason III, Perry Ellis and Svi Mykhailiuk meet with reporters after the Jayhawks earned at least a share of KU's 12th consecutive Big 12 title with a win over Texas Tech.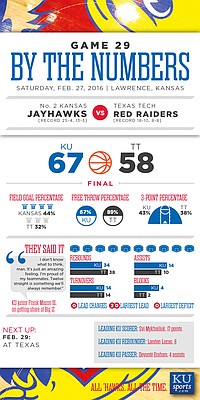 By the Numbers: Kansas 67, Texas Tech 58
Twelve it is.
Thanks to Saturday's convincing 67-58 victory over Texas Tech (the second hottest team in the Big 12 during the past few weeks), the Kansas University men's basketball team clinched at least a share of the Big 12 regular season title for the 12th year in a row.
KU improved to 25-4 overall and 13-3 in Big 12 play with its ninth victory in a row, eight in Big 12 play, and one over Kentucky, in the Big 12-SEC challenge.
Texas Tech fell to 18-10 overall and 8-8 in Big 12 play.
KU's latest victory featured a lot of what has helped this team find its stride and rip off a strong streak to close the season — balance.
Sviatoslav Mykhailiuk came off the bench to lead KU's offense in the first half with a dozen points on 4-of-4 shooting from three-point range. Other than that the Jayhawks, who hit 9-of-21 from downtown as a team, got solid but not spectacular contributions from just about everybody who entered the game.
Mykhailiuk finished 6-of-7 from the floor for 17 points and also added a pair of rebounds and an assist in 22 minutes.
Frank Mason III was the only other Jayhawk to reach double figures, adding 14 points on 5-of-9 shooting. Perry Ellis missed his first four attempts of the game but recovered to chip in 8 points on 4-of-13 shooting.
Landen Lucas, who scored KU's first five points in this one, finished with seven points and eight rebounds.
All of those stats, of course, will be little more than footnotes to the day that KU clinched Big 12 title No. 12 in a row.
From here on out, KU will clinch the outright title with another victory or losses by Oklahoma and West Virginia.
Here's a quick look back at some of Saturday's action:
• The game turned when: Kansas turned a quietly close contest into a comfortable lead with a 10-2 run that pushed the Jayhawks' lead from 19-16 to 29-18.
• Offensive highlight: It would be real easy to pick all five of Mykhailiuk's three-point shots for the offensive highlight because each one looked so pure and so smooth. The sophomore is playing with a ton of confidence right now and he looks a lot more relaxed everywhere on the floor. Mason also had a few offensive highlights, knocking down a 3-of-5 three-pointers and showing off the bounce and flashy handles that we saw from him most of last season, another sign that Mason is on the way back. Late in the game, KU put an exclamation point on the game with a dish from Mykhailiuk to Lucas, who flushed it home with two hands to deliver the knockout blow to the Red Raiders.
• Defensive highlight: Early in the second half, Perry Ellis showed off his quickness by stepping in front of a post-entry pass that denied the Red Raiders an opportunity to trim the KU lead to just a couple of possessions. That sparked a KU run that pushed KU's lead to 13 (44-31) and also featured a defensive gem from Mason. After hitting a three-pointer on the offensive end, Mason picked the pocket of a Tech guard near the sideline, saved the ball from bouncing out of bounds and pushed it ahead to Wayne Selden Jr., who finished in style and forced Texas Tech to use a timeout.
• Key stat: KU's field goal defense. For the eighth game in a row, KU held its opponent to worse than 42 percent shooting from the floor. The Red Raiders, who entered the game shooting 45 percent on the year, shot just 18-of-57 for 31.6 percent during Saturday's loss.
• Up next: The Jayhawks will close out the road portion of their 2015-16 Big 12 schedule on Big Monday at Texas. Tip-off is slated for 8 p.m. on ESPN.
— See what people were saying about Kansas vs. Texas Tech during KUsports.com's live coverage
Prev Next