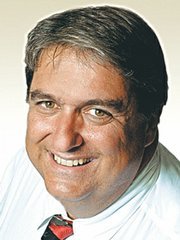 Read the transcript of today's live chat with Journal-World sports editor Tom Keegan, who took questions about Kansas, the bracket, the Jayhawks' chances and all things March Madness while en route to Tulsa, Oklahoma, site of KU's first-round game.
This chat has already taken place. Read the transcript below.
Moderator
Thanks for joining us on the road to Tulsa, Okla., where Kansas will open the NCAA Tournament on Friday. Tom Keegan will be answering your questions.
What will be the biggest upset of the Tournament?
March 14, 2017at 3:28 p.m.
Tom Keegan
If I'm right I'll take no bows because big upsets are 90 percent guesses, 10 percent hunches. I'll go with Rhode Island over Oregon in the second round. Kansas had most of the season to figure out how to play without Udoka Azubuike, who would have been a huge asset by now. Oregon hasn't had any time whatsoever to get used to playing without Chris Boucher.
March 15, 2017at 10:32 a.m.
There's a lot of hype surrounding the potential KU v ISU matchup in KC. Clearly Iowa State is a dangerous team, but shouldn't Kansas be rooting for ISU? Wouldn't that be a more favorable matchup for KU than many opponents? It took a heroic and record-breaking performance from ISU to beat KU at AFH (in over time) and KU handled the 'Clones in Ames. PLUS, Bill Self has only lost to the same team multiple times in the same season TWICE during his tenure at Kansas (Texas in '04 and ISU in '16).
March 14, 2017at 10:55 p.m.
Tom Keegan
Self also lost to Michigan State twice in the same season, if I'm not mistaken (to borrow a Self term). I think that Iowa State will be tough because Cyclones fans know how to get Sprint Center tickets and they travel great. They love Kansas City, but I do think that there is one potential Sweet 16 opponent that would give Kansas more trouble than would Iowa State: Purdue. The Boilermakers have size, strength and excellent 3-point shooting. Caleb Swanigan might get the second-most love in postseason POY awards, ranking behind only Frank Mason. Josh Hart will get some love too, maybe even Lonzo Ball.
March 15, 2017at 10:38 a.m.
Danny and Brett vs Big 12, I found myself cheering for the Big 12 because my dis-like is greater for the ACC.
What would be your percentage wheel of the number of Big 12 teams in the sweet 16 or elite 8, your preference?
Thanks Tom.
March 15, 2017at 9:46 a.m.
Tom Keegan
I have Kansas and West Virginia advancing to the Sweet 16. Next-best chance: Iowa State, which has a chance for a classic matchup with Purdue. Deonte Burton is a major talent for the Cyclones, but I wonder if he'll be too eager to show off his perimeter shot on the big stage. I like West Virginia because playing that unconventional style for the first time can be unsettling.
March 15, 2017at 10:42 a.m.
I think the big unknown in the tournament is whether projected lottery picks will go all-out, or pull an Andrew Wiggins/Christian McCaffrey and play it safe so they don't get injured. Who do you think are the players most likely to play it safe versus hustling on every play?
March 14, 2017at 4:36 p.m.
Tom Keegan
Great question. I'll never forget Andrew Wiggins' mom twice saying at this declaring-for-NBA press conference that she was happy he didn't get injured. I can understand thinking that, but why say it?
Josh Jackson plays to win every possession. That's what floats his boat. He's great at staying in the moment, so nothing to worry about on that front.
But your question is a good one because agents' runners are in prospects ears, telling them what they need to do in the tournament to improve their stock, as if they know. I've even heard tales of agents' runners going to great lengths to try to cheat players of sleep in hopes they bow out of the tournament because if they stay in for another week, some other agent runner might be the players' favorite by then.
I don't know enough about the non-KU players to guess at which ones might be vulnerable to slipping into selfish mode at the worst possible time.
March 15, 2017at 10:48 a.m.
why does the committee continue to hide behind unknown variables to evaluate teams (rpi, eye test, etc) when there are good well respected analytics like Kenpon available? put another way, will the NCAA ever admit that their process is about money and not about getting the best teams in?
March 15, 2017at 7:08 a.m.
Tom Keegan
The committee supposedly will be moving away from the RPI next season. I'll believe that when I see it. TV will fight that behind the scenes because the whole reason for RPI is to pressure teams into playing tough nonconference schedules to give college basketball a fighting chance at ratings in November, when the NFL and college football rule the day.
No computer rating is flawless so they need to use variables such as the eye test, etc. I like sagarin.com predictor the best of the ratings, but even at that, I only use that as a guide. Kenpom.com is better than RPI, which is way too schedule-based and unfair to mid-majors who try to schedule tougher teams and get rejected. I think Wichita State deserved about a 7 seed and Illinois State should be in the field.
March 15, 2017at 10:55 a.m.
Should we advance, can we beat Louisville even though it would be played in Kansas City?

March 15, 2017at 10:33 a.m.
Tom Keegan
What a great game that would be. Louisville fans travel great, so they'll figure out how to get their hands on enough tickets to be heard. Solid team that doesn't turn it over, takes smart shots, plays tough defense in the paint and beyond the 3-point semicircle, and has one of the best basketball coaches on the planet.
Can Kansas beat Louisville in Kansas City? Sure. My guess is KU would be favored by two points or so.
March 15, 2017at 11:01 a.m.
If you had to pick one, which team seeded 7 or higher do you think could make the final four?
March 14, 2017at 3:30 p.m.
Tom Keegan
A week before Selection Sunday, I picked 13 teams that could win it all and stuck with that list because I didn't want to be influenced by conference-tourney week. I didn't have Duke on that list and if I allowed myself a Mulligan I'd use it on Duke. I did have Michigan, before the scary flight and before the Wolverines won the Big Ten tourney. I saw them play a few games before the Big Ten tourney, loved them every time and think John Beilein is a terrific coach. My late, great brother Buffalo George, who had a great eye for sports and ran on scholarship for Boston College, knew Beielein because their sons played on the same basketball team. He told me he was a great guy and said he would be a big-time coach one day. He was right. Beilein left Canisius shortly after that for Richmond, then West Virginia. I like him and his team.
March 15, 2017at 11:08 a.m.
Scariest matchup for KU in the Midwest regional?
March 14, 2017at 4:53 p.m.
Tom Keegan
1 - Purdue; 2 - Michigan; 3 - Louisville; 4 - Iowa State. Tough bracket.
March 15, 2017at 11:10 a.m.
Many seem to view Kansas as a team that traditionally chokes in the NCAA tournament and it seems like various pundits bring this up every year. In reality, Bill Self has one of the best tournament winning percentages among active coaches who routinely make the tournament. (I believe he ranks 5th behind Coach K, Williams, Izzo, and Calipari.) He's also advanced to the regional final (or further) in six of his 13 tournament appearances at Kansas.
Why can't Self seem to shake this stigma when other coaches, including Williams and Coach K, have all suffered opening-weekend exits when highly seeded. Is it the fact that he only has the one national championship? Or is it the back-to-back first round losses to Bucknell and Bradley that still haunt him?
Or, is it simply due to the fact that Self has put KU in position to choke more than any coach at any school in recent history?
(Like many KU fans, I admittedly suffer from a slight NCAA-tournament-success inferiority complex.)

March 14, 2017at 11:25 p.m.
Tom Keegan
Smart question, stupidmichael. Self has been to the Elite Eight eight times at three schools and as you mentioned, six of those have been at Kansas. Coach K has won four national titles, Roy two, so that's part of why they shake the stigma. And I agree with you that the back-to-back Killer Bees stuck in people's brains and they don't remember the Elite Eight appearances because those don't surprise anybody. But it's really, really hard to advance to the Elite Eight. Just look at this year's bracket. Five of the 13 teams I identified as having a chance to win it all came out of the Midwest.
I think among Kansas fans, the stigma long since expired. And for national fan who clings to it, there are 10 or 20 who don't and would rank Self among the top six coaches in America. In alphabetical order: Calipari, Izzo, Krzyzewski, Pitino, Self, Williams.
March 15, 2017at 11:19 a.m.
Moderator
Thanks for joining us to talk Kansas basketball and the NCAA Tournament. Check back in at KUsports.com often throughout the upcoming days for coverage from Tulsa, Okla.
Bill Self and the Jayhawks will talk tourney beginning later today, when they arrive in Tulsa. We'll have all the coverage you need — photos, videos, stories, blogs and more.
March 15, 2017at 11:25 a.m.