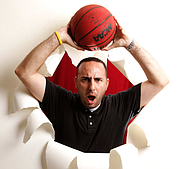 Transcript: Read today's Gameday Chat with Matt Tait from the road to Norman, Oklahoma
This chat has already taken place. Read the transcript below.
Moderator
Good afternoon and thanks for joining today's Gameday Chat with Matt Tait... Matt's in the car with Tom, Benton and Nick heading down to Oklahoma for tonight's game so we'll hang in there today as long as their service holds up. Let's jump right in...
Hey Matt,
Thanks for doing the Gameday Chat today on the road! Hopefully you get to go through a few questions.
OU is down compared to last year, but they are no push-over. What does KU need to do right out of the gate to take control of the game?
Also...
With the game down in Norman tonight...Trae Young will probably be in the building. Do you think a game like this, where his top two choices are battling it out, may affect his decision? Surely puts him in a tough spot, but I bet he will enjoy it regardless.
Thanks again Matt. Your the man!
January 10, 2017at 9:47 a.m.
Matt Tait
Thanks, Caden. Appreciate the kind words and the questions... Could probably do the entire chat on this one entry alone. Here goes!
1. KU has a huge advantage in the backcourt in this one so it would make sense for the Jayhawks to try to dominate the perimeter right away. And they might. But it would not surprise me at all to see KU try to get Landen Lucas going early in an attempt to (a) loosen up the outside and (b) get OU big men Khadeem Lattin and Jamuni McNeace into a little foul trouble or shake their confidence.
Lucas has been pretty efficient on the offensively end of late and a big reason for that is he's playing fast but still under control. No more long pauses, lengthy dribbles or thinking about what move he's going to make. He just catches and goes.
If the Jayhawks are able to get Lucas going, this one could get out of hand in a hurry. So much of it, though, will be about defense. If the Jayhawks are sharp on that end of the floor right out of the gate, OU won't have a chance to think upset.
2. I hadn't thought much about Young being at the game, but, as long as his team isn't playing tonight (and I doubt they are since they played last night), I'd think there's a great chance he'll be there.
Young's been talking about a January decision and all signs point to him picking KU or OU. If the Jayhawks allow OU to hang around or compete to the end, it could play a factor in Young's mind. But that's pure speculation and it's hard to say that one game — good, bad or indifferent — is going to carry that much weight when the young man has spent months and years carefully weighing his options and trying to make the best decision for him.
I know KU assistant Norm Roberts watched him play last night and Self was at one of his game's last week. KU's not taking this one for granted in any way and he would be a huge pick-up if Kansas can reel him in.

January 10, 2017at 1:33 p.m.
Hey Matt
Knowing the primary focus on improving our frontcourt effectiveness must begin first with improving the play of Landon and Carlton, I get the reason why we have barely seen the likes of Mitch and have not seen Dwight at all - especially in light of the close games we have had recently. But, also knowing that the number of fouls we have to give are precious few in that regard, at some point I would think Self would try to actively find playing time for them - trying to accelerate their rate of growth and expand our fouls to give buffer.
With Oklahoma struggling thus far, would you expect that Dwight and Mitch might find the floor more often tonight?
January 10, 2017at 1:29 p.m.
Matt Tait
So much of it depends on how the game plays out. There's no doubt that Self is looking for opportunities to get Lightfoot some more playing time, but it has to be a perfect storm of sorts for him to get on the floor. I could see him stealing a few minutes mid to late first half if KU has a decent lead. And I definitely could see him playing more than a few minutes late if KU's fortunate enough to get up 20 or something late in the game.
You have to remember, though, that Self is such a competitive guy and gets so into each game and the objective at hand — to win at all costs and ensure victory in whatever manner possible — that he doesn't always spend time thinking about in-game development and getting guys minutes for experience down the road. There's no doubt he thinks about that kind of stuff on off days, but on game day it might be a different story. Remember, this is a coach who re-inserted Frank Mason into the game last weekend against Texas Tech with Kansas leading by 17 and 3:13 showing on the clock.
As for Coleby, I just don't think it's in the cards for him to play much at all unless there's significant foul trouble.
January 10, 2017at 1:37 p.m.
Thanks for taking the questions Matt. I have no doubt that this team is a top 10 team, but something seem to be missing compared to last season. I don't have that feeling of we're going to be anyone at any time. Did you get that feeling when you watch them in person?
In addition we have a really tough slate coming up after today. Baylorx2, @UK, WVUx2 @KSU. Etc... what game are you most looking forward to, and which team scares you the most based on what you've seen so far?
January 10, 2017at 1:34 p.m.
Matt Tait
I get what you're saying and I'm sure it's the lack of depth that has you feeling that way, especially in the front court. But college basketball is a guard-oriented game and KU's guards are as good (or better than) as any in the country. That trio, along with Svi and Vick, will keep KU in just about any game and give the Jayhawks a major advantage any time they take the floor.
Beyond that, these guys are experienced and supremely confident in their abilities. That's the feeling I get most when watching them play. They expect and believe that they can and will beat anybody anywhere.
There are a couple of tough stretches coming up and you definitely should brace yourself for KU to lose a game or two during them. In case you missed it, here's a blog I did a week or so ago about those two stretches.
http://www2.kusports.com/weblogs/tale-tait/2017/jan/3/two-key-stretches-loom-for-jayhawks-in-n/
With that said, the game I'm most looking forward to has to be Baylor at Kansas on Feb. 1. It's unlikely, because both teams have tough games between now and then, but if the two squads can win out until then, it could be a battle of No. 1 vs. No. 2 and that would be awesome.
Both teams are at West Virginia before then, though, (imagine what two WVU victories there would do for the Big 12 race) and KU also has to go to Kentucky, which should be incredible.
Either way, lots of good games and great match-ups coming up and I'm looking forward to all of them.
January 10, 2017at 1:45 p.m.
Hey Matt - thanks for taking a few questions and safe travels on the road! While I was encouraged to see a better defensive effort against TTech, it feels like we still have a long way to go. While the ball pressure was better, there seemed to still be far too many blow bys. Also, our inability to secure defensive rebounds (particularly Bragg, Vick and Svi) really has me concerned against top flight teams. Thoughts on what it might take for this team to not be satisfied defensively? Particularly for guys like Vick and Bragg who seem like they could really amp up their defensive energy to make a case for more PT regardless of any offensive struggles.
January 10, 2017at 1:43 p.m.
Matt Tait
Thanks, Nick. Smooth sailing so far. Nice sunny day for driving!
The thing about KU's improvement defensively that you have to remember is that it's not going to be a snap-of-your-fingers-and-it's-fixed sort of thing. There'll be steps and a complete overhaul will be slow but as long as they're moving in the right direction — and the effort vs. Texas Tech was a great first step — then I think Self and the fan base will be pleased.
As for your question about Vick and Bragg, I think the best thing both of those guys could do would be to think less and play hard. Bragg gets so lost sometimes and it looks like it's because he's thinking about things too much — what he's doing, what he should be doing, what he did do, what he shouldn't do... That'll cripple a guy and keep him from maximizing what his athleticism will allow him to give.
Same with Vick to a certain extent. It's all about effort and playing with reckless abandon. If those guys both did that (and did it intelligently) this team would get better in a hurry and those guys would both be big reasons for that.
As for the blow-bys, I think that's just something fans of every team are going to have to get used to seeing more and more of... The game is tailored to the offensive player and guards are so talented these days that it's tough for a defender to have anywhere close to a 100 percent success rate of keeping his man in front of him and keeping him away from the basket.
Again, it's about effort, playing hard and getting help from teammates in those situations. That's why Self and the players talk so much about team defense more than individual improvement.
January 10, 2017at 1:50 p.m.
Hey Matt, love the Gameday chat! Can you provide any insight on how Malik Newman is progressing, since he must sit out this year?
January 10, 2017at 8:38 a.m.
Matt Tait
Don't know too much because we haven't seen them practice. But everything I've heard is that he's improving, taking it very seriously and learning a ton from watching Mason and Graham do their thing.
The opportunity to work with Hudy and watch film without having to worry about executing and sit on the bench and see how (and why) Self coaches is invaluable experience and should put him in a great spot heading into next season.
He'll still be young, but it'll be interesting to see if he plays/seems more like a veteran because of the advantage of getting a front-row seat to watch these guys play and practice against him.
January 10, 2017at 1:54 p.m.
With its first two road games against arguably two of the weakest teams in the conference and its first two home games against (at the time) unranked teams, it seems as if Kansas has had a relatively easy introduction to conference play. Clearly that will be changing with looming games @ISU, @WVU and home v Baylor. Do you think the soft schedule at the start of conference play will benefit KU in the long run, or be a detriment? Would you rather get the tough games out of the way early? Or deal with them in the middle or end of the season?
January 10, 2017at 9:02 a.m.
Matt Tait
Good question. If you asked 10 people, I think you'd probably get five answers one way and five answers the other.
My take: I think it's going to benefit them. There are some tough games in this conference — this year and every year — and starting out with a couple of those could put the Jayhawks in catch-up mode early. That's nothing they couldn't handle, and they've certainly handled catch-up mode much later in the season and came out OK in the past, but I definitely think racing out to a 4-0 start (provided they win tonight) serves notice to the rest of the league that they're locked in and ready to go for No. 13.
There are advantages to both schools of thought, but I think sprinkling them in and having the tougher games more in the middle of the season is better because it gives a team more time to find its full identity and come together.
January 10, 2017at 2 p.m.
Looking ahead a little...
The @ Kentucky game has me worried. More so than last season and not because I'm worried about Kansas suffering a potential loss. I'm worried that a non-conference road game - for which both teams could very well be ranked in the top-five and sandwiched in between one of KU's toughest conference tests @WVU and at home v. Baylor - could be mentally and physically draining to the point where it harms KU's chances in the immediate preceding and succeeding conference games.
Last year was a bit different in that (a) it was a home game, (b) Kentucky had been struggling and (c) Kansas was following the game with two very winnable games against KSU (home) and on the road @ TCU.
What are your thoughts? Am I right to be worried about the lingering negative impacts of such a game - even if Kansas wins?
January 10, 2017at 9:15 a.m.
With Frank and Devonte playing so many minutes, how concerned are you about them wearing down as the season progresses?
January 10, 2017at 2:02 p.m.
Matt Tait
Zero. Those guys are in incredible shape, would prefer to be out there playing than not and get their rest in other ways throughout the week. I think they're fine and can handle as many minutes as Self wants to throw at them.
I get the concern and I don't think people are crazy for talking about it, but playing 30 minutes instead of 35 is not that big of a deal. Remember, the games are the most fun part for these guys and this is what they do.
It makes sense for Self to try to pull them out late in games that are out of hand, but more because of the risk of injury than the idea of giving them a little more rest.
January 10, 2017at 2:18 p.m.
At this point, what do you think are KU's biggest recruiting needs for next year? Do you see next year's team, like this one, being in the discussion of legit title contenders?
January 10, 2017at 2:08 p.m.
Matt Tait
So much of it depends on who's back and who leaves, but if even a couple of the guys who can come back do, this team will absolutely be in the discussion of title contenders again next year.
Keegan talked to some scouts in NYC when we were there in November who said that everybody but Jackson should return. It might not play out that way and certainly could change, but I think there's equal odds on both things happening.
Let's say the best-case scenario happens and KU gets Svi, Graham and Bragg back. Provided they're able to add one of the two elite PGs they're still in on (Trae Young or Trevon Duval), here's a look at KU's roster for next season:
Guards:
Devonte' Graham
Malik Newman
Lagerald Vick
Trae Young
Sviatoslav Mykhailiuk
Marcus Garrett
Sam Cunliffe (second semester)
Forwards:
Carlton Bragg
Udoka Azubuike
Billy Preston
Mitch Lightfoot
Dwight Coleby
That's 12 players right there and that's without adding another player beyond one of those 2 PGs. That group goes at least 9 or 10 deep with some pretty quality talent, too.
What that tells me is that even if Svi or Graham were to leave, this group will still be 8-9 deep with quality players and some decent experience and should be in the mix just like every other year.
January 10, 2017at 2:24 p.m.
I sometimes see the defensive wing (Svi or Josh) assist the driving point guard by putting a low hand to impede the dribble, with the other hand pointed to their wing counterpart. But not as often as I would think. Your thoughts?
I see Landon Lucas at free throw line look down at the floor, dribble, and barely glance at the basket before shooting and missing....and then looking for 2 seconds and swishing every shot. Do they not develop habits...I rember Jaque Vaughn's routine.
January 10, 2017at 2:22 p.m.
Matt Tait
That idea of helping against the drive is one of the key elements of good team defense and these guys are very well coached and drilled in the ins and outs of team D on a regular basis.
It's tough when the parts are moving and the pressure/intensity of the game is messing with your mind to be perfect every time. But you can definitely expect to see more of that going forward.
As for Lucas' free throw routine, I was taught at an early age that every player should step to the line with some kind of routine. It helps aid comfort and triggers muscle memory for a shot that should be very, very easy. I'm guessing all of these guys have their routines as well, but sometimes the idea of standing still and shooting calmly in a game that features so much wild movement and crazy athleticism can get guys a little out of whack and create those moments where it looks like they're just throwing the ball to the rim while at the free throw line.
January 10, 2017at 2:29 p.m.
Which Big 12 teams outside of Baylor and West Virginia are best suited to upsetting KU this year, given their rosters and how well they match up?
January 10, 2017at 2:22 p.m.
Matt Tait
I think you might have seen one already in K-State. I think the Wildcats, who are ranked No. 25 in this week's AP Poll, are one more legit big man from being a very, very good team.
Beyond that, I think Oklahoma State, with its terrific backcourt and tough and tenacious style, also could give the Jayhawks problems.
January 10, 2017at 2:31 p.m.
Moderator
That's a solid hour and a bunch of great questions. Let's not push it any more and run the risk of Matt losing service on that drive. Thanks again for all of the great questions and input and be sure to come back next time for another Gameday Chat. Enjoy tonight's game!
January 10, 2017at 2:32 p.m.