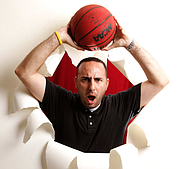 Read the transcript of today's Gameday Chat with Matt Tait ahead of tonight's Sunflower Showdown.
This chat has already taken place. Read the transcript below.
Moderator
Good afternoon and welcome back to another Gameday Chat with Matt Tait. The Jayhawks are scheduled to take on the Kansas State Wildcats at 8 p.m. tonight and we've got Matt here for a little while to answer some of your questions about KU basketball. Let's get started...
Matt Tait
Sounds good to me. I've only got about 30-40 minutes today so we'll try to get to as many questions as possible before I have to run.
Go!
January 3, 2017at 3:33 p.m.
Hi Matt. I was wondering if you had any idea what the deal with Evan Maxwell transferring was all about? I don't think anyone expected him to be a major contributor on next years team, but seems unexpected given how excited he appeared when he transferred in.
January 3, 2017at 10:31 a.m.
Matt Tait
Yeah, I'm with you. It caught me a little off guard and in the limited time I saw him play/practice, I thought he had a chance to develop into a nice role player for this team. That was a while ago, though, so it's possible that he just was not developing at the rate/level he needed to or wanted to develop.
I don't know all of the specifics or many details really, but it sounds to me like he might be done playing basketball for a while.
I don't know if health issues, personal problems or something else is at the root of his decision to leave KU, and I don't know that we'll ever find out. From everything I've been told, he was a good kid, who loved being here during the short time he was here and got along well with teammates.
Sometimes things just don't work out or go the way you thought they were going to go. That could be all this is.
Having said that, his absence opens up a bunch of opportunities for KU coach Bill Self in recruiting. When the season started, a lot of the talk was on the fact that Self could have to replace as many as six players from this year's team. I don't think it'll be anywhere close to that high now, but either way, getting Maxwell's scholarship back and getting the chance to use it on another player — be it a freshman or some kind of veteran transfer — might wind up benefitting the Jayhawks more than Maxwell ever could.

January 3, 2017at 3:42 p.m.
Hi Matt. Do you feel that Dwight Coleby will be 100% this year or will we need to wait for next year?
January 3, 2017at 3:42 p.m.
Matt Tait
This has been a popular question/concern all season, but I think the reality of it is this: Coleby is 100 percent physically and has been for a while. It's the mental part of things that need work and there's no telling how long that will take.
The way I see it, it's now or never for Coleby. He either finds his grove, trusts that knee and plays hard every chance he's given or he just kind of wastes away the next two seasons and never really factors into the rotation.
KU will bring in some big guys next season and both Azubuike and Lightfoot will continue to develop. I'm not sure there will be a better opportunity for Coleby than the one he has now.
January 3, 2017at 3:45 p.m.
Are we going to chat?

January 3, 2017at 3:41 p.m.
Matt Tait
I think we just did.
Good talk!
January 3, 2017at 3:45 p.m.
Hi Matt,
After Landen's big game against TCU last week, what does he or the team need to do, to continue not only his success, but the overall teams success for the remainder of the Big 12?
Also, do you think we will have any other consistent scorers this season after Frank? Different players have stepped up, (Svi, Josh, Lagerald, etc.) in different games. Or will we tend to have someone different always be that extra spark we need?
Thanks for the chat! It's always great to check in from time to time!
January 3, 2017at 12:07 p.m.
Matt Tait
Good questions.
Regarding Lucas, I think you saw the recipe against TCU (and a little against UNLV the game before, as well). And it was great to see. Lucas looked hungry, aggressive, confident and competent and, for the first time this season, really looked like the guy people loved to watch a season ago.
His offensive game is such that it's never really going to LOOK that pretty, but any time a guy can hit 7-of-9 shots, all of them coming right around the rim, he's going to be a favorite of Bill Self's.
Defensively, Lucas talked the other day about adjusting to the way the refs are calling things and them understanding the way he plays. That takes time and it seems like it has been time well spent. Lucas always has been one of the smarter players on the KU roster and that's why neither his teammates nor the coaching staff was overly worried about his slow start. They knew it was just a matter of time before he put it all together and it looks as if that has happened.
Given the opportunity and lack of bigs around him, I'd be surprised if Lucas didn't average double-digit rebounds the rest of the way. After that, whatever he gives on offense is gravy.
Speaking of offense, I think the answer to your second question starts and ends with Josh Jackson. Jackson was bad at TCU but he was sensational in a bunch of games before that. And he will continue to be that second guy who consistently scores behind Mason.
Don't forget, too, that Devonte' Graham is most certainly capable of doing it, as well. He just hasn't needed to as much this season and has done a nice job of falling into a role that best suits what this team needs. But there will come a game — or two or three — when Graham needs to step up and score and I don't doubt that he'll do just that.
One thing to remember about the variety of players stepping up as second scorers is this: When it becomes unpredictable where the points are coming from, it makes the Jayhawks much more difficult to prepare for and play against.
January 3, 2017at 3:52 p.m.
Can the Jayhawks handle Baylor's bigs with the 4-guard lineup?
January 3, 2017at 2:36 p.m.
Matt Tait
That's going to be an awesome thing to find out, but the good news for the Jayhawks is they won't have to find out that answer for a month.
KU and Baylor do not play until Feb. 1 and that gives Lightfoot, Bragg and possibly even Coleby time to find their feet and be ready to be big time factors against that big Baylor front line.
That's not to say it'll happen or that they'll handle it well. But the more time the better to get prepared.
I think what you'll probably see in that game is a contrast of styles and each team trying to impose its will on the other. Given the way they're set up, I'd bet that Baylor will have a tougher time trying to guard KU's perimeter attack than the Jayhawks will trying to handle Baylor's big men.
Foul trouble will dictate a lot of it, but KU still has the option to throw Lucas and Bragg out there together, which, when combined with Josh Jackson and possibly even Svi, gives the Jayhawks 6-8, 6-8, 6-10, 6-10 on the floor at the same time.
That's not small. The question will be though: Can that group play with as much physicality as Baylor's bigs.
Those match-ups and the KU-WVU games should be incredible this season.
January 3, 2017at 3:55 p.m.
Can you discuss the details regarding Self's criticism of our perimeter defense in the TCU game? What specific actions do the guards need to take to improve?
January 3, 2017at 3:42 p.m.
Matt Tait
I'm no expert (and I've always been a much better team defender than man-to-man defender), but I think Self has made it crystal clear what he expects from his guys and it comes down to one thing — pride.
Self has said over and over, this year and in others, that playing great man-to-man defense is as simple as having the pride to keep your man in front of you and taking the challenge of not letting him turn the corner.
That means different things to different players, but it's still about as basic as it gets.
For some, that means, getting right up under them when they catch the ball and pestering them into wanting to get rid of it. For others, it means not letting them catch the ball in the first place. For some, it means extending the defense way out above the three-point line and for others it means giving your man some space and using intelligence, angles and anticipation to prevent him from getting by you.
It's certainly not easy because these guys face a lot of talented players. And it's even harder when trying to do it for a coach as demanding as Self.
But I think you'll see a much better effort tonight, now that Graham and Mason, specifically, have been called out by Self.
January 3, 2017at 4:05 p.m.
Moderator
That's a good one to end on. It should be interesting to watch how well the Jayhawks do tonight against a few K-State guards who can put it on the deck and get to the rim.
Enjoy the game everyone and we'll see you here again soon for another Gameday Chat.
January 3, 2017at 4:06 p.m.