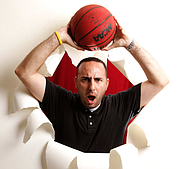 Complete transcript from Matt Tait's latest Gameday Chat, which spent a lot of time previewing Senior Night 2017.
This chat has already taken place. Read the transcript below.
Moderator
Good afternoon, KU fans and thanks for joining us for today's Gameday Chat with Matt Tait, the Senior Night edition.
It looks like we've got some questions that are about KU's trio of seniors being honored tonight and plenty that are not, so we'll try to get to a good mix of both and go from there.
So let's jump right in with one of the most interesting questions I've seen all season...
Describe the three seniors individually as an alcoholic beverage. I.E. Frank Mason is like a smooth barrel aged whiskey... He's always been good, but gotten better with age.

February 27, 2017at 9:43 a.m.
Matt Tait
Haha!
I like it. Very interesting. Very creative. And I'm going to have to think fast here. I really like your example, too, but I'll have to try to come up with something else and go a different direction with Mason.
Here goes nothing...
Landen Lucas - Lucas, aka Mr. Reliable, is going to get the good, old-fashioned draft beer treatment. Pick your preference, hoppy or not, light or dark, etc., etc., but make sure it's as cold as can be and poured to perfection. Because, like Lucas can be counted on for solid defense, tough defense and intelligent play, you're counting on an ice cold beer to hit the spot every time you order one.
Frank Mason - Like 'em or not, Frank Mason is my Long Island Iced Tea because, like the drink's long list of ingredients, Mason is made up of a little bit of everything. And, just like Mason for Big 12 foes, you want to be careful of how many of them you have because not everybody can handle them.
Tyler Self - For Tyler, I'll go with any one of those shots that the bartenders light on fire. You don't always need order 'em, you rarely need 'em, but when you do, you know it's time to party.
You'll have to let me know how I did in the comments below. Loved the question, though. Too funny!
February 27, 2017at 3:43 p.m.
Over/Under 4.5
How many times I cry after it finally sinks in that Frank Mason wont be playing at Allen Fieldhouse again....
February 26, 2017at 11:12 p.m.
Matt Tait
I'll go Under. And here's my reason:
Tonight is going to be emotional for a lot of people and it's going to be a lot of fun. There will be a few tears and some really sad folks when it's all said and done.
But I'm not sure the full realization that that's it for Frank in the Fieldhouse will hit you (and others) until well after tonight's game.
Good luck!
February 27, 2017at 3:49 p.m.
What is the best senior night speech you've witnessed? I've always revisited Sherron Collins' throughout the years (had entire night dedicated to his accomplishments as he was the only senior, he became emotional talking about his relationship with the Morningstar family, and my all-time favorite Jayhawk). But, last year's speech by Jamari may be my new favorite. I've never seen Bill cry before until that speech.
February 27, 2017at 11:52 a.m.
Matt Tait
As the guy in charge of writing about the opponents for the past several seasons (until this one), I've missed more Senior Night speeches than I've seen, because the other team still comes to the media room at the same time and wants to get on the bus and get out of there.
Having said that, I'm a big fan of the emotional ones, not necessarily the guys who go into full-on breakdown mode, but the ones who speak from the heart and show that the night and their Kansas careers meant something profound to them.
Collins certainly qualifies, as did Jamari Traylor last year and many, many others.
I thought Perry Ellis was great the way he cracked a few jokes and showed some personality that people may not have known he had and I think Mason's tonight will be rock solid.
February 27, 2017at 3:57 p.m.
After BRush jersey retirement, Self stated there are a couple of jerseys he would like to retire next year.
I got Sherron and TRob.
What do you think?
February 26, 2017at 11:14 p.m.
Matt Tait
I think you're right on the money, with Cole Aldrich also very, very likely.
In fact, if Self's doing two together next year, I'd expect that it'd be Collins and Aldrich, since they played together and were one heck of a dynamic duo.
Mason will be up there eventually. And I also think Perry Ellis has a shot.

February 27, 2017at 4:01 p.m.
Do you think Graham and Mykhailiuk will see Senior Night and want to stay? I know they are both projected in the second round of the NBA draft, but I can't help but think that nights like these are sometimes the factors to Juniors staying for their last year. And what better environment than AFH to showcase the love we have for our players.
February 27, 2017at 10:48 a.m.
Matt Tait
There's no doubt that those kinds of thoughts will be going through their minds, probably Graham's more than Svi's... But there's so much time between tonight and when they actually have to make that decision (this summer) that the effect can wear off a little bit.
I think the stay-or-go decision for Graham will be pretty cut and dry. He'll test the waters, get NBA feedback and if they're telling him, overwhelmingly, that he'll be a first-round pick, then I think he'll go.
If not, I think he'll return and I think he'll look at what Mason did this season and think that if he can do the same next year in that role, he'll improve his chances a great deal.
February 27, 2017at 4:03 p.m.
2 Qu.
It always concerns me when I hear of the San Antonio GM (and Self being buds with ownership) being in the building, like was mentioned on the Saturday TV broadcast. So, like the panic that settles in over conference realignment, what's the possibility that "Senior Night" may be coming soon for Self? Would winning his second NCAA title be more-or-less the linchpin being removed so to pursue an NBA title?
February 27, 2017at 8:32 a.m.
Matt Tait
I've always thought that Self won't go anywhere until he wins another title and I still believe that to be true.
Having said that, I'm starting to lean more and more toward thinking that he might not go anywhere period. It would have to be a pretty perfect situation for him to leave — something like OKC had with Durant or the Warriors have currently with Durant and company — and there just aren't a lot of jobs out there like that.
Beyond that, Self has said time and time again that he loves his job, believes he has one of the best jobs on the planet and both loves Lawrence and KU enough to be here for a long, long time.
The one thing that I think should worry KU fans more than NBA opportunities is Self's claim that he's not going to do this when he's older. At 54, he's still young and clearly has a bunch of good years left, but I don't think Self will still be coaching at Kansas in his late 60s.
Time will tell and it will forever be a topic and source of worry for KU fans. Just remember to enjoy every minute of him actually being here instead of worrying too much about when he might leave.

February 27, 2017at 4:07 p.m.
Hi Matt! What is your formula to a great Senior night speech and which ones have been your favorites?
February 27, 2017at 3:28 p.m.
Matt Tait
Interesting question. It seems they all have a similar feel and follow the same general outline, but I think three things are important....
1. Speak from the heart.
2. Mix in some comedic relief so people don't cry the entire time (teammates, fans, coaches, etc.).
3. Keep it short and sweet. The last thing you want is for people to want you to wrap it up.
Other than that, I think the most important part is to have fun with it. It's a once in a lifetime opportunity and you get the chance to say just about whatever you want. Make sure you say it if it's important to you, no matter who it's about or whether people will even know what you're talking about.
February 27, 2017at 4:14 p.m.
Thanks to the seniors!
11 - 0 to finish the season (NC), Frank is national POY, Josh is Big 12 freshman of the year, HC Bill gets elected into the hall of fame, and Devonte and Svi return for 17-18. Could we be witnessing a top 3 year all-time for KU Men's Basketball program (and possibly a solid argument for best all-time)?
(Me nor anybody else can jinx this team, their will-power is the best in the country)
February 27, 2017at 9:40 a.m.
Matt Tait
As you eluded to, the only way this team is going to get into that conversation is if it takes care of business from here on out. If it does, though, and reaches the Final Four, title game or wins it all, I certainly would listen to anyone who wanted to make the argument for this being one of the all-time great KU teams.
I've already written about where I think the trio of Mason, Graham and Jackson belongs in KU history and, when that's your foundation, you probably have a case.
Again, though, they can't lose in the Sweet 16 and expect to be remembered as one of the best.
That said, all of those other factors that you mentioned certainly have made this a year to remember no matter what happens from this point on.
February 27, 2017at 4:20 p.m.
Let's see a percentage wheel on Mason's chances for National Player of the Year.
February 27, 2017at 3:16 p.m.
Matt Tait
I think Mason's the favorite right now... But he's far from a lock to win it. I do think, now that you've got 4 or 5 different player of the year awards out there, that he will win one of them.
Great stats, a senior, in a tough conference on a great team and for a school with rich tradition.... Hard to overlook that, especially if he finishes as the first player in Big 12 history to average 20 points and 5 assists in a single season.
Impressive stuff. Here's the wheel as I see it today...
1. Frank Mason - 37%
2. Josh Hart - 26%
3. Lonzo Ball - 19%
4. Caleb Swannigan - 9%
5. Malik Monk - 6%
6. Other - 3%
February 27, 2017at 4:26 p.m.
I've been meaning to ask this for a couple weeks now, do you know why Dok suits up for the games? Just wondering if it is a coaching or personal decision.
February 27, 2017at 9:26 a.m.
Matt Tait
Great question. And I'll have to find out the answer for sure, so keep an eye out for that.
My guess is this: They like for these guys to experience the routine as much as possible before they're actually a part of it so they won't be overwhelmed when it's there time. Malik Newman has suited up a ton this year, so has Sam Cunliffe and neither of them are allowed to play because of transfer rules.
But there's something to be said for experiencing the pregame routine and going through it, even if you're just going through the motions, that can help these guys when they're doing it for real.
Beyond that, if seeing the big fella suited up sends a panic to even one opposing coach for one half second, I'm sure Self will take the competitive advantage that goes along with that.
February 27, 2017at 4:29 p.m.
Hi Matt,
Hope all is well. Good to see the chat back!
My question is: Will Bill Self consider resting the guys at all into the Big 12 Tourney or will they try to keep to pedal down heading into the March and hopefully April? It would be nice to be fresh and ready to go headed into the Big Dance, but a team that continues to pick up big wins, can also get hot and keep rolling and rolling all the way to the end. Any thoughts?
Thanks!
February 27, 2017at 11:29 a.m.
Matt Tait
I think it's pedal to the metal on game nights... Self has talked a lot about how there is plenty of built-in time to get these guys rest during the week and that — along with his competitive nature and that of his players — leads me to believe there will not be any resting guys on gamedays any time soon.
Consider this scenario... Even if Self wanted to rest Mason, do you think the senior point guard whose career is winding down would be cool with not playing the bulk of one of his final games of his KU career? No chance. Same goes for the rest of the roster, as well.
These guys want to play. It's what they do, it's why they destroy themselves during practice and the offseason and boot camp. To pass on an opportunity to maximize the most enjoyable part — the games — is something that you won't see these guys doing any time soon.
February 27, 2017at 4:32 p.m.
What's the probability of Oklahoma leaving the building if Tyler Self makes the first shot of the game?
February 27, 2017at 9:37 a.m.
Matt Tait
I've never been good with the mathematical side of probabilities, so I'll leave that alone.
But I do think OU would be bummed if they give up a bucket to Tyler in the opening minutes. That said, I don't think Tyler will be looking to jack up shots and make sure he scores.
His goal will be to do everything he can during his time out there to help this team execute and win. And good for him.
Quick prediction: Tyler will play less than 3:00 after starting the game and exit after committing 2 fouls. I do think he'll get a couple of minutes at the end and I hope he scores.
February 27, 2017at 4:42 p.m.
Moderator
Good stuff today, everyone. Thanks for all the fun questions and enjoy Senior Night. Hard to believe how close we are to March Madness!!!
February 27, 2017at 4:43 p.m.